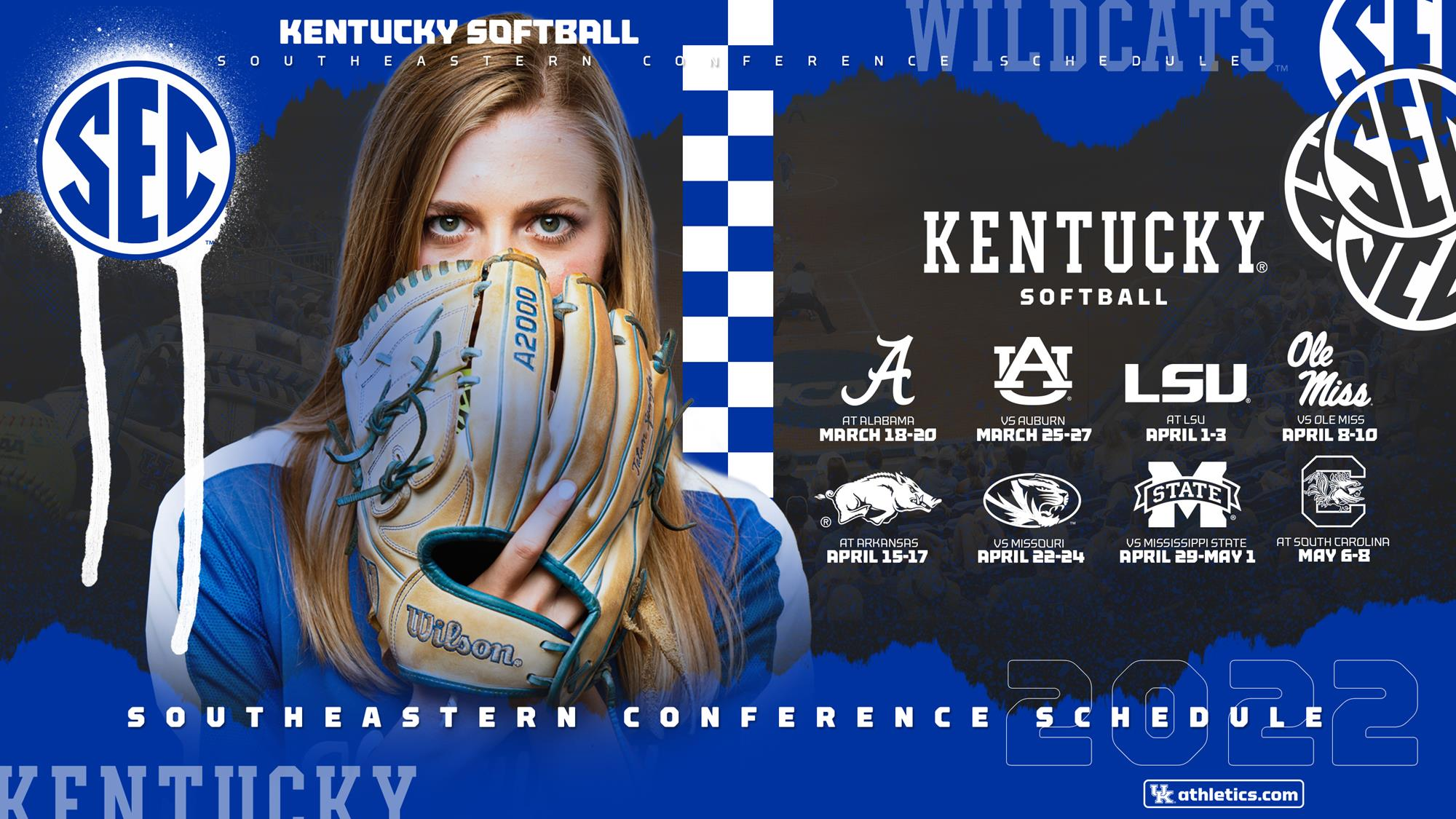 LEXINGTON, Ky. – The Southeastern Conference unveiled the 2022 softball schedule Thursday afternoon, with the Kentucky Softball team's eight SEC series released publicly for the first time.
 
The SEC season will begin the week of March 11-13, however, Kentucky has been assigned a bye for that weekend, so the Wildcats will be out of conference that weekend.
 
Kentucky's SEC season opens in Tuscaloosa, Alabama at Rhodes Stadium against the Crimson Tide March 18-20. The Wildcats will open its home SEC season the following weekend, March 25-27 against the Auburn Tigers.
 
The opening weekend of April sees UK pay a visit to Baton Rouge, La., for a three-game set with the LSU Tigers on April 1-3 before returning to Lexington April 8-10 for a series against the Ole Miss Rebels.
 
Kentucky will face the defending SEC champion Arkansas Razorbacks April 15-17 in Fayetteville before playing NCAA Super Regional participants Missouri at John Cropp Stadium April 22-24.
 
As April closes, Kentucky will play Mississippi State on April 29-May 1 and close out the SEC regular season on the road at South Carolina on May 6-8.
 
The 2021 SEC Softball Tournament Presented by T-Mobile will be held in Gainesville, Florida from May 10-14 at Katie Seashole Pressley Stadium and hosted by the University of Florida.
 
The SEC office in conjunction with the SEC Network will select one series per week to flex to Saturday/Sunday/Monday for television purposes, and the league will release those selected series at a later date.
 
Kentucky Softball 2022 SEC Schedule
March 11-13 // Bye Week
March 18-20 // @ Alabama
March 25-27 // AUBURN
April 1-3 // @ LSU
April 8-10 // OLE MISS
April 15-17 // @ Arkansas
April 22-24 // MISSOURI
April 29-May 1 // MISSISSIPPI STATE
May 6-8 // @ South Carolina
May 10-14 // 2022 SEC Softball Tournament (Gainesville, Fla.)
 
For the latest on UK Softball, follow the Wildcats on Twitter and Instagram at @UKSoftball.