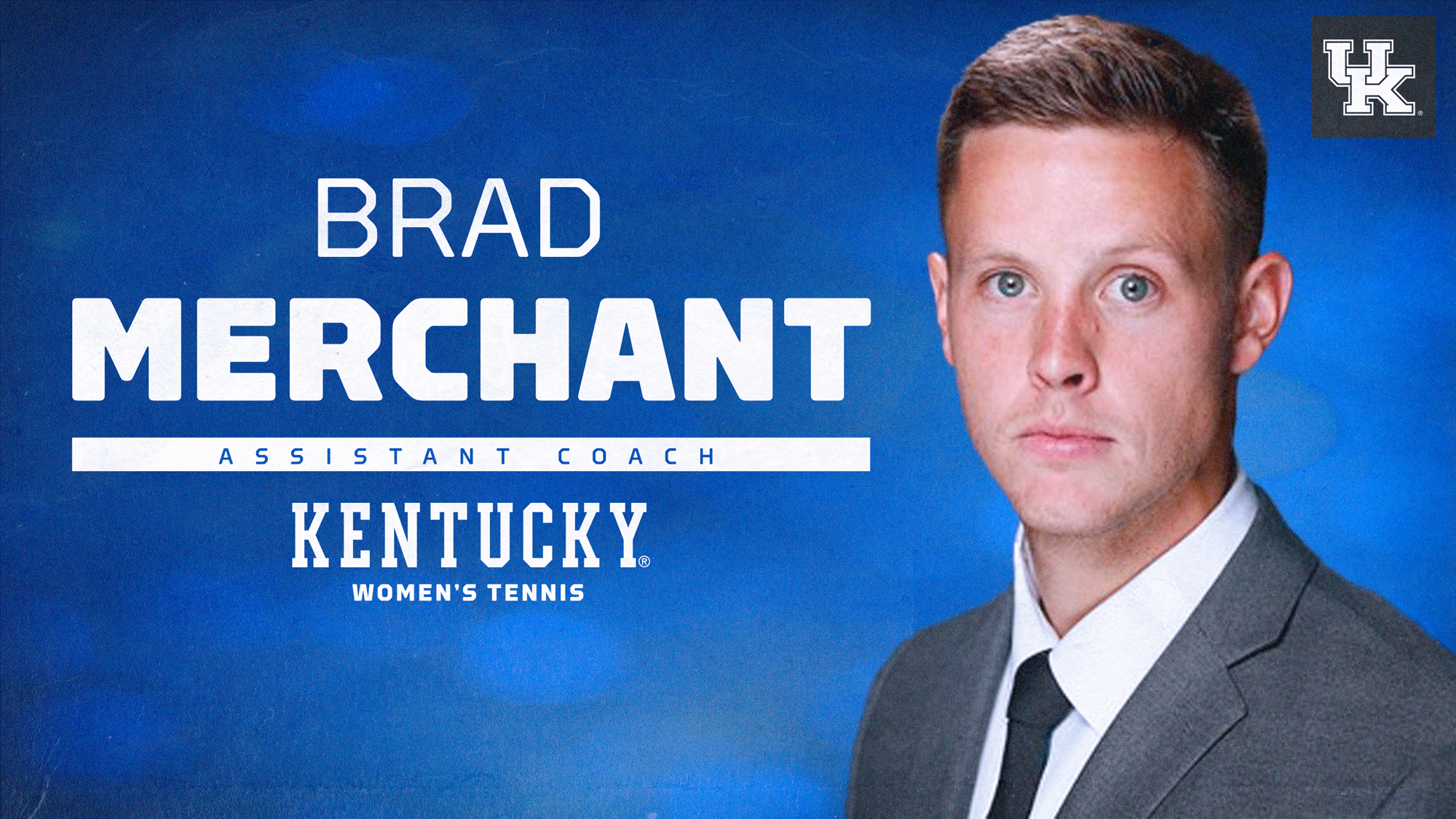 September 16, 2021 - 03:30 PM
Brad Merchant Named Women's Tennis Assistant Coach
LEXINGTON, Ky. – The University of Kentucky women's tennis program has recently tabbed Brad Merchant as the new assistant coach ahead of the 2021-22 season, as announced by head coach Carlos Drada on Thursday.
"We are excited that Brad has joined our family, and his unique expertise will make him a great asset for our program," said Drada. "His proven success in development working with both the football and basketball programs at Kentucky will directly benefit each of our players. I am mostly excited that Brad will be committed to the vision of our program, and subsequently our department." 
No stranger to UK, Merchant has served as the assistant strength and conditioning coach for Kentucky men's basketball since 2019. In that role, he assisted with the day-to-day fitness of the team, implemented performance training programs, tracked data for all strength and conditioning activities, and helped with various game-day duties.
Merchant was also the volunteer assistant for the women's tennis team during the 2016-17 season. 
 
Prior to Kentucky, Merchant was the graduate assistant for sports performance at Cumberland where he oversaw the performance programs for the men's soccer, men's volleyball, cross country, tennis, and golf programs while assisting with the football team. He has also had internships at Cincinnati and Kentucky, helping in areas such as the implementation of training programs, return-to-play injury protocol, pro days, and more.
Originally from Frankfort, Kentucky, Merchant grew up around the UK tennis courts and played for Henry Clay High School before playing collegiately. 
"I am excited to come back to the Kentucky family. Growing up at the Kentucky tennis courts and experiencing collegiate tennis in the state was a powerful experience that led me back into the UK Athletics family," said Merchant. "I can't thank Carlos enough for giving me this opportunity, and I am looking forward to seeing what we can accomplish as a team."
Merchant graduated from UK in 2015 with a degree in kinesiology before earning his master's in exercise and sports science from Cumberland in 2019. He is also certified with the National Strength and Conditioning Association and is a USA Weightlifting coach and a Functional Movement Screen member. 
For the latest on the Kentucky women's tennis program, follow @UKWomensTennis on Twitter and on Instagram, on Facebook, and on the web at UKathletics.com.