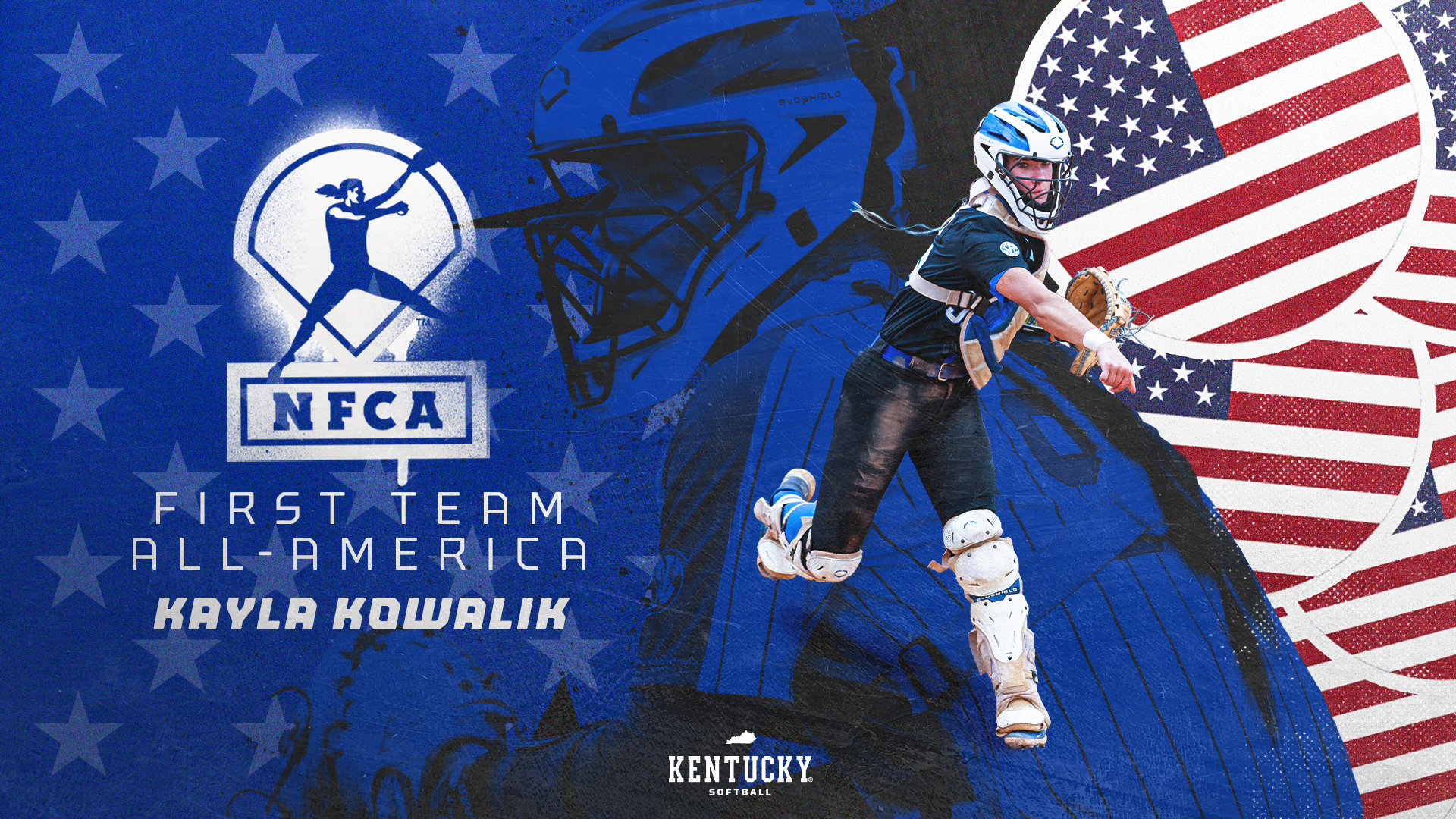 LEXINGTON, Ky. – Kentucky Softball catcher Kayla Kowalik was voted a National Fastpitch Coaches' Association First Team All-American, the organization announced Wednesday afternoon.
 
Kowalik becomes the fifth member of the Kentucky All-American club, joining Molly Belcher (2009), Kelsey Nunley (2016), Katie Reed (2017) and Abbey Cheek (2019). Kowalik joins Nunley and Cheek as the three first-team selections in program history.
 
The New Braunfels, Texas native had a stellar season for Kentucky hitting .495 on the year to lead the NCAA. She additionally led the nation in hits with 100 on the season, becoming the first UK player to ever log 100 hits in a single season.
 
She caught all of Kentucky's Southeastern Conference games in 2021, registering 11 doubles, six triples, 12 home runs and 37 RBI. Her 12 home runs were her first 12 home runs of her career, showing her increased power and strength. With all of the time she spend behind the plate, she has a tremendous .993 fielding percentage and threw out four base stealers, including a key out in the seventh inning vs. Notre Dame of the NCAA Lexington Regional final.
 
Adding to her diversity as a player, Kowalik stole a team-high 23 stolen bases this season, swiping the most bases in a single season since Molly Belcher's 29 swiped bags in 2009. Her 27 walks combined with her batting average gave her a team-best .554 on-base percentage this season.
 
The 2021 season was Kowalik's junior year with Kentucky, as she has two years of eligibility remaining and will have the chance in 2022 to build off of one of the greatest single-seasons in program history.
 
Kentucky finished the season 43-16 overall with its eighth appearance in the NCAA Super Regionals, and fourth trip to that round in a row. The Wildcats finished fifth in the Southeastern Conference and were champions of the 2021 Campbell Invitational, 2021 Spring Games and the 2021 FAU Parents' Weekend Tournament.
 
For the latest on UK Softball, including 2021 schedule updates, follow the Wildcats on Twitter and Instagram at @UKSoftball.