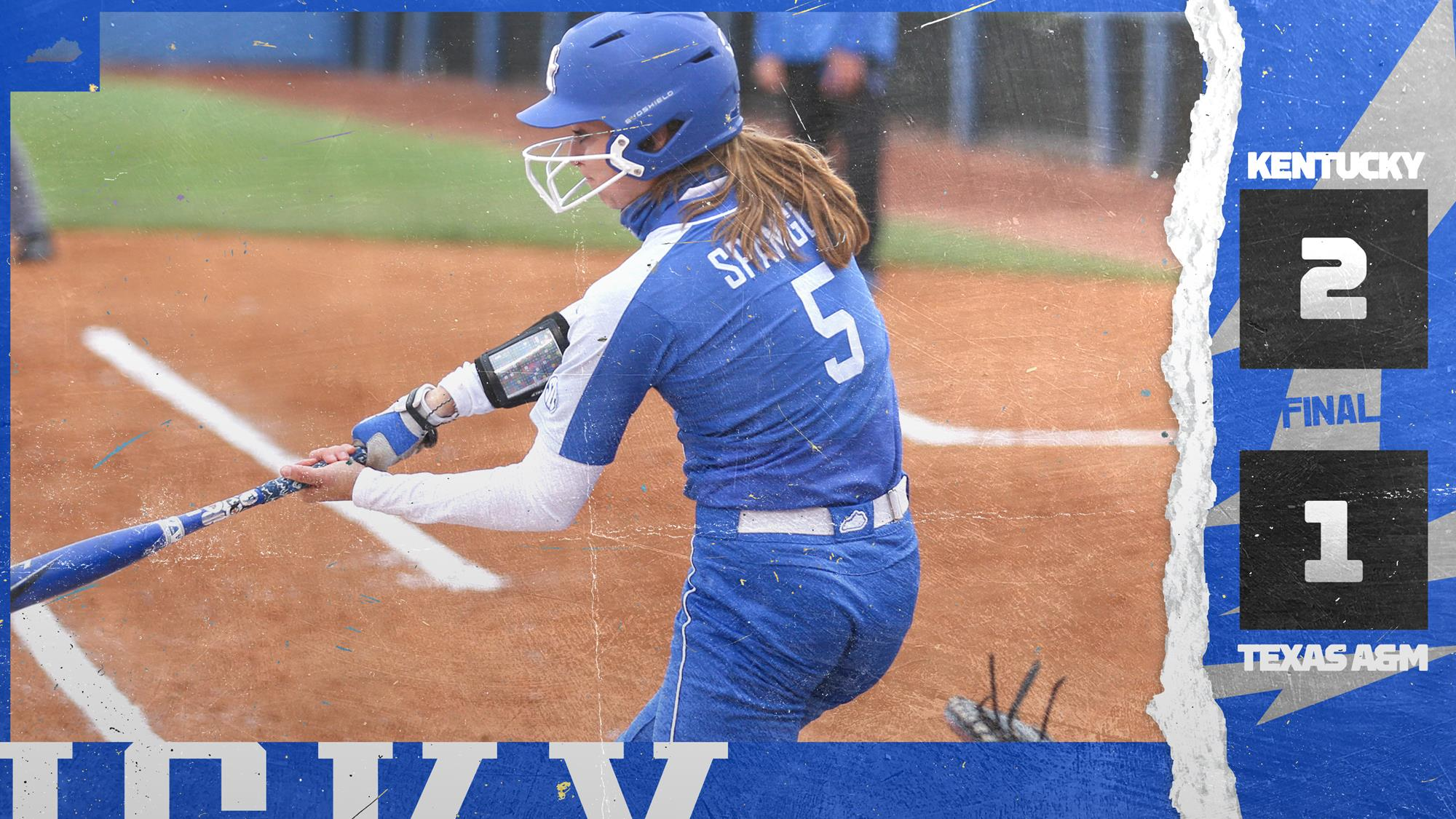 BRYAN-COLLEGE STATION, Texas – Fifth-year pitcher Autumn Humes threw the final 1.2 innings of an extra-inning game, and came up with the game-winning double in the top of the eighth as the No. 17 Kentucky Softball team edged Texas A&M, 2-1 in eight innings Saturday afternoon at Davis Diamond.
 
With Saturday's win, UK has won the first two games of the series and will go for the sweep Sunday afternoon at 1 p.m. ET live on the SEC Network+, ESPN3 and the ESPN app.
 
Grace Baalman could not have been better in the circle for UK as she went 6.1 innings, only allowing one run on eight hits with a walk and a strikeout. The senior from Hardin, Illinois threw 102 pitches on the afternoon with Humes throwing the final 1.2 innings on 25 pitches.
 
Tatum Spangler gave UK the lead in the seventh on a two-out RBI triple before Haley Lee tied the game on a solo HR in the bottom half as the first two runs of the game crossed the plate.
 
Kentucky improves to 34-12 on the season and is now 9-11 in Southeastern Conference play. Texas A&M falls to 31-16 on the year and is 8-12 in the SEC.
 
Key Stat
1. Kentucky pitching surrendered just one walk in eight innings against the potent Texas A&M offense.
 
Key Player
Tatum Spangler was the key player in the game, as she drove in the first go-ahead run in the top of the seventh inning on an RBI triple with two outs after Kayla Kowalik had been intentionally walked.
 
Key Play
The key play in the game was by Autumn Humes, as she doubled into the gap in right center to score Erin Coffel, who doubled to begin the eighth inning. Humes drove in the game-winning run on that hit.
 
Run Recap
With two outs in the top of the seventh, Kayla Kowalik reached on an error and Tatum Spangler sent a two-out triple to the gap in right center to score Kowalik. UK 1, TAMU 0
 
Haley Lee hit a one-out solo homer in the bottom of the seventh to tie the game. UK 1, TAMU 1
 
After a lead-off double in the eighth from Erin Coffel, Autumn Humes plated the game-winning run on a double. FINAL – Kentucky 2, Texas A&M 1
 
For the latest on UK Softball, follow the Wildcats on Twitter and Instagram at @UKSoftball.