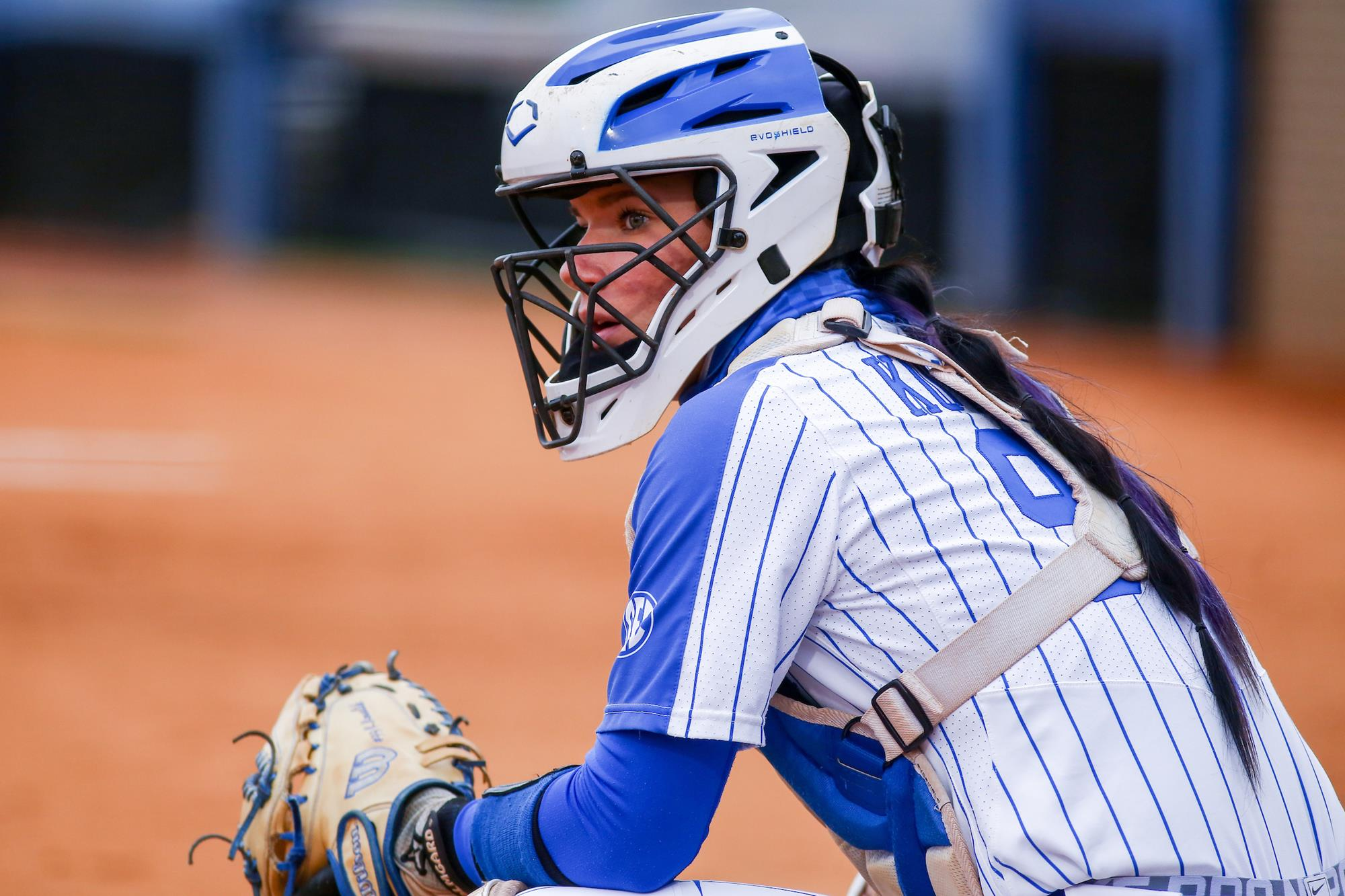 LEXINGTON, Ky. – The LSU Tigers took both games of a doubleheader Sunday afternoon at John Cropp Stadium, winning 10-7 and 10-4. With the two wins Sunday, LSU claims the series over Kentucky.
 
UK is now 32-12 on the season and 7-11 in the Southeastern Conference.
 
Kentucky next plays at Texas A&M for a three-game series in College Station April 30-May 2 at Davis Diamond. All three games will steam live on the SEC Network+, ESPN3 and the ESPN app.
 
Game One – LSU 10, Kentucky 7
Key Stat
82. Kayla Kowalik had three hits in the game and became the school's single-season record holder in hits.
 
Key Player
Kowalik went 3-for-3 in the game with three runs scored, a homer and an RBI. She upped her school-record hit streak to 23 games and set single-season school records for hits (82) and total bases (139) in the game.
 
Key Play
The key play in the game was a two-run double by Shelbi Sunseri in the top of the sixth inning to give the Tigers a 10-7 lead.
 
Run Recap
LSU started the game with back-to-back infield singles, followed by a three-run home run from Pleasants. The Tigers would load the bases again, but Baalman would work out of the jam. LSU 3, UK 0 – T1
 
UK answered with solo home run from Kowalik in the bottom of the first inning. LSU 3, UK 1 – B1
 
Mallory Peyton hit a solo home run in the bottom of the second to cut the Tigers lead to one. LSU 3, UK 2 – B2
 
A four-pitch walk followed by a two-run homer from Cummins gave the Tigers back their three-run lead in the third. LSU 5, UK 2 – T3
 
Kentucky would answer with another solo run in the third, getting a single from Kowalik, followed by a single from Spangler. Kowalik will score after an error from LSU. LSU 5, UK 3 – B3
 
The Tigers scored two runs in the fifth, getting a leadoff walk, followed by a single and then a double from Sunseri. A sacrifice fly was the second run, giving LSU a four-run lead. LSU 7, UK 3 T5
 
After a double from Smith, who moved to third on a sac bunt, Spangler hit a sacrifice fly to close the LSU lead to three. LSU 7, UK 4 B5
 
LSU then took control of the game with a three-run sixth inning getting a RBI single from Doyle and a two-run double from Sunseri. LSU 10, UK 4 T6
 
UK rallied in the seventh, getting a the first two batters on with a hit-by-pitch and an error. After a strikeout, Kowalik singled followed by a sacrifice fly from Spangler and a two-run double by Johnson. Coffel would pop up to end the threat and the game.  FINAL – LSU 10, Kentucky 7
 
Game Two – LSU 10, Kentucky 4
Key Stat
23. Kayla Kowalik's hit streak came to an end at 23 games, a new school record by five.
 
Key Player
Sloan Gayan was the key player in the game, throwing 4.1 innings without allowing an earned run.
 
Key Play
Morgan Cummins hit a home run as part of a nine-run third inning for LSU.
 
Run Recap
Kentucky scored the first three runs of the game, on an RBI single by Renee Abernathy, which was followed by a Mallory Peyton two-RBI single up the middle. UK 3, LSU 0
 
LSU scored once in the second on an Amanda Doyle home run. UK 3, LSU 1
 
LSU then scored nine runs in the top of the third inning on four home runs and a Kentucky defensive miscue. LSU 10, UK 3
 
Miranda Stoddard hit a home run to left center in the bottom of the seventh. FINAL – LSU 10, UK 4
 
For the latest on UK Softball, follow the Wildcats on Twitter and Instagram at @UKSoftball.