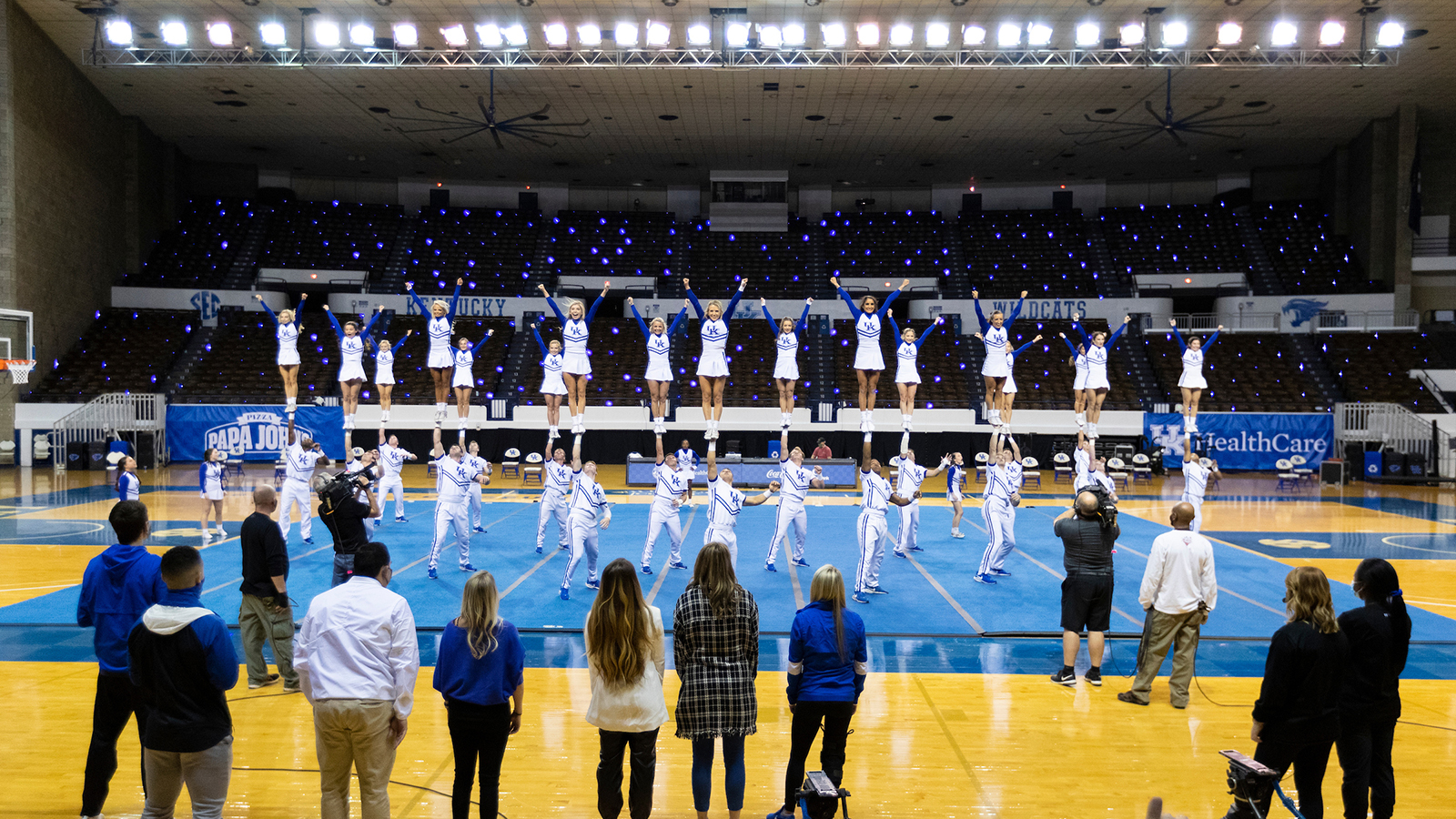 April 23, 2021 - 10:46 AM
Kentucky Cheerleading Aiming to Bring Home 25th Championship
The Kentucky cheerleading program has dominated the Universal Cheerleading Association championships. UK has won 24 championships, more than any other school. In fact, Kentucky's 24 titles are more than the rest of the teams have won combined.
However, UK did not win the championship last season, finishing third. That broke a four-year national championship streak for the Cats.
Now, the squad is back and hungry to get back on top. But they've had to fight a number of obstacles along the way. Kentucky has a new head coach in Ryan Martin O'Connor, has battled the COVID-19 pandemic and has seen the championship delayed by three months. O'Connor said the preparation for nationals is moving forward.
"Ever changing, but great," O'Connor said of the squad's preparation. "The ever-changing part comes from getting new information every week about the competition. One week we have a 12-minute warm up so we practice that. The next week it changes to a 10-minute warm up, so we adjust. Adjust and stay focused. I am very proud of this team and how they have not only dealt with the coaching change and COVID, but also how they have stayed motivated through a much longer season than we are used to. They are ready to shock the world and continue the Gold Standard that is Kentucky Cheerleading."
The change is championship date has changed the training, according to senior Alex Mathis.
"It's been more of a slow burn," Mathis said. "We've been practicing pretty consistently for the past three or four months. There's been a lot of hard pushing. And also having to balance that with school this year is a little tricky. But we're making it work and we're doing our best and we're pushing right along."
Senior Riley Aguiar knows that the squad has been working very hard in practices for nationals.
"It's going really, really well," Aguiar said. "I think with COVID and everything, it's not ideal and we don't have two-a-days because we're having to compete so much later than usual. But we have practice four days a week, so we've been coming in and working really, really hard, doing the same thing we always do and I think we're going to be ready by the time we compete."
Organization has been key, according to senior Autumn Clark.
"I think it's been going really well," Clark said. "It's been kind of hard with school. I think we're all making it work. We all have good time management skills. We're doing our best."
Mathis attended Graves County High School in western Kentucky. He grew up in a family of UK fans.
"My parents are big UK fans," Mathis said. "As soon as my mom heard I made the cheer team, she was over the moon. I sometimes have to reel her in a bit, she's gets a little too excited. It's great, every time I go home, everyone asks how UK is. It's been a real treat, just a whole great experience."
As the hard work continues, the squad has a singular goal in mind. In fact, it's not just a goal, it's an expectation, according to Aguiar.
"The expectation is to bring the first place trophy back because last year was definitely not our year," Aguiar said. "I feel like there's so much riding on this year. All the seniors, all the leaders, we've been doing whatever we can to make the team feel confident and not think about last year at all. This is a brand new team. It's not like we have to do any more than we normally do. Just the same preparation that we normally do. I have no doubt that we're going to bring first place back because everyone wants it so bad this year."
The hard work and preparation are nearly complete and the Kentucky cheerleading squad is ready to get back to the top spot in the UCA national competition this year.