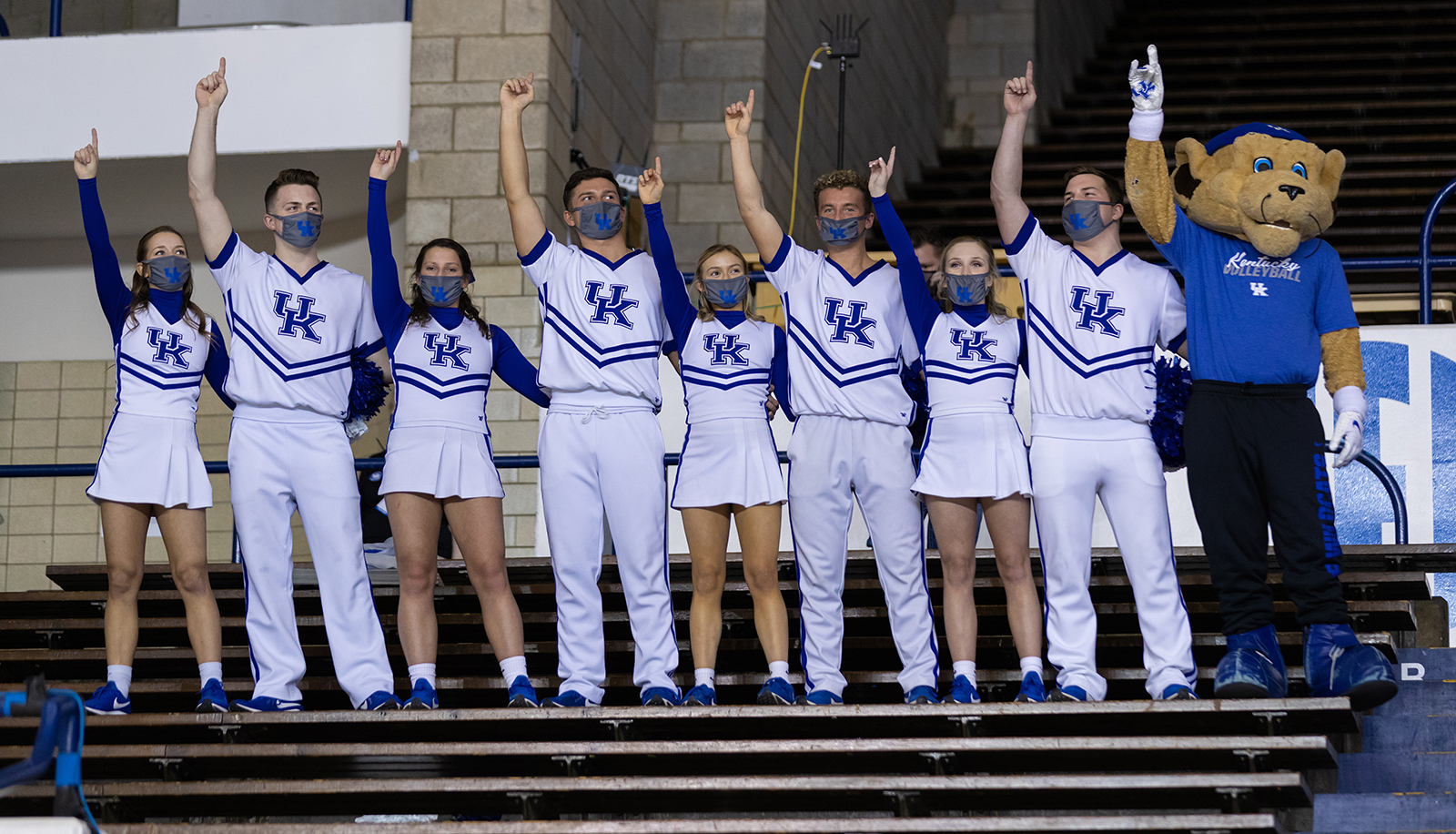 April 21, 2021 - 04:30 PM
Kentucky Cheerleading White/Gameday Squad Competing for Title Virtually
In a season that's been like no season ever before, the Kentucky cheerleading White/Gameday squad experienced something truly new. And despite the difficulty and all of the changes, the squad adapted and advanced.
For this year's UCA national championships, the White/Gameday squad was required to make, and submit, a video to the nationals committee. That video was reviewed and, on Monday the team found out that it advanced to the virtual nationals, where the White squad will compete for a national title. Kentucky earned the number one overall seed in the semifinal round.
The entire process was new to everyone and posed its own set of challenges, according to UK head coach Ryan O'Connor.
"As a coach, I am finding that virtual is probably more difficult," O'Connor said. "When you compete in person, you get one shot and when it's over, it's over. With virtual, I take the videos home, break them down and pick out the tiniest details that we can improve knowing that every other team also gets to record until they get a perfect hit. When you are in person, it is rare that every team in your division has a perfect hit. With virtual, it is almost guaranteed."
Sophomore Amelia Clark explains how the process works.
"We'll be competing all virtual this year," Clark said. "You send in a tape to make it. Then, they send back our score sheet and we have the option to change some things if we want based on the score sheet. Then we have one more tape to send in for finals of nationals."
The experience has been new to everyone according to junior Dylan Gessner.
"It's really different," Gessner said. "Instead of doing that one or two down in Orlando, we can submit the perfect tape so we can get the best score possible."
That would seem to be an advantage because the squad can do as many takes as needed to get the routine perfect. But Gessner pointed out something that must be considered.
"The judges now can slow-mo the recording and they can really nitpick every single thing," Gessner said. "At a normal competition, you can't really slow-mo because you have another team coming on next."
Senior Aerial Griffin knows what the squad hopes to convey with their final video.
"What we're trying to focus on is looking as one unit," Griffin said. "We want everything to look uniform across the board. We want to look like we're having a lot of fun. There's a lot of energy going on, it's just really exciting to watch. Overall, we just want it to be very exciting and fun to watch."
O'Connor has been very pleased with the work the White squad has done this season.
"I am so proud of this White Squad team for what they have done at games all year long and how it is translating into our Gameday routine," O'Connor said. "They are so much fun to work with and they truly all love being Kentucky cheerleaders. I was the one disappointed about having to do virtual, but they handled it so well and kept a positive mindset at all times."
While the process may be new, the White squad is hoping that lifting a championship trophy is how this journey ends.