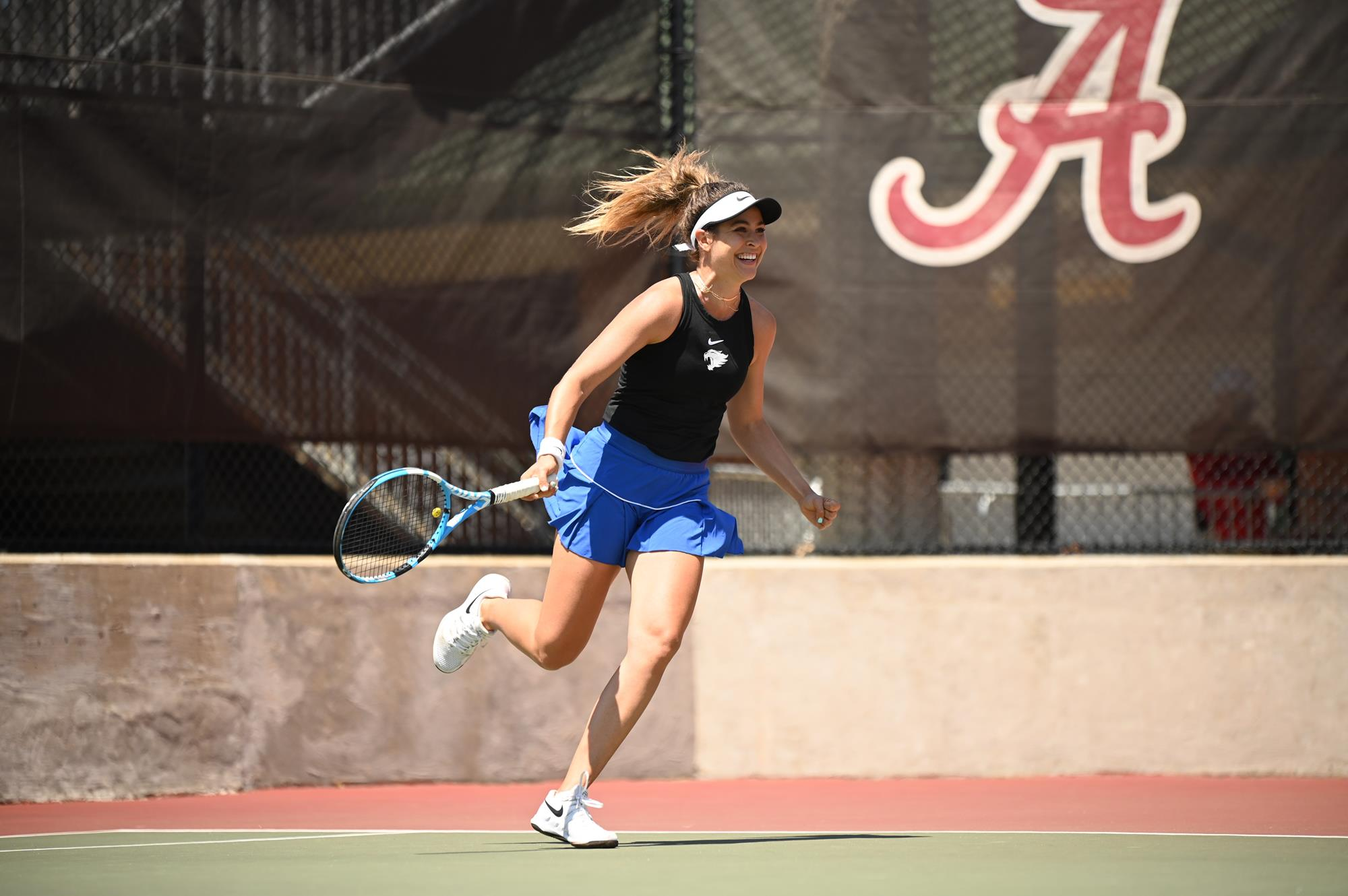 April 20, 2021 - 02:11 PM
Carla Girbau Rallies to Clinch Upset Win Over No. 19 Ole Miss
TUSCALOOSA, Ala. – Kentucky women's tennis junior Carla Girbau fought off an opening-set loss to rally for a 2-6, 6-2, 6-3 win on court No. 5 to earn the decisive point in UK's 4-2 upset victory over No. 19 Ole Miss in the second round of the Southeastern Conference Championship on Tuesday. After winning the doubles point, UK also picked up singles wins from Akvile Paražinskaite and Carlota Molina.
 
UK improves to 15-7 overall on the season and will take on top-seeded and No. 3 nationally-ranked Georgia (17-1) on Wednesday in the quarterfinals at 10 a.m. ET from Tuscaloosa, Alabama. UK has now advanced to the quarterfinals in each of the last two SEC Championships that have been contested.
 
The Wildcats, as they have much of the season, got off to a fast start by clinching their 19th doubles point in 23 tries despite Ole Miss earning the first win of the doubles session on court No. 2.
 
The No. 1 tandem of Paražinskaite and Fiona Arrese quickly evened things up with a 6-2 win over Ole Miss' No. 20-ranked team of Alexa Bortles and Anna Vrbenska. Paražinskaite and Arrese are now 20-1 on the season, easily the best mark in the nation.
 
Teaming up for just their third time this season, Lesedi Jacobs and Elizabeth Stevens dispatched an early deficit to rally back for a 6-4 win over Kelsey Mize and Tereza Janatova.
 
Paražinskaite kept the momentum going into her No. 1 singles spot. The graduate student from Vilnius, Lithuania, picked up her sixth win over a ranked foe with an upset of No. 26 Sabina Machalova in straight sets 6-2, 6-2. The victory on court No. 1 moved Paražinskaite's record to 16-6 on the season. The win over 26th-ranked Machalova was her biggest upset since downing Vanderbilt's No. 20 Christina Rosca on March 14.
 
Molina outlasted No. 90 Janatova on court No. 3 in the opening set 7-5. UK's sophomore from Gran Canaria, Spain, then cruised to a 6-3 second-set victory for the sweep. She moves to 12-6 on the season, and today's win is the first over a ranked foe this season.
 
Girbau fought off a 6-3 opening-set loss to rally for a dominating 6-2 win of her own in the second frame. She clinched the point over Lillian Gabrielsen for the Cats with a 6-3 victory in the third set to move to 9-9 on the season.
 
Ole Miss evened the match at 2-2 behind wins from Reka Zadori over Maialen Morante with a 6-1, 6-2 score on court six. Vrbenska earned a 6-4, 6-3 win on court No. 4 over Stevens.
 
Jacobs, playing in the No. 2 slot for the first time this season, did not finish her match with No. 59 Tiphanie Fiquet. Fiquet earned a 7-5 win in the first set and Jacobs responded with a 7-5 win in the second stanza. Jacobs had an early 1-0 edge in the third frame.
 
Up next for the Wildcats is a date with the Georgia Bulldogs, who concluded the regular season with a perfect 13-0 mark in league play and a 17-1 record overall. The Bulldogs earned a 4-0 decision over the Wildcats on March 26.
 
Georgia is bolstered by a potent singles lineup consisting of Katarina Jokic (No. 4), Meg Kowalski (No. 16), Morgan Coppoc (No. 54), Lea Ma (No. 60) and Marta Gonzalez (No. 63).
 
Ariana Arsenault and Jokic team up to form the No. 8 doubles tandem. That duo outlasted UK's No. 1 tandem by a 6-3 score during the meeting in March. That was UK's doubles team's only blemish on the year, and it has rebounded to win five straight since that setback.
 
Georgia leads the series 37-11. The teams last met during the SEC Championship in 2008.
 
Due to health and safety considerations in addition to the current guidelines, attendance at the SEC Women's Tennis Championship is on a first-come, first-served basis until reaching capacity if the matches are played outdoors. Admission is free. Facial coverings must be worn at all times unless actively eating or drinking. If matches are forced indoors, there will be more spectators permitted.
 
For the latest on the Kentucky women's tennis program, follow @UKWomensTennis on Twitter and on Instagram, on Facebook and on the web at UKathletics.com. 
No. 26 Kentucky 4, No. 19 Ole Miss 2
April 20, 2021
University of Alabama Tennis Stadium
Tuscaloosa, Ala.
 
Singles competition
1. #45 Akvile Paražinskaite (UK) def. #26 Sabina Machalova (OM) 6-2, 6-2
2. #95 Lesedi Jacobs (UK) vs. #59 Tiphanie Fiquet (OM) 5-7, 7-5, 1-0, unfinished
3. Carlota Molina (UK) def. #90 Tereza Janatova (OM) 7-6, 7-3
4. Anna Vrbenska (OM) def. Elizabeth Stevens (UK) 6-4, 6-3
5. Carla Girbau (UK) def. Lillian Gabrielsen (OM) 3-6, 6-2, 6-3
6. Reka Zadori (OM) def. Maialen Morante (UK) 6-1, 6-2
 
Doubles competition
1. #1 Fiona Arrese/Akvile Paražinskaite (UK) def. #20 Alexa Bortles/Anna Vrbenska (OM) 6-2
2. Tiphanie Fiquet/Sabina Machalova (OM) def. Carla Girbau/Anastasia Tkachenko (UK) 6-1
3. Lesedi Jacobs/Elizabeth Stevens (UK) def. Kelsey Mize/Tereza Janatova (OM) 6-4