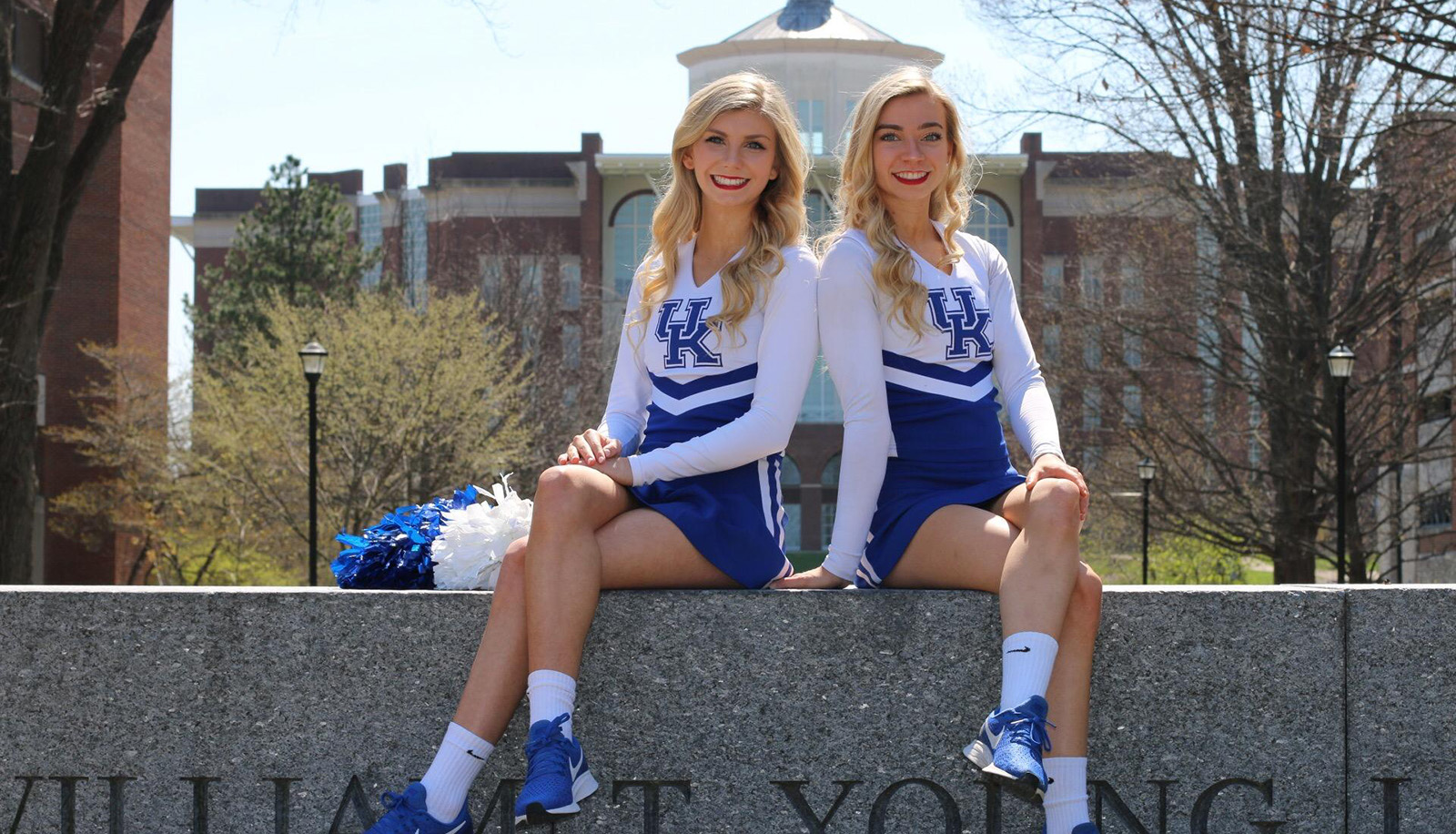 April 19, 2021 - 11:26 AM
Clark Sisters Enjoying Final Season of Cheering Together
Photos courtesy of Jennifer Clark
Amelia Clark and Autumn Clark are more than just teammates on the Kentucky cheerleading squad. They are sisters who have cheered together for many, many years while growing up, in high school and now at UK. And they are also about to see their time of being able to cheer together come to an end.
This will be the last season that Amelia and Autumn will cheer together. Autumn is graduating and will be attending law school at UK this fall, leaving Amelia to carry on the family tradition that started when their mother, Jennifer (Lewis) Clark cheered at UK in 1988 and '89.
Jennifer remembers both of her daughters loving to cheer from a very young age.
"It was a little gym in Richmond, Excel," Jennifer said. "They were six and eight. I kept trying to get them into other sports. I didn't want them to cheer just because I cheered."
Despite trying other sports, the sisters always migrated back to cheerleading.
"We tried other sports," Jennifer said. "Autumn tried t-ball and she spent more time fixing her hair or playing in the dirt. We did soccer for many years."
Both Amelia and Autumn seemed to enjoy cheering and seemed to have a talent for it from a young age.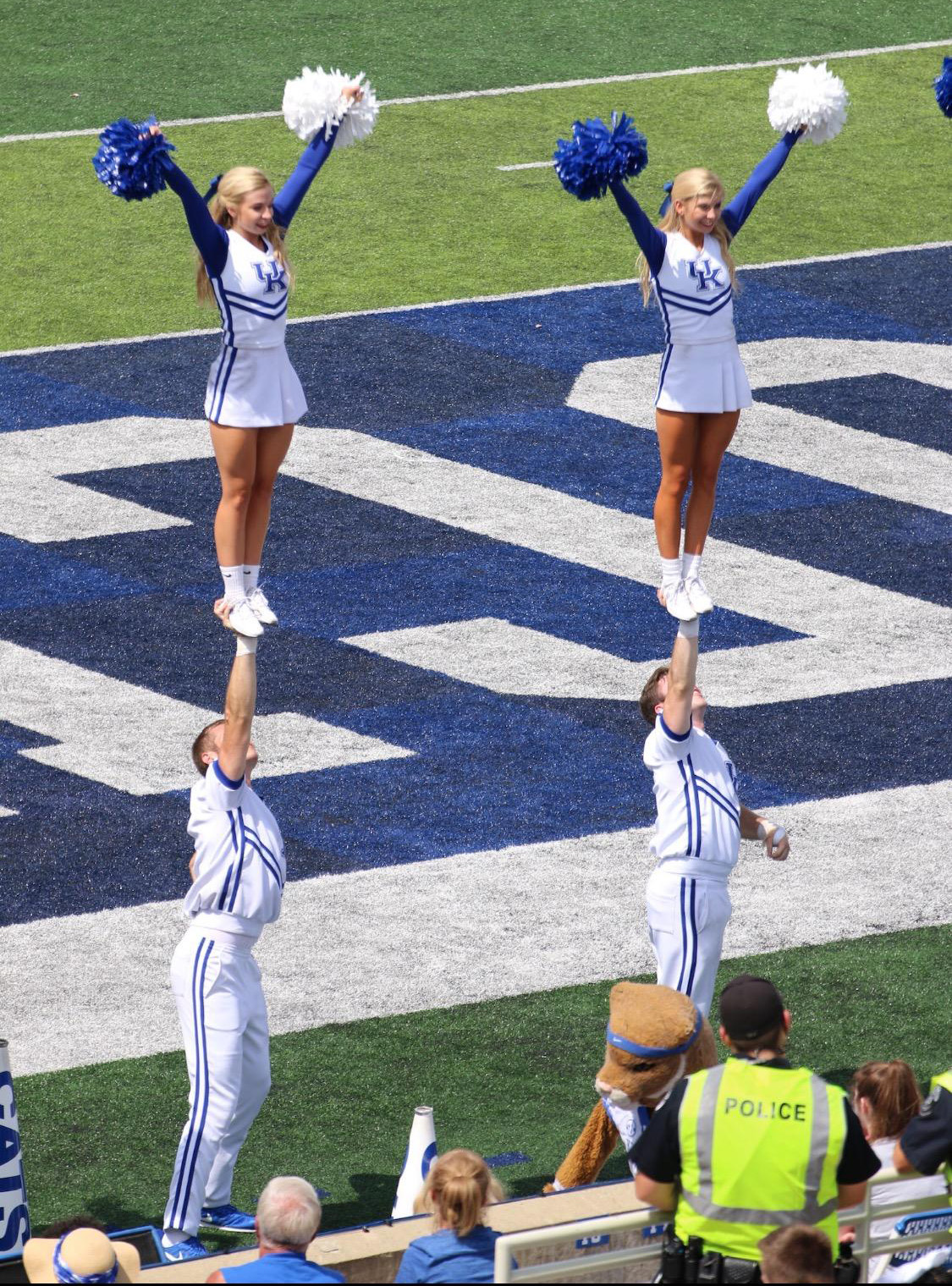 "Once I saw that they were pretty good, we came to Lexington when they were seven and nine and we started at Kentucky Elite," Jennifer said. "And they stayed there until high school."
Both girls dreamed of cheering for Kentucky, just like their mom had done.
"That process started when (Autumn) was at Kentucky Elite, probably when she was 10 years old," Jennifer said. "Pretty much from the time they were little girls, looking up to the UK cheerleaders."
Autumn remembers the early days of cheering with her sister.
"We've cheered together since I was eight and she was six," Autumn said. "We've been on different teams but we cheered in high school together and part of college. Usually, we're on the same team or in the same gym."
Autumn is two years older than Amelia and was on the UK squad first. Jennifer remembers being nervous when Autumn first tried out but seeing her oldest daughter make the squad was very rewarding.
"It was one of my proudest moments because you see a little girl's dream come true, it was like, wow, we did it," Jennifer said. "It took a lot of privates. I work in Lexington, so every day, drive to work, drive back to Richmond, then drive back up to Lexington about six or seven days a week. Once she made it, I knew it was all worth it."
A couple of years after Autumn made the squad, Amelia tried out, which could have caused a tough situation.
"It never occurred to me, what if one (makes the squad) and one doesn't," Jennifer said. "But it all worked out."
Autumn did offer her younger sister some advice and guidance when it was Amelia's turn to try out.
"She was definitely very helpful when I tried out and very encouraging, which was probably the most important aspect," Amelia said. "She kind of guided me through what I needed to do for tryouts."
Being on the same squad has been a very memorable experience for both sisters, who attended Madison Central High School.
"It's really cool. I think it's an experience that not a lot of people get to do, especially at an elite level," Autumn said. "It's also really nice to have someone you can count on and talk to if you need to and they understand what you're going through. It's been really nice to have that support system with me all the time. And I get to do stuff with my sister that most people can't do."
Amelia agrees with her older sister.
"It's been awesome to cheer with Autumn at UK," Amelia said. "It's always been a dream of both of ours. All of our lives, we really worked until this point. It's been awesome to have that relationship and get to come to practice together and hang out."
Amelia admits that she is probably the more outgoing of the sisters but she also knows how to bring out the best in her older sibling.
"That's probably true," Amelia said. "I think I bring out her outgoing side. She's definitely the more serious one but I bring a lot of fun to it. When she gets too serious, I make sure we still remember that cheerleading is fun."
UK head coach Ryan Martin O'Connor sees that dynamic between the sisters.
"I can definitely tell that Amelia is a little bit more aggressive and feisty," O'Connor said. "She definitely is the younger sister of a high achiever and she pushes herself in school, in practice and on the sidelines to be the best."
O'Connor is thankful to have had both sisters on her first UK squad.
"Autumn and Amelia both have played a crucial role in our program this year," O'Connor said. "Amelia is competing on our gameday squad and she is getting a lot of great experience and helping lead that team while Autumn is helping to push our traditional competition squad in the D1A division. I am very proud of both of them."
When O'Connor was hired as UK's head coach, Autumn was one of the first people to welcome her into the new role.
"Autumn was one of the very first people to reach out to me once I became the new coach," O'Connor said. "We had previously spoken when I was trying to get her to come to Ole Miss. She still had my cell and it was nice to know I knew someone coming into UK."
This season, Autumn has become one of the leaders on O'Connor's first UK squad.
"Autumn is smart, funny, talented and a great leader," O'Connor said. "I feel very blessed that our paths crossed and that I ended up being able to be her coach."
O'Connor has also been impressed with Amelia this season.
"Amelia is equally smart, funny and talented," O'Connor said. "I'm excited to have a few more years with Amelia before she heads off to med school."
Despite the challenges of COVID-19, this season has been especially fun for the sisters, who are relishing one last season of cheering together.