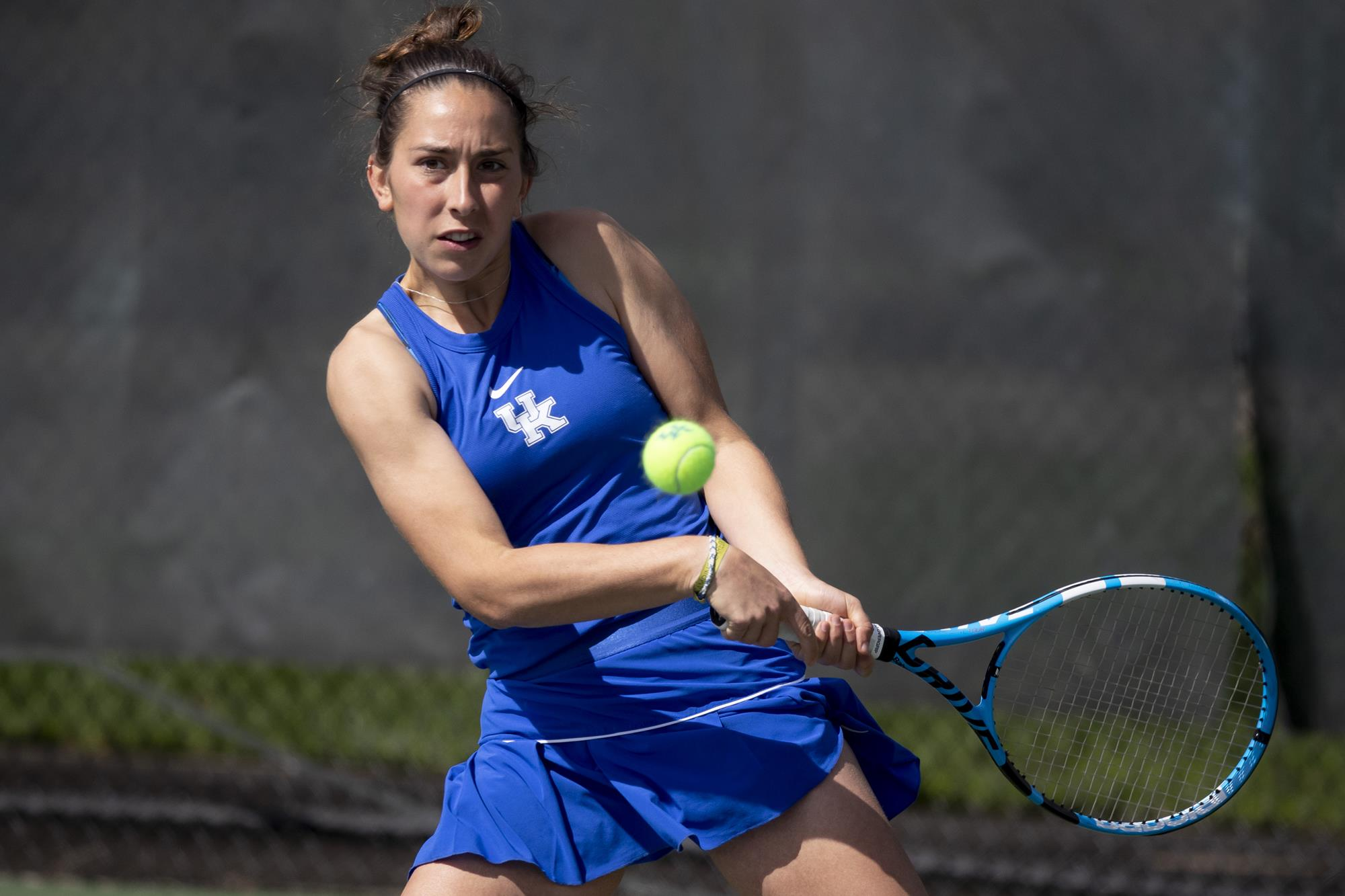 Thriller at Dusk: No. 23 Kentucky Defeats Mississippi State, 4-3
STARKVILLE, Miss. – The University of Kentucky women's tennis team competed for more than four-and-a-half hours Thursday, defeating Mississippi State in a 4-3 decision in Starkville, Mississippi, and eclipsing a two-match losing streak. The Wildcats improved to a 14-6 record on the season, including a 6-6 mark in the Southeastern Conference and a 3-3 mark on the road.  
 
In usual fashion, Kentucky got off to a hot start in the doubles competition after achieving its 17th doubles point through 20 dual matches this season. Helping take the lead, No. 8 Akvile Paražinskaite and Fiona Arrese eased past No. 14 Magda Adaloglou and Tamara Racine on the first court, 6-1. Then, Carla Girbau and Anastasia Tkachenko wrestled past Emma Antonaki and Marta Falceto on the second court, 7-6 (4).
 
It marked the first time Girbau and Tkachenko have been paired together this spring. Meanwhile, Paražinskaite and Arrese, the eighth-ranked doubles team in the nation, improved to a 18-1 record in 2020-21, including a 15-1 mark this spring and a 6-1 mark against ranked opponents.
 
Despite earning a 1-0 lead ahead of the singles competition, Kentucky and Mississippi State would battle until the seventh point was decided. Out of the gate, Girbau added to her successful evening, besting Chloe Cirotte in a 6-3, 6-3 decision on the fourth court.
 
However, the Bulldogs rallied past the Cats after recording three straight singles triumphs to take the lead, 3-2. Alexandra Mikhailuk defeated Arrese, 7-5, 6-2, on the fifth court, then No. 32 Emma Antonaki defeated No. 47 Paražinskaite, 0-6, 6-3, 6-3, on the first court, while No. 74 Magda Adaloglou defeated Carlota Molina, 7-6 (2), 7-5, on the second court.
 
For the first time in the dual match, UK found itself behind, but it didn't last long. No. 71 Jacobs tied the dual match, taking down Lilian Poling from behind in a 4-6, 6-3, 6-3 decision on the third court. Under pressure, the fate of the dual match was in the hands of Maialen Morante and Marta Falceto on the sixth court.
 
In a third set that lasted for more than an hour, Morante put together a 7-5, 4-6, 7-6 (6) scorecard to roll past Falceto and clinch the dual match. It marked her second clinch of the season.
 
In their next appearance, the Wildcats will travel north to take on Ole Miss in Oxford, Mississippi State, on Saturday, April 10 at 2 p.m. ET to conclude the regular season.
 
No. 23 Kentucky 4, Mississippi State 3
April 8, 2021
Mississippi State Tennis Pavilion
Starkville, Miss.
 
Singles competition
1. #32 Emma Antonaki (MS) def. #47 Akvile Parazinskaite (UK) 0-6, 6-3, 6-3
2. #74 Magda Adaloglou (MS) def. Carlota Molina (UK) 7-6 (7-2), 7-5
3. #71 Lesedi Jacobs (UK) def. Lilian Poling (MS) 4-6, 6-3, 6-3
4. Carla Girbau (UK) def. Chloe Cirotte (MS) 6-3, 6-3
5. Alexandra Mikhailuk (MS) def. Fiona Arrese (UK) 7-5, 6-2
6. Maialen Morante (UK) def. Marta Falceto (MS) 7-5, 4-6, 7-6 (8-6)
 
Doubles competition
1. #8 Fiona Arrese/Akvile Parazinskaite (UK) def. #14 Magda Adaloglou/Tamara Racine (MS) 6-1
2. Carla Girbau/Anastasia Tkachenko (UK) def. Emma Antonaki/Marta Falceto (MS) 7-6 (7-4)
3. Chloe Cirotte/Alexandra Mikhailuk (MS) vs. Lesedi Jacobs/Elizabeth Stevens (UK) 6-6 (6-4), unfinished
 
For the latest on the Kentucky women's tennis program, follow @UKWomensTennis on Twitter and on Instagram, on Facebook and on the web at UKathletics.com.