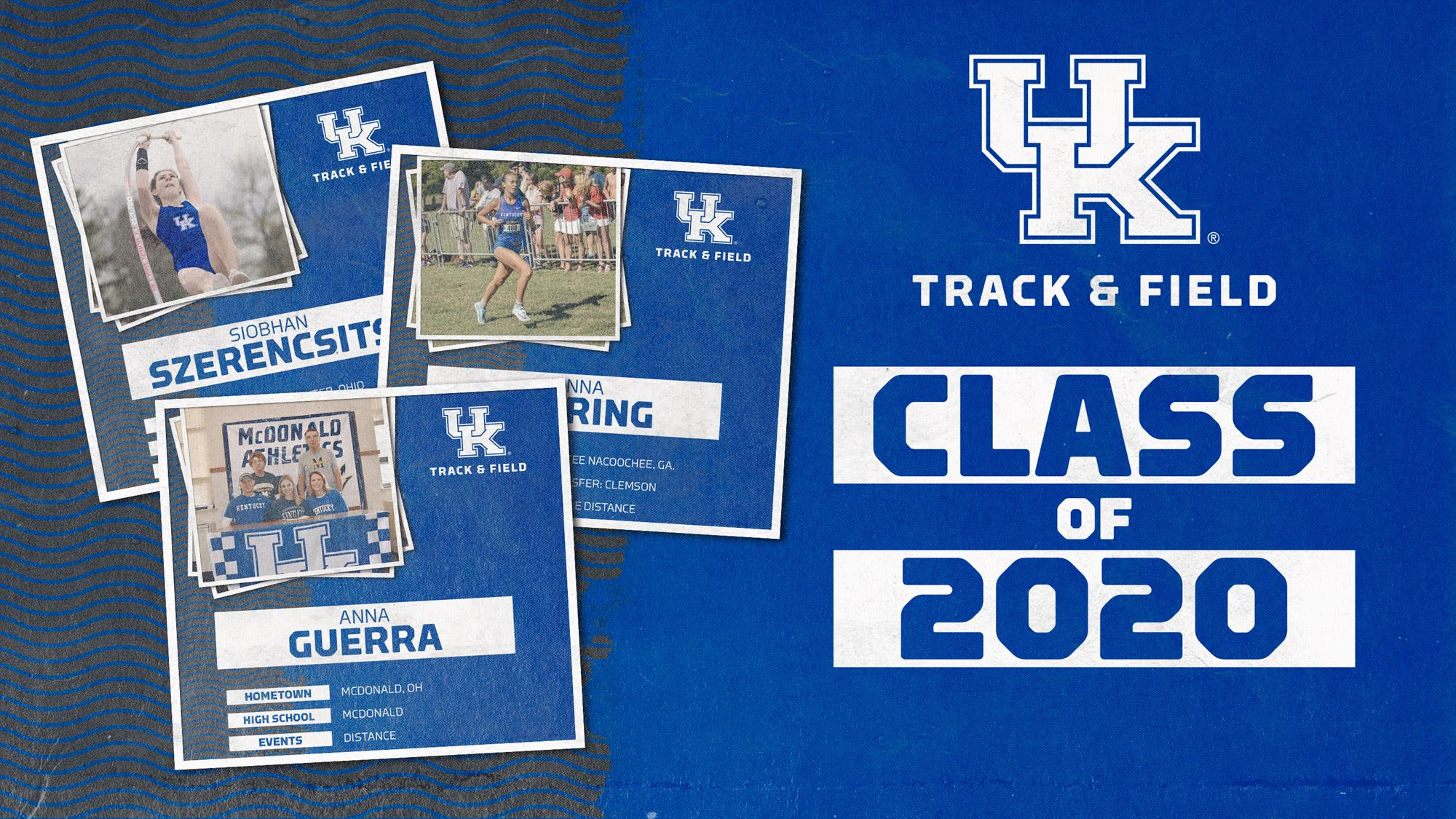 August 21, 2020 - 02:29 PM
UKTF Adds Three Additions in Late Summer 2020
LEXINGTON, Ky. – The Kentucky Track and Field Program announced the additions of three new Wildcats to the program as the 2020-21 school year begins.
 
Jenna Gearing, Anna Guerra and Siobhan Szerencsits all join the Kentucky women's track and field and cross country program.
UK's group of summer additions include Division I All-America honors, an individual DI Conference Title and four DI Conference medals, a dozen High-School All-America honors and five prep State Titles.
 
Biographical information on the additions is listed below.
 
Jenna Gearing – Transfer – Clemson – Distance
PBs: 800m: 2:12.43 | 1500m: 4:50.01 | 3k: 9:54.72
A battle-tested middle-distance runner who has contested 800m, mile and 5k races at the ACC Championships. As a prep athlete, was a four-time region cross country champion,
two-time state AAA cross country champion, three-time state champion (1600 in 2014, 3200 in 2013,14) and All-State multiple times. Four-time Blitz Cross Country Runner of the Year. Four-time region champion in the 1600 and 3200
Anna Guerra – McDonald HS – Distance
PBs: 800m: 2:24.20 | 3,200m: 10:57.44A distance and cross country runner from Ohio.
Ohio Division 3 runner-up at 3200m last spring with a personal best of 10:57. Intends to study early childhood education to be an elementary school teacher.
Siobhan Szerencsits – Transfer – Central Michigan University
PB: PV: 13'3.75″ / 4.06mSchool-record holder at Central Michigan in the pole vault having cleared 13'3.75″/4.06m in a win at the Tennessee Relays in 2019 outdoors. Academic All-MAC student. 2019 NCAA East Prelims qualifier … MAC Championships scorer … 2017 Ohio Runner-up and All-State … 2017 New Balance Nationals qualifier indoors and outdoors.