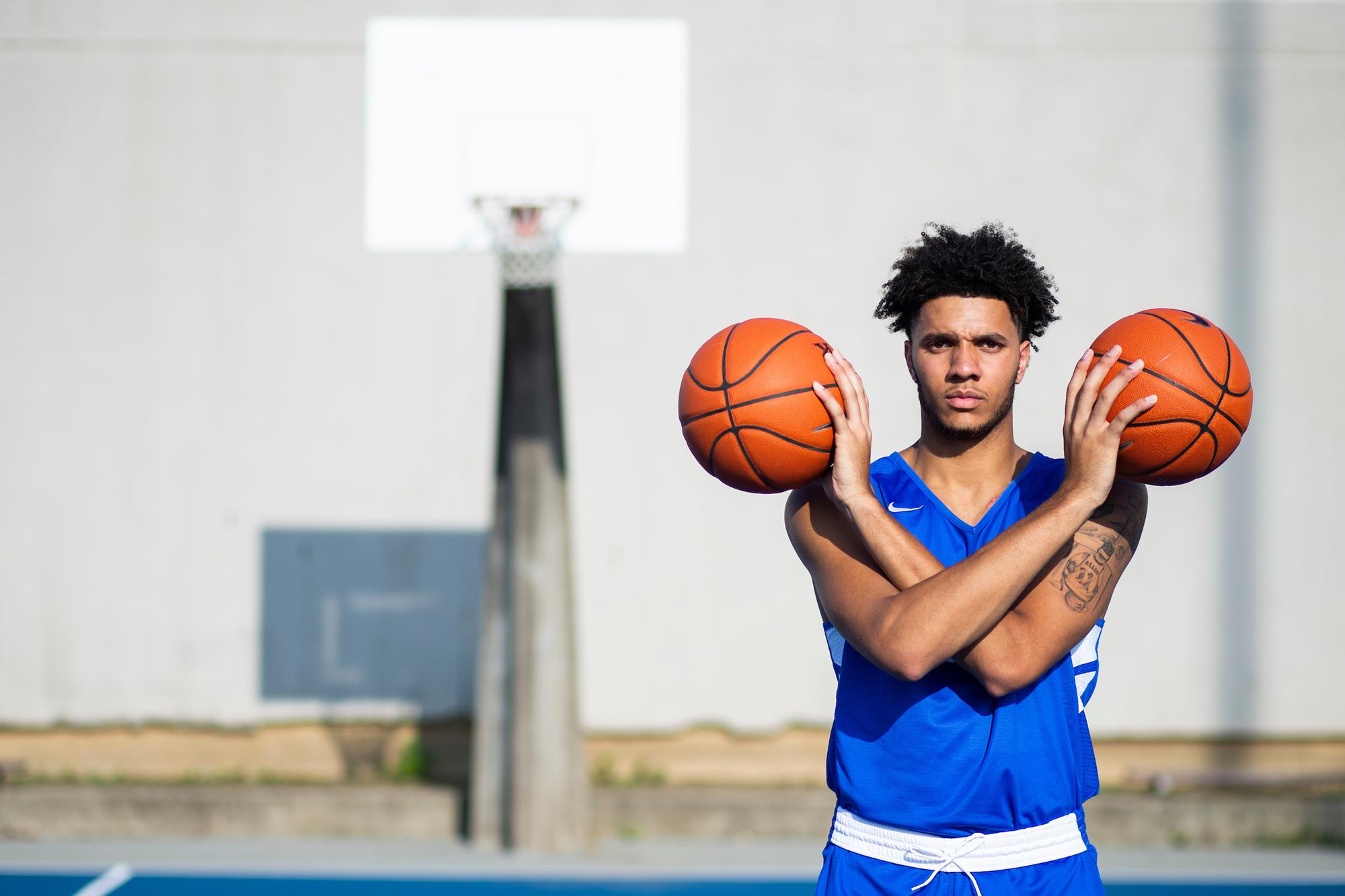 UK Men's Basketball Adds UAB, Marshall to Nonconference Slate
LEXINGTON, Ky. – With the exception of the to-be-announced opponent for the annual SEC/Big 12 Challenge and a date for the annual rivalry game vs. Louisville, Kentucky's 2020-21 nonconference schedule is complete with the additions of UAB and Marshall.
 
The Wildcats will host UAB on Dec. 6 and Marshall on Dec. 29. With UK slated to travel to Louisville this season, that puts Kentucky at 12 games – eight at home, three at neutral sites and one on the road – before the Southeastern Conference season opens.
 
Kentucky has signed contracts with the following opponents:
Kansas – Nov. 10 | United Center (Chicago) | Champions Classic 
Detroit Mercy – Nov. 13 | Rupp Arena | Bluegrass Showcase 
Hartford – Nov. 17 | Rupp Arena | Bluegrass Showcase 
Georgia State – Nov. 20 | Rupp Arena  
Richmond – Nov. 23 | Rupp Arena | Bluegrass Showcase 
Georgia Tech – Nov. 27 | State Farm Arena (Atlanta) | Holiday Hoopsgiving 
Cleveland State – Nov. 30 | Rupp Arena 
UAB – Dec. 6 | Rupp Arena
Notre Dame – Dec. 12 | Rupp Arena
UCLA – Dec. 19 | TBA | CBS Sports Classic 
Marshall – Dec. 29 | Rupp Arena
UK's exhibition slate and SEC schedule will be announced later. In league play, the Wildcats will play their permanent home-and-away opponents of Florida, Tennessee and Vanderbilt twice, plus host and visit two additional league opponents. Kentucky will face the remaining eight SEC opponents once
 
The Wildcats will host UAB for a second straight season after defeating the Blazers 69-58 on Nov. 29 in Rupp Arena. UAB has played UK tough over the years with a 3-3 series history.
 
UK has never lost to Marshall in 12 tries. The last meeting was Dec. 22, 2012, an 82-54 victory in Rupp Arena.
 
Already announced for the 2020-21 nonconference slate is a matchup vs. Kansas on Nov. 10 in the Champions Class at the United Center in Chicago, a trip to Atlanta to face Georgia Tech on Nov. 27 in the Holiday Hoopsgiving in State Farm Arena, a home game vs. Notre Dame on Dec. 12 to begin a three-year series with Fighting Irish, and a neutral-site game vs. UCLA in the CBS Sports Classic on Dec. 19 at a to-be-announced site.
 
Six of the Wildcats' 12 nonconference opponents finished the 2019-20 season inside the NCAA Evaluation Tool top 100 with two (Kansas and Louisville) ranked in one of the two major polls and two receiving votes (Richmond and UCLA). UK's 12 nonconference foes combined for a 224-155 record last season, a .591 winning percentage.
 
The nonconference schedule will give way to the typically difficult SEC slate. The league has earned 15 berths in the last two NCAA Tournaments, the conference's best two-year stretch. The SEC was slated for another impressive haul last season until the COVID-19 pandemic canceled the postseason.  
 
Offseason releases of "way too early preseason polls" feature nonconference foes Kansas, UCLA, Louisville and Richmond in consideration for a top-25 ranking with Tennessee, LSU, Auburn and Florida among the SEC opponents expected to be under consideration.
 
Kentucky will take on that difficult schedule with what will be one of the most inexperienced rosters of the Calipari era. UK will be tasked with replacing 94% of its scoring from last season – most of the Calipari era – 92.4% of its minutes, 84.4% of its rebounds, 98.6% of its assists and 91.5% of its blocks. 
 
The Wildcats are bidding farewell to eight of their top nine scorers from a season ago, including all five starters. The lone major returning contributor from last season will be sophomore forward Keion Brooks Jr., who averaged 4.5 points and 3.2 rebounds per game in 31 appearances, including six starts.  
 
Calipari and his staff have prepared for the losses – which includes five underclassmen declaring for the NBA Draft – with the nation's consensus No. 1 recruiting class and three key transfers.  
 
UK's current seven-man freshman class features six consensus five- and four-star prospects, including top-10 signees Brandon Boston and Terrence Clarke. The Wildcats also signed Wake Forest transfer Olivier Sarr, Creighton graduate transfer Davion Mintz and Rhode Island transfer Jacob Toppin.  
 
Season ticket renewals for the 2020-21 season will be available LATER in July. Fans interested in acquiring new tickets are encouraged to enter the men's basketball season ticket lottery online. For more information on K Fund seating availability, please call 859-257-6300.
 
For the latest on the Kentucky men's basketball team, follow @KentuckyMBB on Twitter, Facebook, Instagram and TikTok, and on the web at UKathletics.com.
Schedule Breakdown
 
| | | | | | | |
| --- | --- | --- | --- | --- | --- | --- |
| Opponent | 2019-20 Record | Final NET Ranking | Final Ranking (AP/Coaches) | KenPom.com Final Ranking | Series History | Last Meeting |
| Kansas | 28-3 | 2 | 1/1 | 1 | UK leads 23-9 | UK won 71-63 on Jan. 26, 2019 |
| Detroit Mercy | 8-23 | 307 | -/- | 306 | Tied 1-1 | UK won 83-46 on Dec. 7, 1983 |
| Hartford | 18-15 | 246 | -/- | 243 | UK leads 1-0 | UK won 104-61 on Dec. 29, 2009 |
| Georgia State | 19-13 | 134 | -/- | 126 | UK leads 2-0 | UK won 73-46 on Nov. 26, 2005 |
| Richmond | 24-7 | 38 | RV/- | 46 | Never met | First meeting |
| Georgia Tech | 17-14 | 72 | -/- | 64 | UK leads 57-15 | UK won 67-53 on Dec. 14, 2019 |
| Cleveland State | 11-21 | 304 | -/- | 313 | UK leads 3-0 | UK won 101-70 on Nov. 23, 2017 |
| UAB | 19-13 | 2015 | -/- | 189 | Tied 3-3 | UK won 69-58 on Nov. 29, 2019 |
| Notre Dame | 20-12 | 52 | -/- | 57 | UK leads 43-19 | UK won 68-66 on March 28, 2015 |
| UCLA | 19-12 | 76 | RV/RV | 78 | UK leads 8-7 | UCLA won 83-75 on Dec. 23, 2017 |
| Louisville | 24-7 | 8 | 14/13 | 9 | UK leads 37-16 | UK won 78-70 on Dec. 28, 2019 |
| Marshall | 17-15 | 172 | -/- | 143 | UK leads 12-0 | UK won 82-54 on Dec. 22, 2012 |
| Alabama | 16-15 | 55 | -/- | 60 | UK leads 114-38 | UK won 76-67 on Jan. 11, 2020 |
| Arkansas | 20-12 | 43 | -/- | 47 | UK leads 33-11 | UK won 73-66 on Jan. 28, 2020 |
| Auburn | 25-6 | 27 | 20/20 | 33 | UK leads 95-21 | UK won 73-66 on Feb. 29, 2019 |
| Florida | 19-12 | 29 | -/RV | 32 | UK leads 104-40 | UK won 71-70 on March 7, 2020 |
| Georgia | 16-16 | 91 | -/- | 96 | UK leads 129-26 | UK won 89-79 on Jan. 21, 2020 |
| LSU | 21-10 | 28 | -/RV | 37 | UK leads 90-27 | UK won 79-76 on Feb. 18, 2020 |
| Mississippi State | 20-11 | 50 | -/- | 48 | UK leads 98-20 | UK won 80-72 on Feb. 4, 2020 |
| Missouri | 15-16 | 84 | -/- | 97 | UK leads 13-1 | UK won 71-59 on Jan. 4, 2020 |
| Ole Miss | 15-17 | 97 | -/- | 102 | UK leads 108-13 | UK won 67-62 on Feb. 15, 2020 |
| South Carolina | 18-13 | 66 | -/- | 69 | UK leads 52-13 | SC won 81-78 on Jan. 15, 2020 |
| Tennessee | 17-14 | 63 | -/- | 68 | UK leads 156-74 | UT won 81-73 on March 3, 202- |
| Texas A&M | 16-14 | 113 | -/- | 131 | UK leads 11-4 | UK won 69-60 on Feb. 25, 2020 |
| Vanderbilt | 11-21 | 142 | -/- | 169 | UK leads 149-47 | UK won 78-64 on Feb. 11, 2019 |