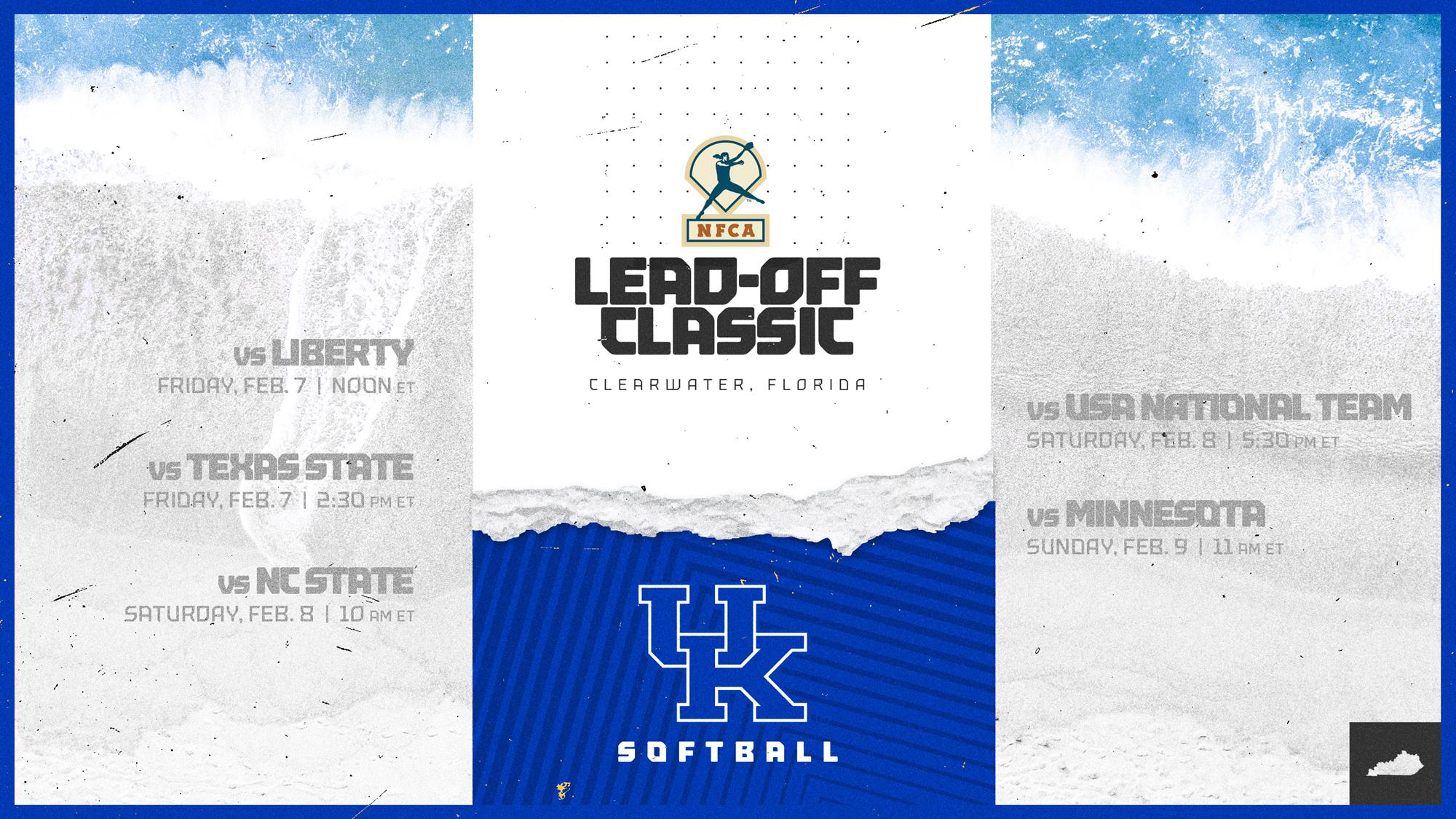 LEXINGTON, Ky. – On the heels of hosting four-straight NCAA Regionals and appearing in the NCAA Super Regionals for three-straight seasons – the Kentucky Softball team will kick off the 2020 campaign at the relaunch of the National Fastpitch Coaches' Association Lead-Off Classic in Clearwater, Florida.
 
The Wildcats will play four NCAA games over a three-day span and will play an additional exhibition  against the United States National Team as part of Team USA's run up to the 2020 Tokyo Olympics.
 
All five of UK's appearances in the Lead-Off Classic will be live streamed through the NFCA's website, with live stats available on UKathletics.com.
 
The tournament kicks off on Friday, Feb. 7 at Noon ET with Kentucky facing Liberty and Texas State in back-to-back games. Saturday. UK will play North Carolina State at 10 a.m. ET before a 5:30 p.m. ET showdown with Team USA. The game against Team USA is an exhibition, and stats do not count towards the season totals for Kentucky.
 
The tournament for the Wildcats concludes on Sunday morning at 11 a.m. ET against the Minnesota Golden Gophers, who advanced to the 2019 Women's College World Series for the first time in program history.
 
Kentucky returns six starters from last year's team, including key offensive players Mallory Peyton, Lauren Johnson and All-Southeastern Conference performer, Kayla Kowalik. Additionally, in the circle the Wildcats bring back both key pitchers Grace Baalman and Autumn Humes. Three other pitchers return to the rotation, including Meghan Schorman, Tatum Spangler and Larissa Spellman.
 
This week marks the beginning of 22-straight games on the road to begin the season for Kentucky. The Wildcats will play its first home game of the season on March 7 against Texas A&M following a 21-game, four-city road trip to start the year.
 
2020 Kentucky Softball TV Schedule
 
For more on UK Softball, follow the Wildcats on Twitter and Instagram using @UKSoftball.