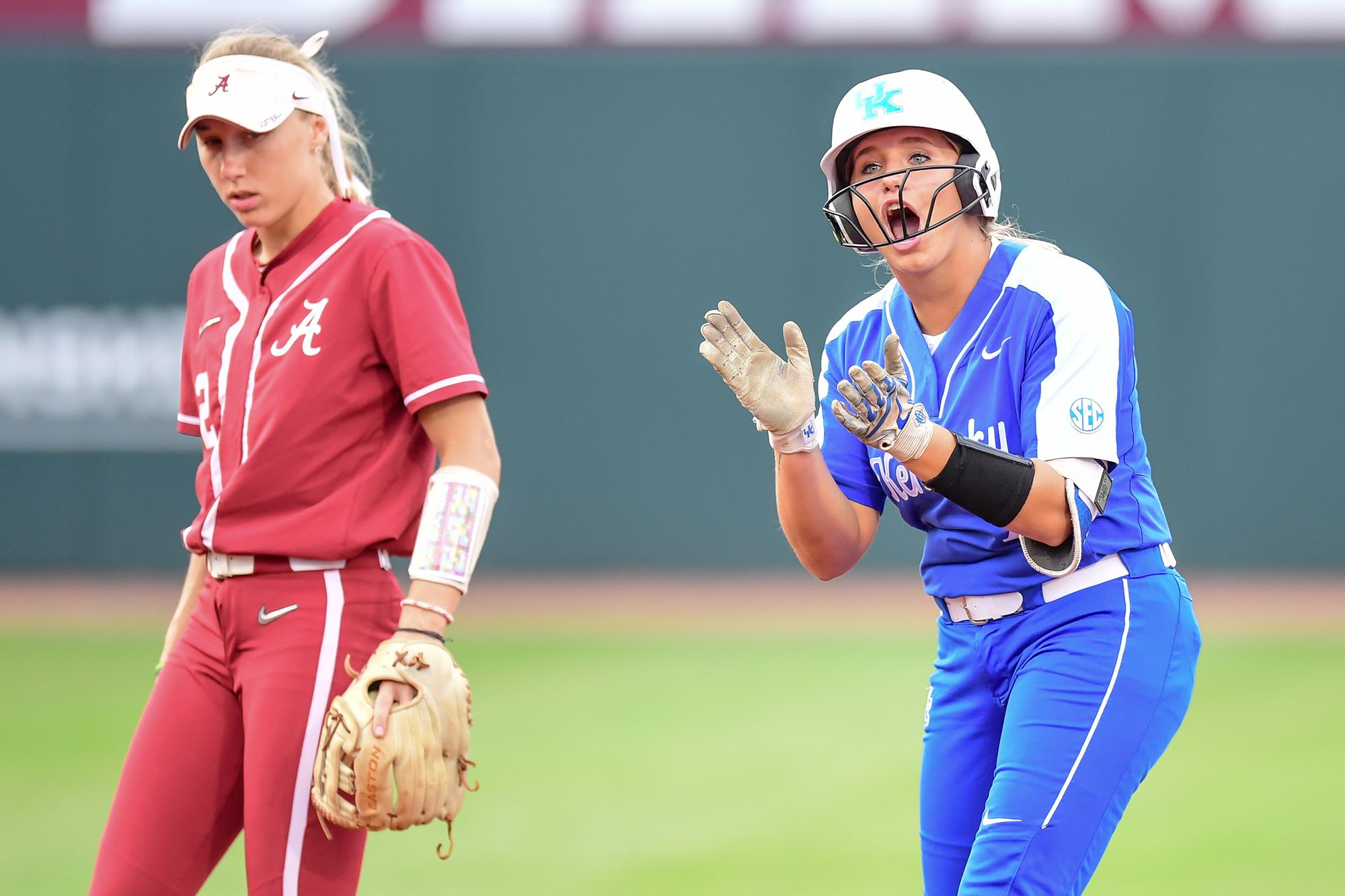 COLLEGE STATION, Texas – A six-run Alabama second inning was the difference in the second of two Southeastern Conference Tournament semifinal games on Friday night as the (4) Kentucky Wildcats dropped a 6-3 decision to (1) Alabama.
 
With Alabama's win, the Crimson Tide advance to the championship game on Saturday night and will take on the sixth-seeded Florida Gators for the tournament title.
 
Kentucky matched Alabama in the game with seven hits and there were no errors in the game. Catcher Jenny Schaper, Mallory Peyton and Lauren Johnson all had RBI hits in the game, driving in the three Kentucky runs.
 
UK will now await its postseason fait for the 2019 NCAA Tournament. The Wildcats are expected to be one of 30 at-large bids, in the field of 64 announced on Sunday night. The selection show will be at 9 p.m. ET live on ESPN2 with Beth Mowins, Amanda Scarbrough and Michele Smith anchoring the coverage.
 
Key Stat
3. Junior pitcher Autumn Humes allowed just three hits in 4.2 innings in the circle against one of the best offenses in the country. Humes got the win in UK's 13-inning win over Alabama in the regular season. Humes had a 0.81 ERA in 17.1 innings pitched this season against Alabama, including 12-consecutive scoreless innings.
 
Key Play
Lauren Johnson's RBI single was the key play in the game, as it pulled the Wildcats to within three runs in the top of the sixth inning and forced an Alabama pitching change.
 
Key Player
Johnson was the key player in the game, as she went 2-for-3 with an RBI. It was her second two-hit game against Alabama on the season.
 
Run Recap
Alabama scored six runs in the bottom of the second inning on three different Kentucky pitchers to take a 6-0 lead. ALA 6, UK 0
 
In the top of the third, Jenny Schaper singled up the middle to score Lauren Johnson and pull one back for the Wildcats. ALA 6, UK 1
 
In the top of the fourth, Alex Martens doubled to lead off the inning and pinch runner Jaci Babbs was brought home on a sacrifice fly to deep CF by Mallory Peyton. ALA 6, UK 2
 
In the top of the sixth, Lauren Johnson singled up the middle to score Alex Martens. FINAL – Alabama 6, Kentucky 3
 
For the latest on UK Softball, follow the Wildcats on Twitter and Instagram at @UKSoftball.