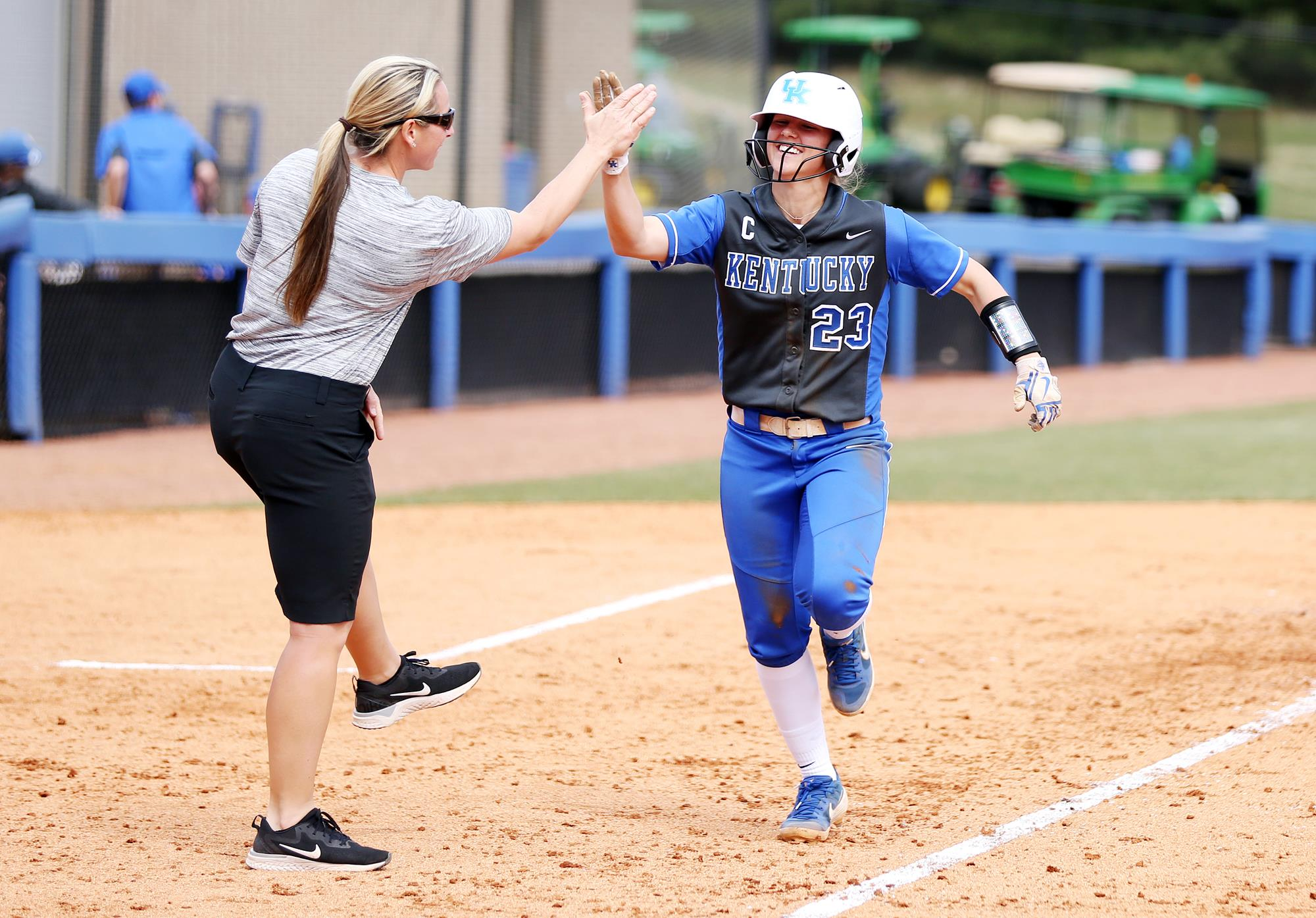 RICHMOND, Ky. – The No. 22 Kentucky softball team had 14 hits and 11 runs in a Wednesday midweek win over Eastern Kentucky to walk away with an 11-5 win over the Colonels. Senior Katie Reed was 3-for-3 in the game with three hits, and four RBI.
 
With the win, Kentucky now improves to 23-13 on the season. The Wildcats will host No. 17 Ole Miss over the weekend at John Cropp Stadium beginning on Friday night at 6 p.m. ET. Saturday's game will be at 2 p.m. ET and the Sunday finale will be at 1 p.m. ET.
 
Key Stat
6. The Kentucky offense forced the EKU Colonels to use all six of their pitchers in the game. There were also eight overall changes in the circle for the Colonels.
 
13. Kentucky left a season-high 13 runners on base Wednesday night, as well.
 
Key Play
The key play in the game was Jenny Schaper's lead-off solo home run over the wall in left field to start off the game. The home run was Schaper's sixth of the season.
 
Key Player
The key player in the game for UK was Katie Reed. Reed went 3-for-3 with three singles, a sacrifice bunt and a walk in the game. Today, Reed was also named a finalist for the Senior CLASS Award, as fans can vote for Reed at this link.
 
Run Recap
Jenny Schaper led off the game with a solo home run to left field. UK 1, EKU 0
 
In the top of the third, Katie Reed hit two-run single to score Abbey Cheek and Alex Martens. That was followed by an RBI double to the wall in left center by Lauren Johnson. UK 4, EKU 0
 
In the bottom of the third, EKU had three unearned runs on a two-out walk and single up the middle. UK 4, WKU 3
 
Abbey Cheek led off the top of the fourth with a home run. Kayla Kowalik walked, and came around to score on Katie Reed's second RBI single of the game. UK 6, WKU 3
 
In the top of the fifth. Jenny Schaper was hit by a pitch and pinch runner Olivia Ward scored on an RBI groundout by Kayla Kowalik. UK 7, EKU 3
 
EKU creeped closer in the bottom of the sixth on a two-RBI single with two outs. UK 7, WKU 5
 
In the top of the seventh, UK loaded the bases with no outs. Katie Reed executed the sacrifice to perfection to score a run, and Alex Martens singled to plate a run. Autumn Humes then lifted in an RBI single to right field. FINAL – Kentucky 11, Eastern Kentucky 5
 
For the latest on UK Softball, follow the Wildcats on Twitter and Instagram at @UKSoftball.