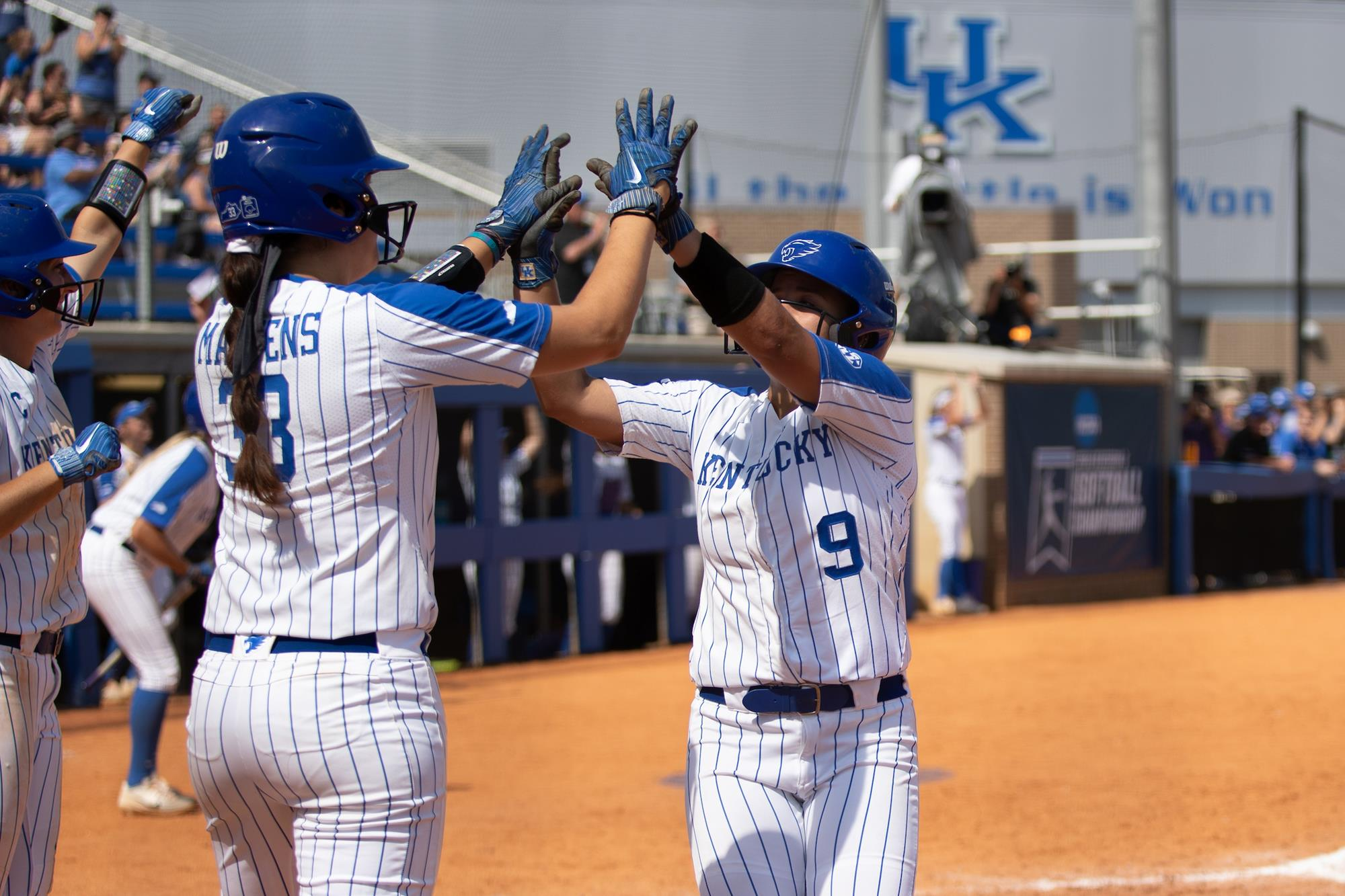 FAYETTEVILLE, Ark. – The No. 13 Arkansas Razorbacks got a walk-off double in the bottom of the seventh inning from Katie Warrick to take the 3-2 win on Sunday afternoon and claim the rubber match of the three-game series, two games to one.
 
Kentucky got a two-run single with the bases loaded off the bat of Alex Martens in the bottom of the sixth inning to tie the game up 2-2. Martens came up with Kayla Kowalik and Lauren Johnson in scoring position and one out hit one on the ground hard to score a pair and tie the game.
 
UK had the bases loaded again, for the fourth time in the game, in the top of the seventh inning, but a groundout to the right side ended the inning without a run crossing and positioned the Hogs for the potential walk-off.
 
In the bottom of the seventh, Arkansas had the top of the order due up and got the lead-off runner on after the Wildcats' first error of the weekend. That was followed by a fielder's choice and then a walk to put two runners on with one out. That was when Warrick doubled down the left-field line to score the game-winning run.
 
UK falls to 22-13 overall on the season and 7-5 in Southeastern Conference play. The Razorbacks improve to 25-11 overall and are .500 at 6-6 in the league.
 
The next game for Kentucky will be on Wednesday night at 6 p.m. ET at Eastern Kentucky. The game in Richmond will be streamed live on the OVC Digital Network.
 
Key Stat
3. This was Kentucky's third walk-off loss of the season.
 
Key Play
The key play on the offensive end for UK was Alex Martens' two-run single to tie the game at 2-2.
 
Key Player
Alex Martens was the key player in the game, going 3-for-3 with the only two RBI of the game.
 
Run Recap
Katie Warrick hit an RBI single in the bottom of the first inning to put the Razorbacks on top, 1-0. ARK 1, UK 0
 
In the bottom of the third, Danielle Gibson hit her third homer of the weekend on a solo blast. ARK 2, UK 0
 
In the top of the sixth inning, Kentucky tied the game on a two-run single by Alex Martens. UK 2, ARK 2
 
In the bottom of the seventh, the lead-off batter reached on an error and that run came around to score on a walk-off RBI double. FINAL – Arkansas 3, Kentucky 2
 
For the latest on UK Softball, follow the Wildcats on Twitter and Instagram at @UKSoftball.