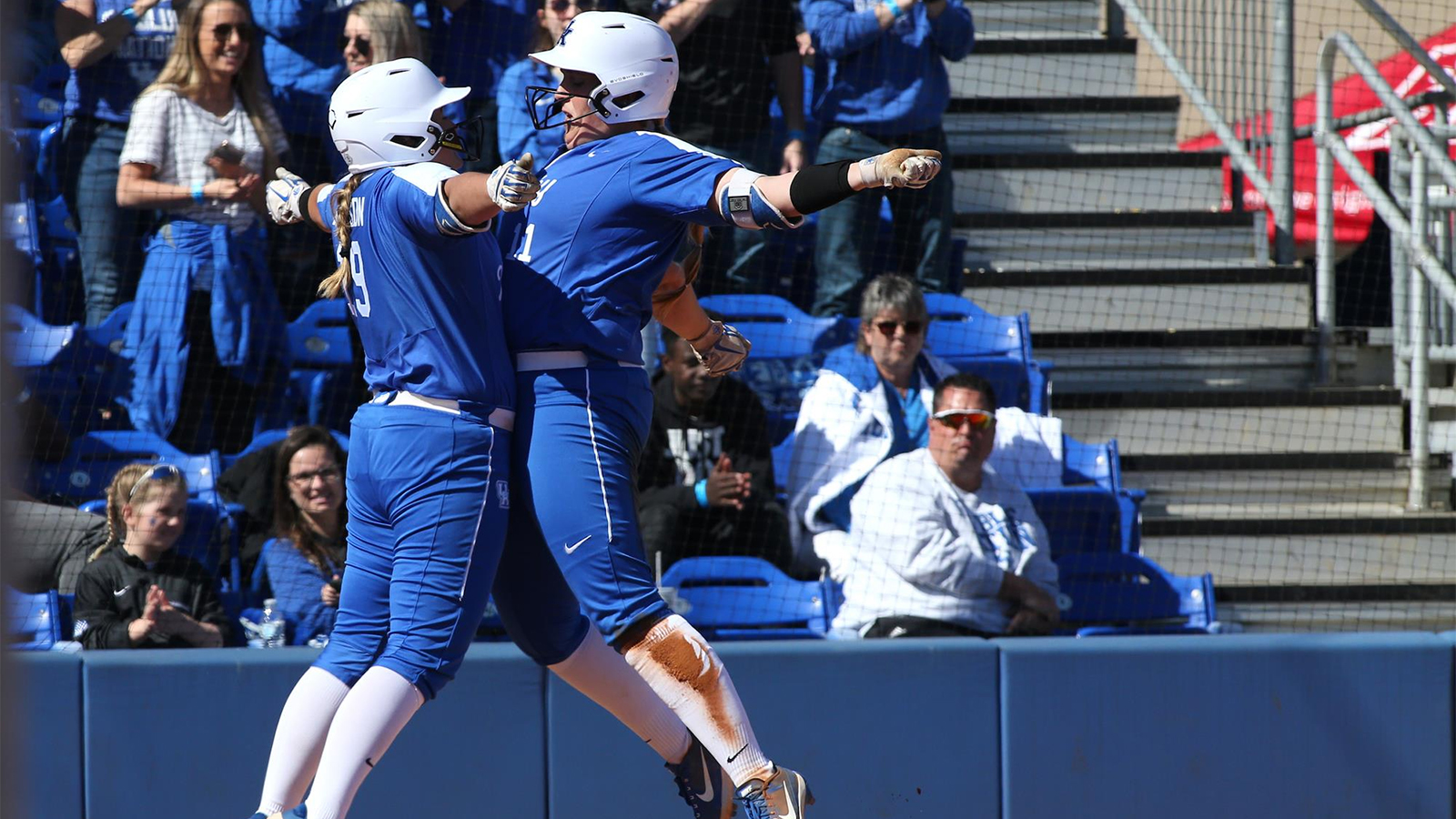 FAYETTEVILLE, Ark. – The Kentucky softball team's offense exploded for 16 runs on 12 hits Saturday afternoon, as the Wildcats run-ruled No. 13 Arkansas 16-2 to even the series at Bogle Park. Pitcher Autumn Humes earned the win in the circle, as she only allowed two runs on five hits in the game.
 
Kentucky with the win snaps a five-game losing streak and moves to 7-4 in Southeastern Conference play this season. The Wildcats are now 21-12 on the season overall.
 
UK scored in each of the first four innings, including seven runs in the top of the third inning – which is the most runs scored in one inning this season by the UK offense. The 16 runs scored by Kentucky is the most in an SEC game in program history, and just two off the program record for runs in a game.
 
The series will conclude on Sunday at 2 p.m. ET inside Bogle Park in the rubber match of the three-game set. The game will be streamed live on the SEC Network+, ESPN3 and the ESPN app.
 
Key Stat
16. The 16 runs scored by Kentucky is a season high, and a program-best for an SEC game.
 
Key Play
The key play in the game was Mallory Peyton's home run in the top of the second inning that cleared the secondary fencing of the facility and made it a 9-0 UK lead.
 
Key Player
The key player in the game was Abbey Cheek. In the top of the first inning, Cheek doubled off the wall in right center – and also hit home runs No. 10 and 11 on the season for her first multi-home run game of the season.
 
Run Recap
Two runs scored on a wild pitch in the top of the first inning. An error in left field allowed a third run to score on Alex Martens' at bat. UK 3, ARK 0
 
Kelsee Henson led off the second inning with a single and advanced to second on a wild pitch. Katie Reed brought the run home with a single through the left side. Lauren Johnson followed with a single up the middle and then Mallory Peyton homered to deep left field for three runs. UK 10, ARK 0
 
In the bottom of the second, Arkansas scored two runs on a two-out RBI single. UK 10, ARK 2
 
Abbey Cheek hit the first of her two home runs in the top of the third inning. UK 11, ARK 2
 
In the top of the fourth, UK loaded the bases with nobody out for Kelsee Henson. She grounded into a fielder's choice to score a run, as did Autumn Humes. Jenny Schaper was then hit by a pitch before Cheek homered for the second time to the opposite field. FINAL – Kentucky 16, Arkansas 2
 
For the latest on UK Softball, follow the Wildcats on Twitter and Instagram at @UKSoftball.