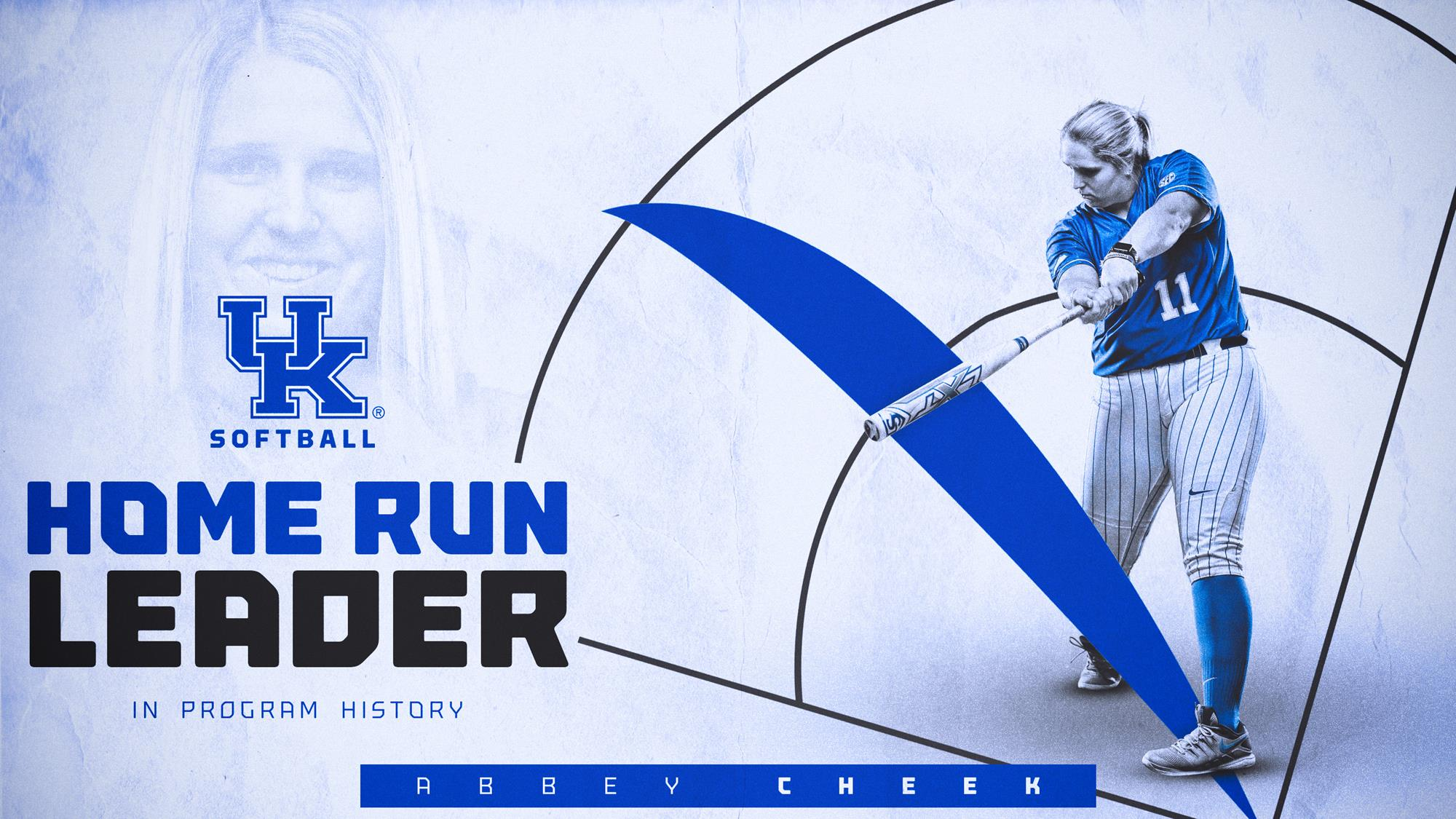 LEXINGTON, Ky. – Senior Abbey Cheek hit her 49th-career home run in the bottom of the fourth inning to right field on a sunsplashed afternoon at John Cropp Stadium to break the school record for home runs set by Brittany Cervantes in 2012.
 
With the long ball out to right, Cheek becomes the all-time career home run leader at Kentucky as she blasted out her now team-leading eighth home run of the season.
 
On the day, Cheek was 3-for-3 with a single, double and home run at the plate in her three official plate appearances. She also was walked in the bottom of the seventh inning to lead off the frame.
 
Cheek has had a storied career at Kentucky, as she is now the career home runs leader and also the career RBI leader – a record in which she broke earlier on in the season. She is also hovering in the zone of all-time slugging percentage and doubles.
 
Missouri won the game 11-8 to claim the series win.
 
The Wildcats will look to salvage a game from the weekend set with the Tigers on Sunday afternoon at Noon ET. The game will be seen live on the SEC Network+ with Dave Baker and Carol Bruggeman on the call from John Cropp Stadium.
 
Kentucky took a 5-0 lead in the bottom of the first on a grand slam from Alex Martens and an RBI single off the bat of Cheek. Mizzou then responded with a five-run top of the third to give the Tigers an 8-6 lead.
 
There were six home runs hit in the game on Saturday, including Cheek, Martens and Katie Reed's solo homer back in the bottom of the second inning.
 
For the latest on UK Softball, follow the Wildcats on Twitter and Instagram at @UKSoftball.