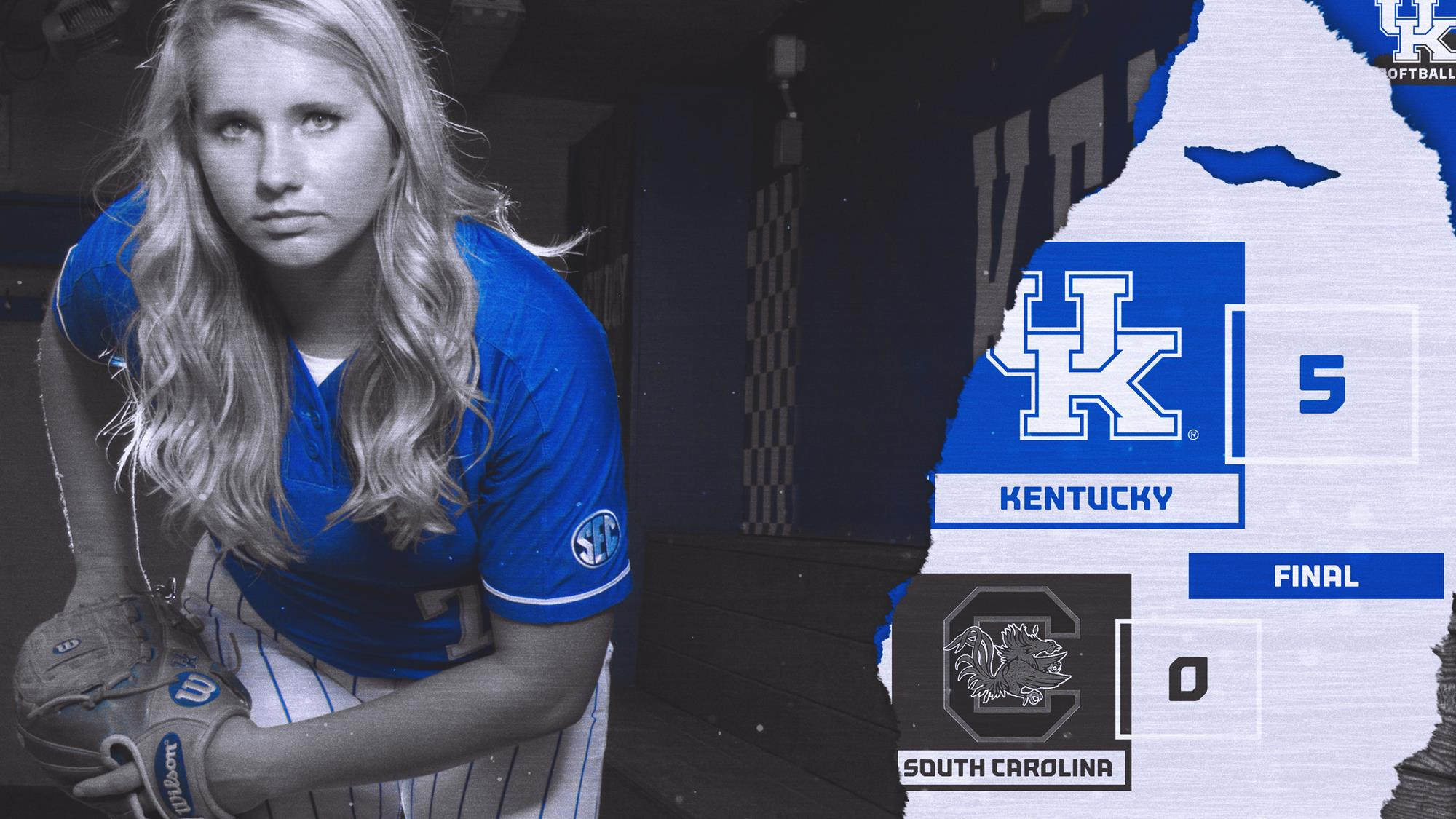 COLUMBIA, S.C. – Junior pitcher Autumn Humes was nothing short of sensational on Friday night, as she pitched a complete-game shutout in No. 18 Kentucky's 5-0 win over No. 11 South Carolina in Columbia on opening night of Southeastern Conference play.
 
Humes went the distance, only allowing two Gamecock hits, walking only two batters and striking out five batters. With Friday's result, Humes moves to 5-4 in the circle on the 2019 season.
 
After a pitcher's duel broke out in the early innings, before Kentucky plated runs in the top of the fourth inning thanks to an infield RBI single by Mallory Peyton. The Wildcats plated two runs in the fifth, and two more insurance runs in the seventh to close out the game.
 
Kentucky improves to 13-7 overall on the season with Friday night's SEC-opening win. The No. 11 Gamecocks suffer just their third loss of the season and are now 18-3.
 
The series continues on Saturday at 2 p.m. ET from Carolina Softball Stadium. The game will be shown live on the SEC Network+, ESPN3 and the ESPN app.
 
Key Stat
Two. Junior pitcher Autumn Humes allowed just two hits to one of the most potent offenses in the SEC. Humes faced 25 total batters, with only five reaching base all night.
 
Key Play
Mallory Peyton's infield single to score the game-winning run in the top of the fourth was the key play in the game. Peyton clobbered a pitch from Carolina's Cayla Drotar up the middle and it hit off of Drotar in her shin and Peyton was able to reach base safely and score Alex Martens from third.
 
Key Player
Alex Martens was the key player in the game, going 2-for-3 in the game. Martens scored a run off of Peyton's single, and drove in two insurance runs in the top of the seventh to score two runs on a single.
 
Run Recap
After Alex Martens tripled, Peyton scored her on an infield single. UK 1, USC 0
 
Lauren Johnson led off the top of the fifth with a home run to center. With two outs, Katie Reed walked and created havoc on the basepaths – stealing second, taking third and scoring on a throwing error. UK 3, USC 0
 
With two outs in the seventh, Kayla Kowalik singled and Reed reached on an error. Abbey Cheek walked to load the bases, and two runs scored on an Alex Martens single to right center. FINAL – #18 Kentucky 5, #11 South Carolina 0
 
For the latest on UK Softball, follow the Wildcats on Twitter and Instagram at @UKSoftball.