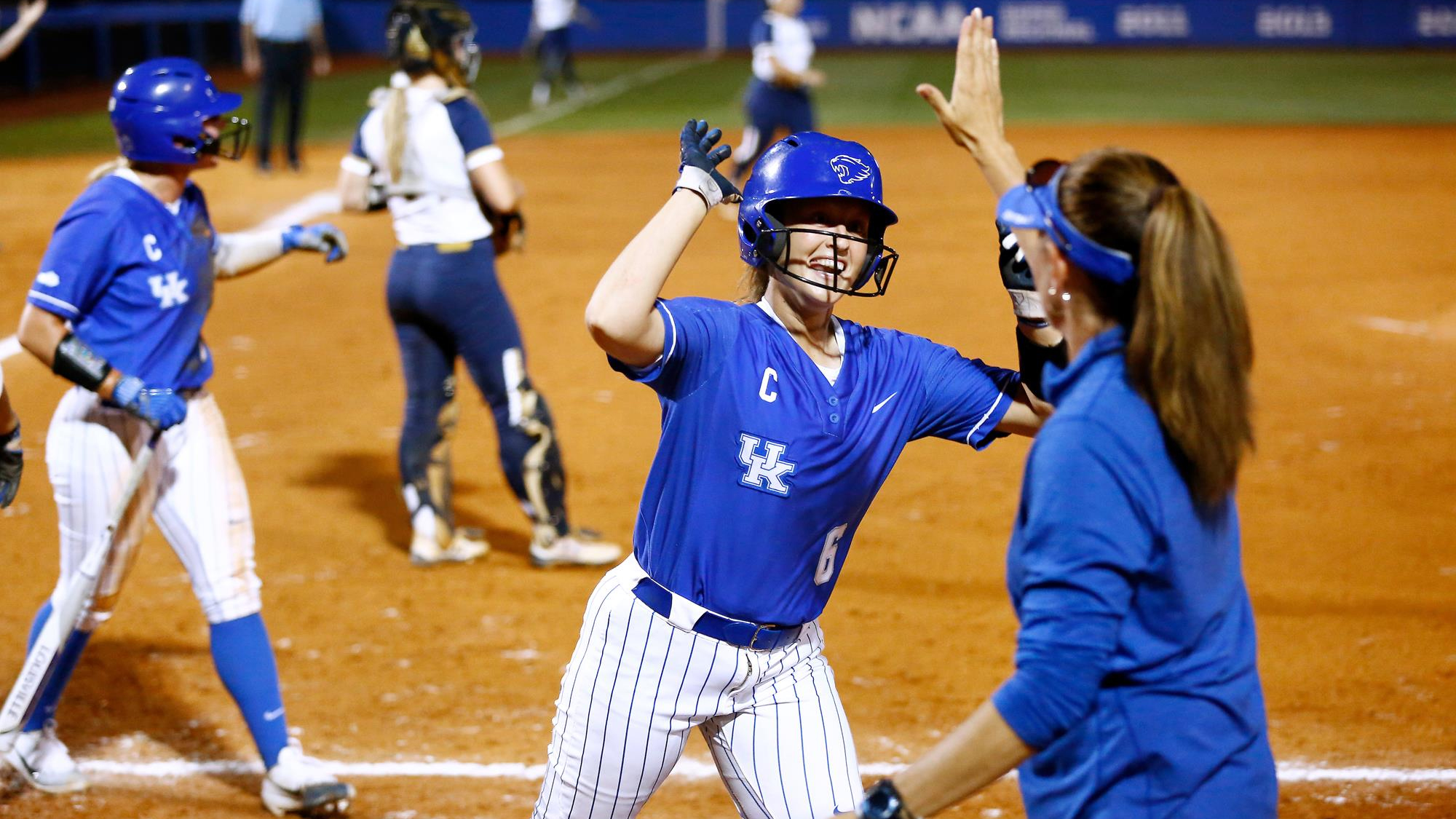 LEXINGTON, Ky. – Following another historic season in 2018, in which the Kentucky softball team advanced to its sixth NCAA Super Regional in eight years under Rachel Lawson, the Wildcats now turn their attention to the 2019 season, which kicks off on Friday afternoon at 2 p.m. ET as part of the Houston Invitational in the Lone Star State.
 
"We are really excited to open up in a couple days." Lawson said. "We are going to Houston on Thursday and it's a great tournament for us. We just figured out right now that 15 of our first 16 games are against teams that made the postseason in 2018. I didn't realize that until right now, so good luck Autumn (Humes)."
 
The Wildcats will play five games in three days against four teams as part of its opening weekend. The season commences against the Illinois Fighting Illini as part of a doubleheader on day one, followed by a game against (RV) Houston. The Wildcats will then turn around on Saturday and face Sam Houston State before another game against the host Cougars. The tournament concludes on Sunday at 10 a.m. ET as UK faces No. 22/21 Oklahoma State in the marquee game of the weekend.       
 
UK has high hopes for the 2019 season, as the Wildcats return seven of nine starters off the team that made the 2018 Super Regionals last season including All-SEC shortstop, Katie Reed, and All-SEC pitcher Grace Baalman. The entirety of the Kentucky infield returns with Reed and All-SEC performer Abbey Cheek holding down the left side of the defense and Alex Martens joining forces with Mallory Peyton on the right side. Catcher Jenny Schaper, who was an RBI machine in 2018 is back for her fourth year starting behind the dish for the Wildcats.
 
Kentucky was picked to finish seventh in the Southeastern Conference by the league coaches in January. The Wildcats did however receive one first-place vote by one of the coaches – the first first-place vote for ant UK team since the 2015 preseason poll. Kentucky's projected seventh-place finish is its highest since UK was picked third by the league coaches in 2015.
 
"We have an outstanding senior class." Lawson said. "Our junior class is also very good, very seasoned, and while we have a big freshman class – they really add a lot to us. We have two very good pitchers in the freshman class, but more importantly we have a ton of speed. We've had more speed in recent years, but this year was a lot of left-handed hitting and speed. We have a lot of people that we can insert in there to make a difference. If we were going to have that type of a schedule, I think now is the time for it."
 
Kentucky has recent history with Illinois, as the Wildcats have played the Fighting Illini in two of the last three NCAA Regional rounds at John Cropp Stadium (2016, 17). Rachel Lawson has never faced Oklahoma State or Sam Houston State or Houston as a head coach.
 
2019 Houston Invitational – Kentucky Schedule
Friday, Feb. 8
2 p.m. ET – No. 15/13 Kentucky vs. Illinois
4:30 p.m. ET – No. 15/13 Kentucky at RV/RV Houston – Watch Live
 
Saturday, Feb. 9
10 a.m. ET – No. 15/13 Kentucky vs. Sam Houston State
5:30 p.m. ET – No. 15/13 Kentucky at RV/RV Houston – Watch Live
 
Sunday, Feb. 10
10 a.m. ET – No. 15/13 Kentucky vs. No. 22/21 Oklahoma State
 
For the latest on UK Softball, follow the Wildcats on Twitter and Instagram at @UKSoftball.