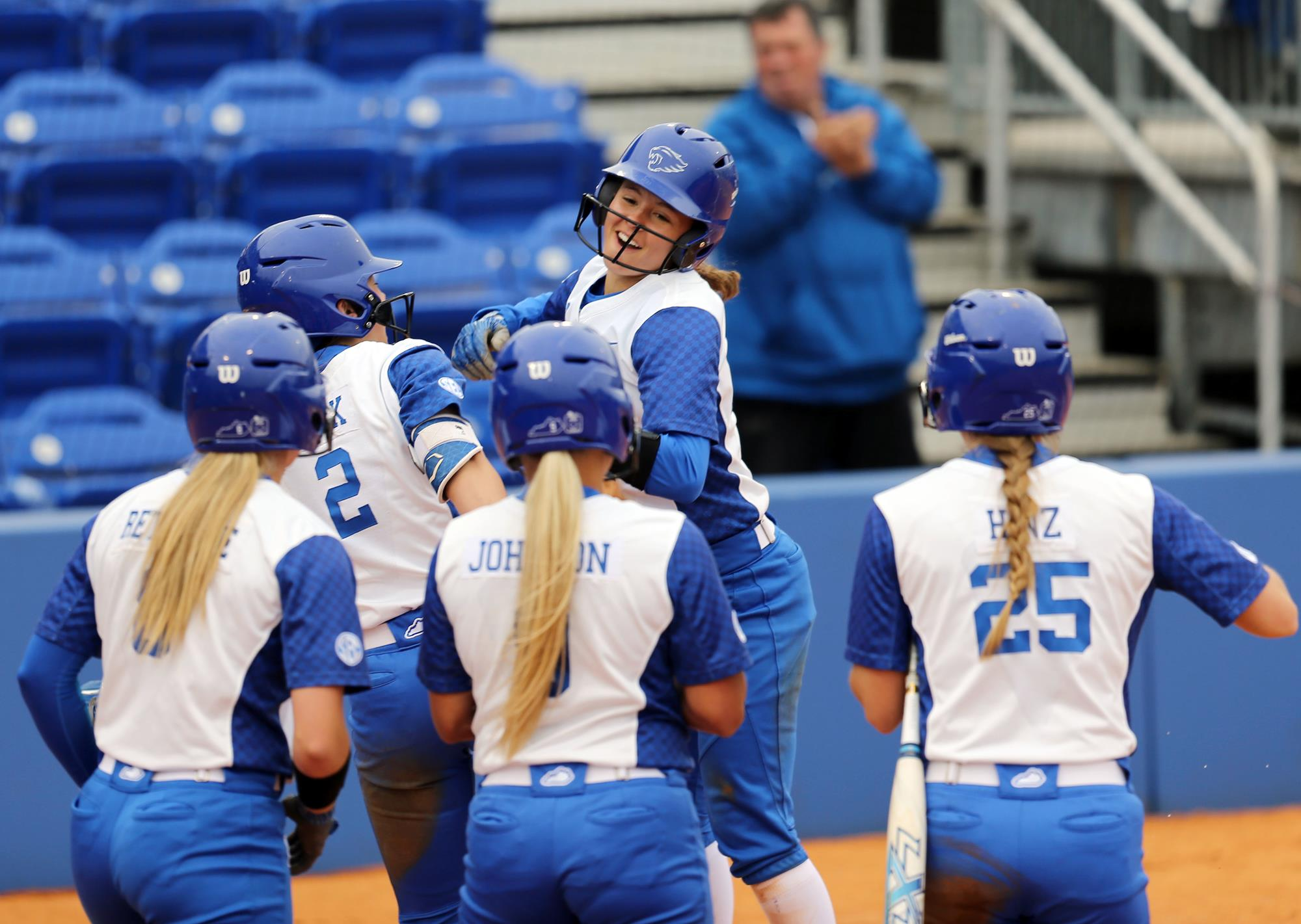 LEXINGTON, Ky. – For the second-straight year, the coaches in the Southeastern Conference voted Katie Reed into the league's preseason team, as she was named part of the 14-member 2019 team on Thursday afternoon.
 
The award comes as the seventh honor Reed has received by the league office in her storied career, and the sixth that was voted on by the head coaches of the league. Head coaches could not vote for members of their own team in the voting.
 
Reed is a career .340 hitter at Kentucky with 100-plus runs scored, 187 hits, 25 doubles, 12 home runs and 75 RBI. She has made a name for herself on the defensive end as well as the premier shortstop in the SEC with a .977 fielding percentage and appearing twice on SportsCenter's Top 10.
 
She has also made an impact in the Lexington community, having been inducted into the Frank G. Ham Society of Character and participating in a mission trip to foreign countries to help with the detreating conditions of the region.
 
Academically, Reed has already been accepted into the University of Pittsburgh's dental school and will be attending beginning in the fall. She has a 4.0 GPA with a major in Health Human Sciences.
 
The Preseason All-SEC Softball Team is voted on by the league's head coaches and consists of a minimum of 14 players. Each SEC head coach voted for five infielders, four outfielders, three pitchers, one catcher and one designated player/utility. No ties were broken.
 
Kentucky begins its season on Feb. 8 against Illinois at the Houston Invitational in the Lone Star State. Tickets for UK's home schedule at John Cropp Stadium can be purchased at UKathletics.com/tickets.
 
2019 Preseason All-SEC Softball Team
| | | | |
| --- | --- | --- | --- |
| Alyssa DiCarlo, Georgia | IF | Sr. | Glendale, Ariz. |
| Katie Reed, Kentucky | IF | Sr. | St. Louis, Mo. |
| Amanda Sanchez, LSU | IF | Sr. | West Covina, Calif. |
| Mackenzie Boesel, South Carolina | IF | Jr. | Yorba Linda, Calif. |
| Aubrey Leach, Tennessee | IF | Sr. | The Woodlands, Texas |
| Kaylee Tow, Alabama | OF | So. | Madisonville, Ky. |
| Amanda Lorenz, Florida | OF | Sr. | Moorpark, Calif. |
| Aliyah Andrews, LSU | OF | Jr. | Oldsmar, Fla. |
| Kylan Becker, Ole Miss | OF | Sr. | Miami, Fla. |
| Mary Haff, Arkansas | P | So. | Winter Haven, Fla. |
| Makayla Martin, Auburn | P | Sr. | San Diego, Calif. |
| Kelly Barnhill, Florida | P | Sr. | Marietta, Ga. |
| Mia Davidson, Mississippi State | C | So. | Hillsborough, N.C. |
| Bailey Hemphill, Alabama | DP/UT | Jr. | Lafayette, La. |
 
For the latest on UK Softball, follow the Wildcats on Twitter and Instagram at @UKSoftball.