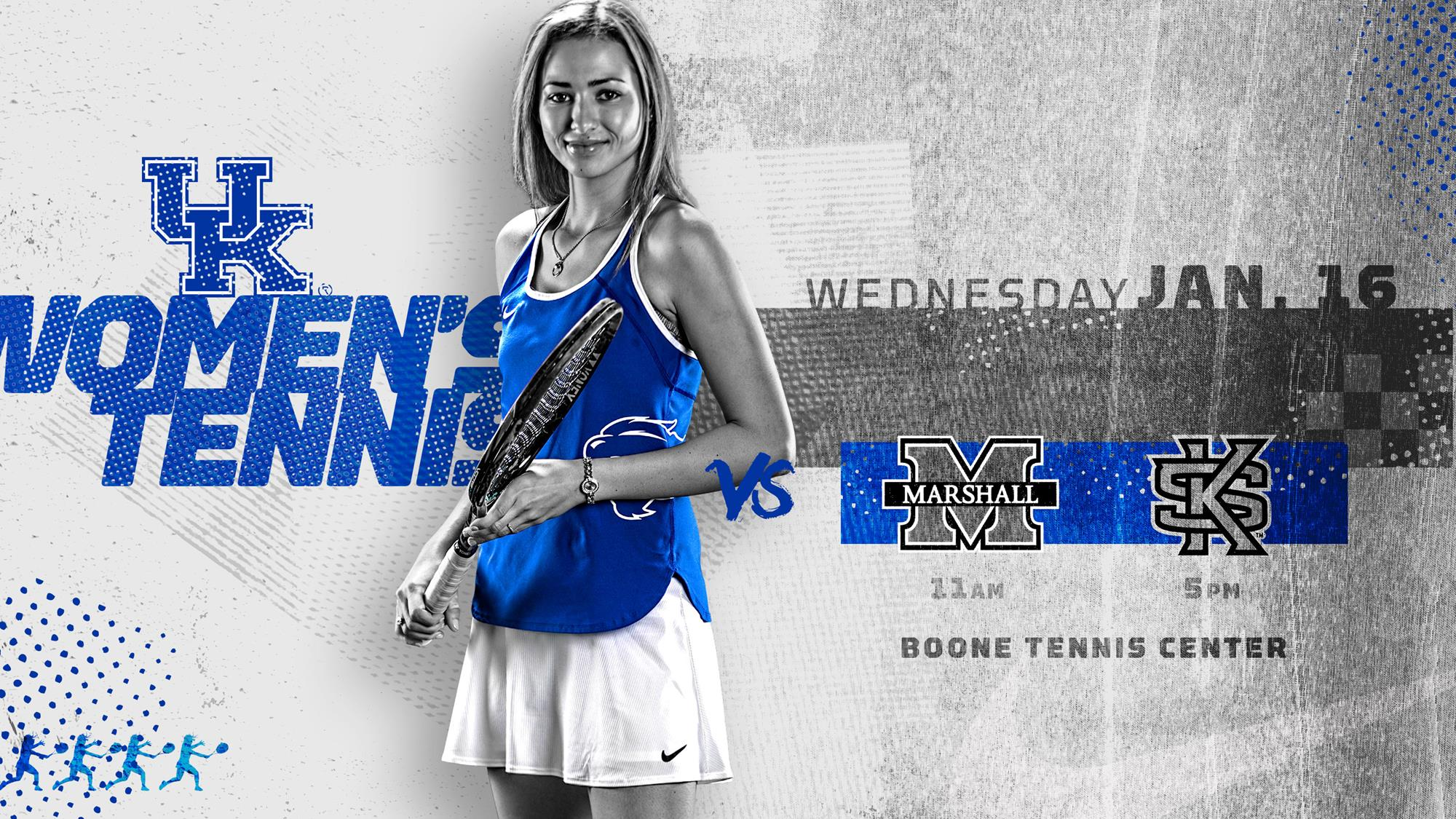 January 15, 2019 - 03:15 PM
Kentucky Primed for Season Opener in Home Doubleheader
LEXINGTON, Ky. – Kentucky's first serve of the regular season will be debated at the Hilary J. Boone Tennis Center, Wednesday, Jan. 16 in a doubleheader to Marshall and Kennesaw State. It will mark the 14th season for head coach Carlos Drada, the longest stint held by a Kentucky women's tennis coach.
 
The Wildcats will open the dual season to the Thundering Herd at 11 a.m., followed by a 5 p.m. first serve to the Owls. Live scoring can be found at sidearmstats.com/ukentucky/tennis/xlive.htm or @UKWomensTennis on Twitter.
 
The inaugural match will mark the 17th meeting between Kentucky and Marshall, while UK holds the all-time winning record on a 15-2 mark, including a three-match winning streak. The first all-time meeting between Kentucky and Kennesaw State will follow.
 
Fans who wish to attend can enjoy free parking in any of the three E-lots adjacent to the tennis courts on the University of Kentucky campus one hour prior to the start of the matches. Parking structure No. 7 is also a near option for spectators, but for a $2 an hour fee.
 
Kentucky will advertise a nine-person roster to open the 2019 season, which includes two seniors, three juniors, two sophomores and two freshmen. The program filed one of its busiest preseason schedules yet, making eight offseason appearances, while its final appointment concluded Sunday in the Miami Spring Invite.
 
Kentucky saw its best preseason appearance in the Kentucky Invite in November, when the Wildcats capped the year winning 30 of 34 possible matches over Tulane and West Virginia.
 
Senior Akvile Paražinskaite will make her first regular-season start in two years Wednesday, having suffered a season-ending injury in January 2018, which kept her from competing in any dual matches during the 2018 season. She rallied an intriguing preseason schedule this year and will start the official season Wednesday coming off two back-to-back singles wins at the Miami Spring Invite.
 
Drada will begin his 14th season as the head coach of the women's tennis program, the third-longest stint of current Kentucky head coaches, only to 18th-year Brian Craig of men's golf and 16th-year Craig Skinner of volleyball. In thirteen years, Drada has led Kentucky to nine NCAA appearances and was tabbed ITA Regional Coach of the Year twice, in 2014 and 2016.
 
The Wildcats will honor a one-day break, before returning to action Friday, Jan. 18 for a doubleheader at the Hilary J. Boone Tennis Center. Kentucky will play Miami (OH) at 11 a.m., followed by in-state foe Western Kentucky at 3 p.m..
For more on Kentucky women's tennis, follow @UKWomensTennis on Twitter and Instagram, Kentucky Women's Tennis on Facebook, or on the web at UKathletics.com.