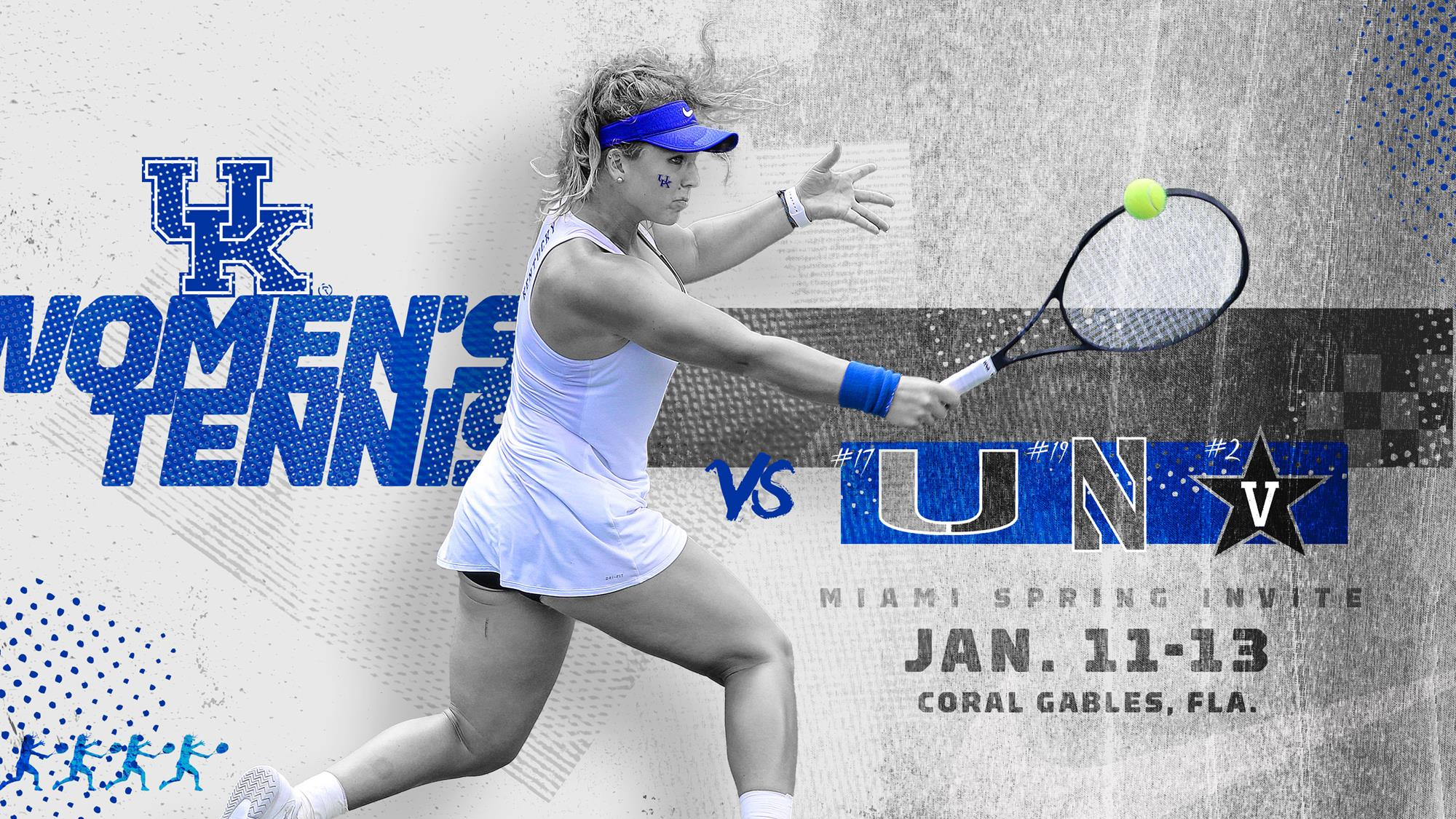 January 10, 2019 - 05:29 PM
Women's Tennis Confronts Final Preseason Test Ahead of Regular Season
LEXINGTON, Ky. – The preseason schedule continues for the Kentucky women's tennis program as the team travels to Coral Gables, Florida, to compete in the Miami Spring Invite, Jan. 11-13, which will feature three top-25 teams.
 
Kentucky will join host and 17th-ranked Miami, No. 2 Vanderbilt and No. 19 Northwestern at the Neil Schiff Tennis Center to inaugurate the 2019 schedule, the final preseason test before Kentucky serves its regular season Wednesday, Jan. 16 at the Hilary J. Boone Tennis Center.
 
Matches will begin Friday through Sunday at 9 a.m. The tournament will play in a round-robin format.
Friday
Noon: Kentucky vs. Miami (doubles)
2 p.m.: Kentucky vs. Vanderbilt (singles)
Saturday
9 a.m. Kentucky vs. Northwestern (singles)
Noon: Kentucky vs. Vanderbilt (doubles)
Sunday
Noon: Kentucky vs. Northwestern (doubles)
2 p.m. Kentucky vs. Miami (singles)
 
Live scoring will be available all three days at http://sidearmstats.com/miami/wten/xlive.htm.
 
Kentucky received votes in the first Oracle/ITA Division I Women's Rankings of the year, released Tuesday. Six teams in the SEC are ranked in the top 25; including border-foe No. 2 Vanderbilt who Kentucky will get an early look at this weekend, ahead of their conference dual March 29 at home.
 
Kentucky concluded its 2018 season as the 26th-best team in the nation, after falling in the first round of the NCAA tournament to Kansas State, 4-3. It was UK's 25th appearance in the NCAA tournament, the tenth under head coach Carlos Drada, and its fifth-consecutive appointment in the national meet.
 
The trio each carry a compelling 2018 postseason mark. Northwestern reached the second round of the tournament, Miami fell in the Sweet 16, while Vanderbilt competed in the national championship.
 
Nine Wildcats, the entire roster, will make the trip to Coral Gables – freshmen Tiphanie Fiquet and Alexis Merrill, sophomores Brianna Tulloch and McKenzie Moorhead, juniors Lesedi Jacobs, Anastasia Tkachenko and Diana Tkachenko, and seniors Justina Mikulskyte and Akvile Paražinskaite.
 
It'll mark the first time each Wildcat has seen competitive action since hosing the Kentucky Invite in November 2018, where the team collected a combined 30 wins, of 34 possible, in the three-day stretch, reporting only four losses – three in singles and one in doubles.
 
The Wildcats can expect good weather for outdoor tennis. Friday and Saturday, temperatures will peak in the mid-70s, while Sunday is expected to reach 80 degrees. There is a 20 percent chance of light showers all three days.
For more on Kentucky women's tennis, follow @UKWomensTennis on Twitter and Instagram, Kentucky Women's Tennis on Facebook, or on the web at UKathletics.com.