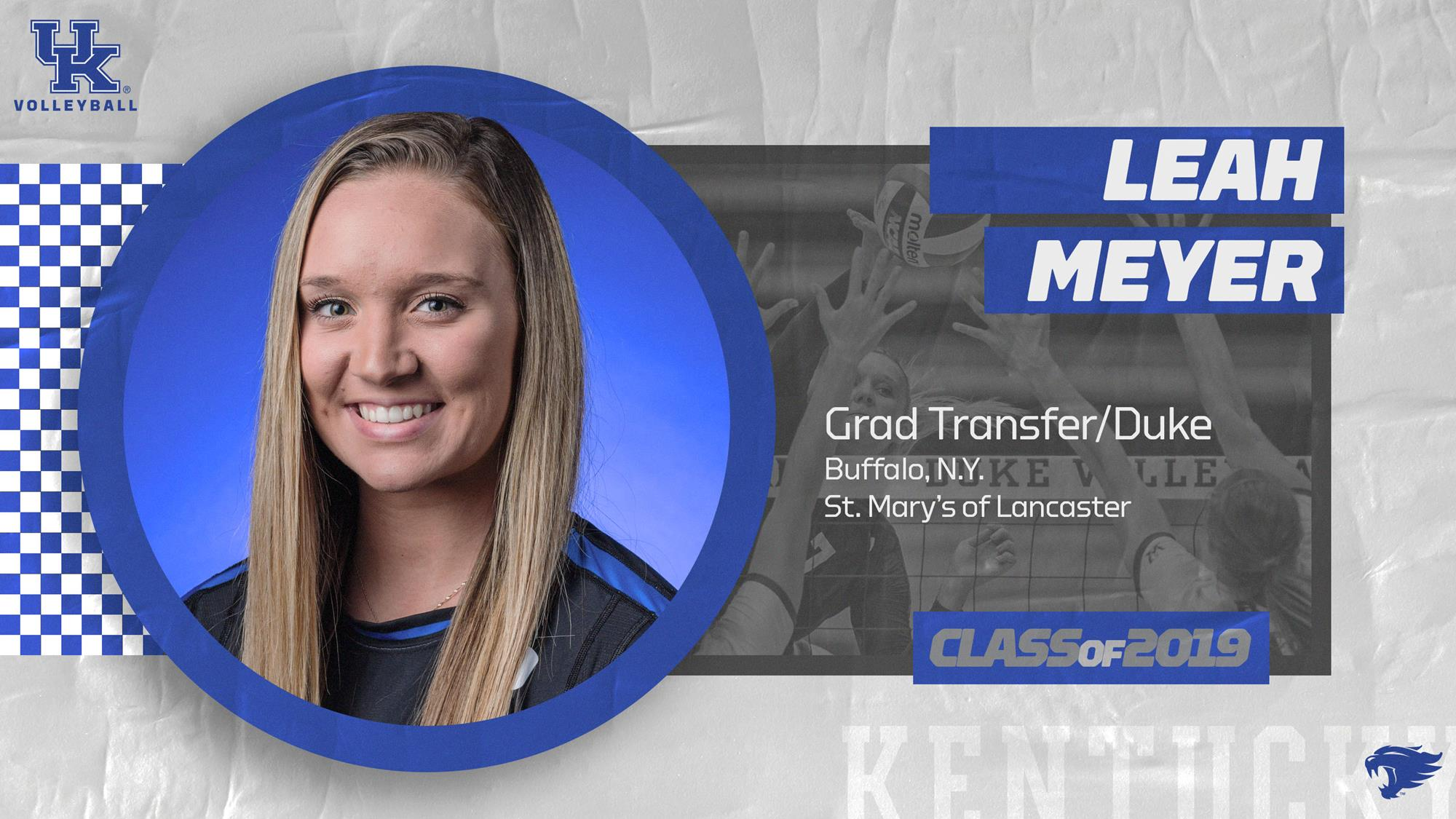 January 4, 2019 - 04:36 PM
Wildcats Add Duke Graduate Transfer Leah Meyer to Roster
LEXINGTON, Ky. – The Kentucky volleyball team is slated to return a decorated core of veterans to couple with a three-member freshman class in 2019, but the Wildcats received a dynamic boost with the addition of Duke graduate transfer Leah Meyer.
 
A two-time First-Team All-Atlantic Coast Conference selection announced Friday that she will transfer to UK to pursue a master's degree. Under NCAA graduate transfer rules, Meyer will be eligible to play for the Wildcats in the fall once she graduates in May with a degree in evolutionary anthropology with a certificate in markets and management studies.
 
"I am truly blessed to have the opportunity to continue my volleyball and academic career at UK," Meyer said. "Kentucky seems like a place where I will be able to grow and prosper as a player, a teammate and a person. I cannot wait to start working with all of my new teammates and coaches and to help continue the success of this incredible program."
 
The Wildcats signed three highly-touted players in the fall in Bella Bell, Maddie Berezowitz and Azhani Tealer who will all have four years of eligibility. They'll join All-Americans Leah Edmond and Madison Lilley, along with SEC Libero of the Year Gabby Curry and the likes of Caitlyn Cooper, Alli Stumler, Lauren Tharp and Kendyl Paris who were all major contributors to UK's second straight SEC title and an NCAA Regional Semifinal appearance in 2018.
 
Meyer, a middle blocker from Lancaster, New York, is a 2018 AVCA All-America honorable mention honoree, a two-time All-ACC First-Team selection and a member of the 2015 All-ACC Freshman Team. As a senior in 2018, Meyer ranked third in the ACC in hitting percentage (.376) and in blocks (1.44). The blocking total was good for 14th in the country, while her hitting percentage rated 30th.
 
"In the short period of time getting to know Leah when she visited, it was apparent that she belonged in our program to complete her career," Skinner said. "Her dreams match ours and she's willing to work hard to help us compete for a championship. Leah is an accomplished player who aspires to get to the next level. Joining our team helps solidify our talent and depth to compete with the best teams in the country."
 
The 6-foot-3 Meyer averaged 2.51 kills per set and 1.44 blocks per frame last year. She tallied 10 or more kills 15 times and posted five or more blocks in 16 matches. With a nine-block performance against No. 5 Pittsburgh, Meyer became the ninth Blue Devil to reach 400 career bocks. She was also named ACC Player of the Week after generating 11 kills and nine blocks in that upset win.
 
Meyer had a double-double with 13 kills and 11 blocks at Notre Dame and added a second one against NC State with 13 kills and a career-high 12 rejections. She led the team in blocks, hitting percentage and points and was second in kills and service aces as a senior.
 
She was a preseason pick and appeared in six matches before missing the remainder of her junior season due to injury.
 
As a sophomore, Meyer totaled 316 kills and had a .333 hitting percentage. She led the Blue Devils in blocks (139) and blocks per set (1.31). She also ranked seventh in the league in hitting percentage and sixth in blocks per frame. Her 139 blocks in 2016 marked the 10th most by a Duke player in a single season in program history. She had double-digit kills 19 times and had the first double-double for a Duke middle blocker since 2012 with a 12-kill, 11-block performance at Virginia.
 
During her freshman season, Meyer garnered three ACC Freshman of the Week honors. She led the team in hitting percentage (.299), total blocks (114) and blocks per set (1.05).
 
A four-year letterwinner from St. Mary's of Lancaster in Lancaster, New York, Meyer led her team to a state championship during her freshman, sophomore and senior seasons. She helped St. Mary's to a 40-0-1 record her final season and was a four-time first-team All-Catholic League player, a three-time league MVP and a three-time high school All-America selection. She totaled 1,635 career kills and averaged 5.0 kills per set as a senior. She was the 2014 New York Gatorade Player of the Year.
 
For the latest on the Kentucky volleyball team, follow @KentuckyVB on Twitter and Kentucky Volleyball on Facebook and Instagram and on the web at UKathletics.com.