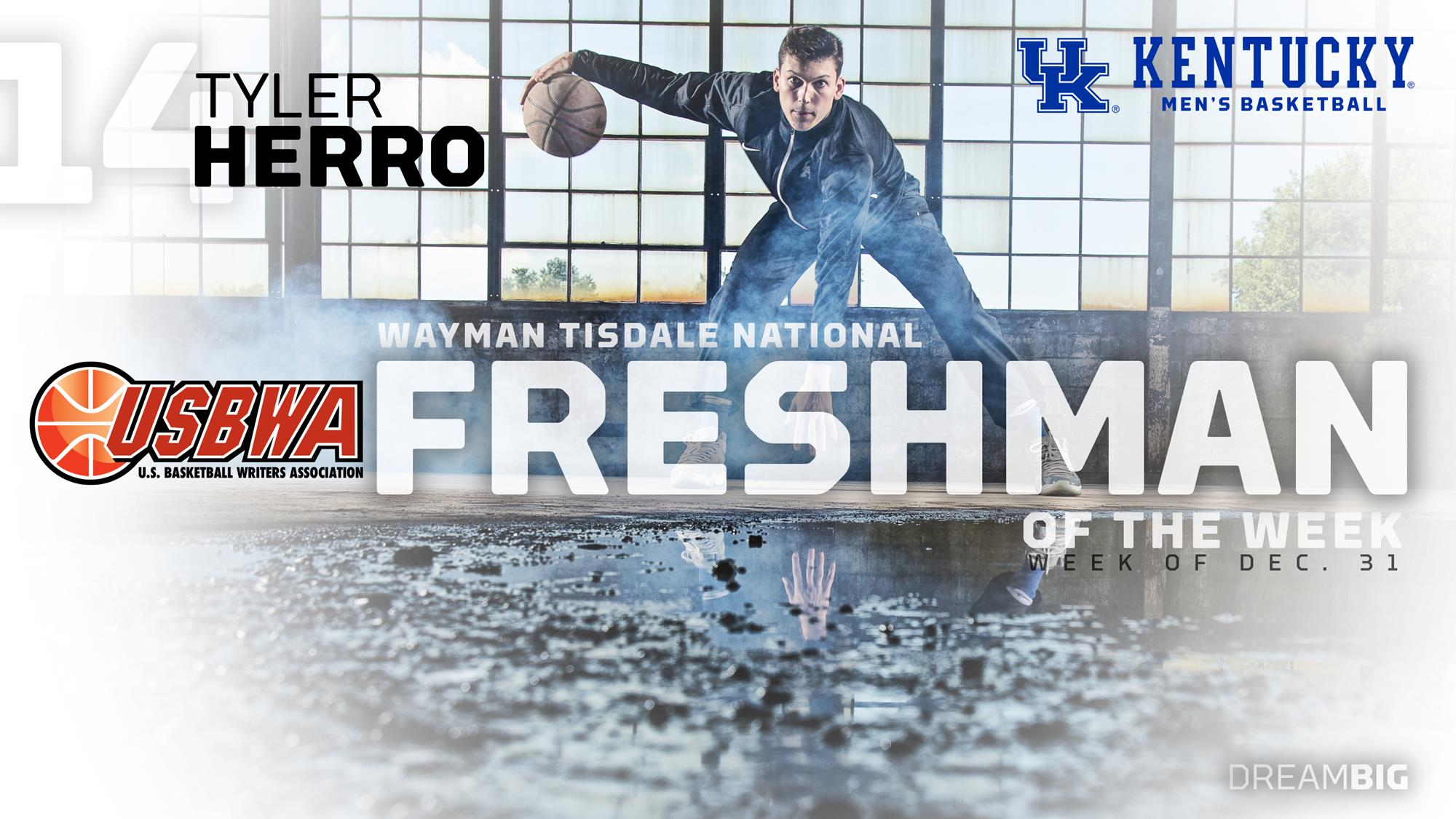 January 2, 2019 - 04:23 PM
Tyler Herro Tabbed Wayman Tisdale National Freshman of the Week
ST LOUIS – Following a career day, the awards continue to roll in for Kentucky freshman guard Tyler Herro, who was named the U.S. Basketball Writers of America's Wayman Tisdale National Freshman of the Week on Wednesday.
 
The honor is the first of the season for any UK player and any player from the Southeastern Conference. It is the first for a UK player since Kevin Knox claimed the honor on Jan. 28, 2018 after a 34-point performance at West Virginia.
 
Herro was also named the SEC's Freshman of the Week, the CollegeSportsMadness.com National Player of the Week and NCAA.com's Andy Katz's National Player of the Week.
 
Herro hauled in the honors after pouring in a career-high 24 points and winning a Bluegrass Sports Commission MVP nod for the Kentucky-Louisville game on Saturday.
 
Herro was sensational and equally efficient for the Cats. The Milwaukee native scored 24 points on 10-of-13 shooting while also connecting on a career-high four 3-pointers. The win was the second in a row for UK away from home and its second against an opponent either ranked in the Associated Press Top 25 or receiving votes.
 
Over the last six games, Herro is averaging 16.7 points per game while shooting 50.6 percent from the floor. He's made 13 3-pointers during that stretch.
 
Saturday's scoring output of 24 points was two shy of UK's freshman record against the Cardinals.
 
He also contributed five boards, two steals, a block and an assist. In the opening 20 minutes, Herro was the catalyst to an 11-0 run that helped the Wildcats take an eight-point lead into the break. He had 12 points on 6-of-8 shooting in the opening stanza and two 3s.
 
The Wayman Tisdale Award is named for the late Wayman Tisdale, who was a three-time USBWA All-America selection at Oklahoma. Following a stint on the 1994 U.S. Olympic basketball team, he played 12 years in the NBA before retiring in 1997 to focus on a blossoming jazz music career. In March 2007, he was diagnosed with cancer and passed away in May 2009.
 
The Wildcats return to action on Saturday at 1 p.m. ET in their conference lidlifter. UK will travel to take on Alabama, with the game airing live on ESPN.
 
For the latest on the Kentucky men's basketball team, follow @KentuckyMBB on Twitter, Facebook and Instagram, and on the web at UKathletics.com.