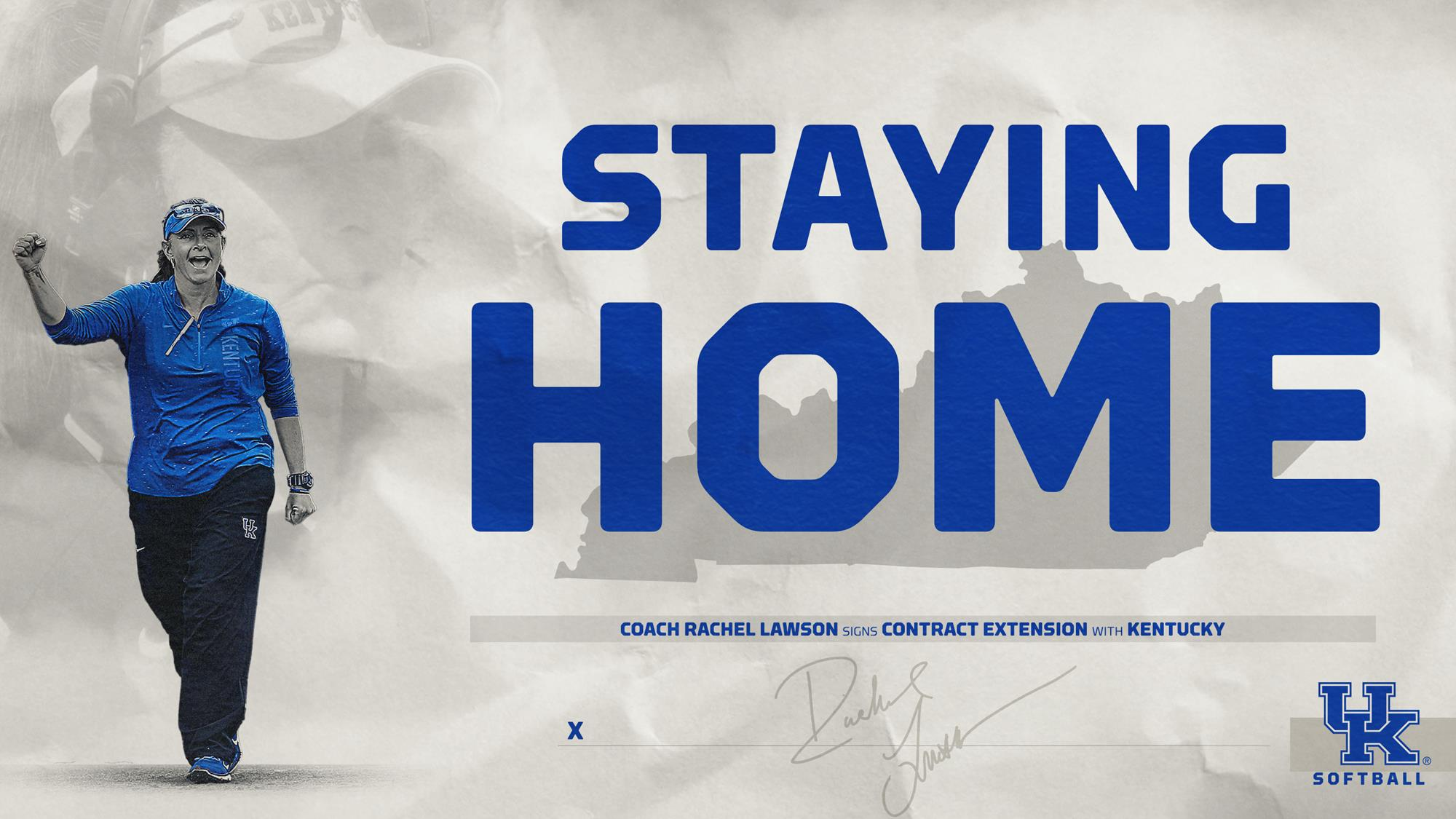 LEXINGTON, Ky. – The winningest head coach in Kentucky softball history is going to be adding to her total in Blue and White for a long time to come.
 
Athletics Director Mitch Barnhart and 12th-year head coach Rachel Lawson announced Tuesday that they have agreed to a contract extension that will keep Lawson in Lexington until at least 2023. The deal is an extension to her existing contract.
 
"I love Lexington and this new contract gives me the opportunity to continue to grow Kentucky softball into a national champion," Lawson said. "This provides stability for the program and gives the message to the recruiting base that we are confident in winning the national championship at Kentucky. By also keeping other elite coaches at Kentucky, it shows the commitment of our administration to continue to improve all 22 of our sports to compete at the highest level. By continuing to keep the best coaches at Kentucky, it continues our winning tradition and helps us make a push for the departmental goal of reaching a top-five finish in the Director's Cup. The continuity of all 22 programs at Kentucky has always been strong, and this is because of the great leadership we have."
 
Entering her 12th season as UK's head coach in 2019, Lawson's vision for the UK softball program has started to become a realization. The winningest head coach in program history lead UK to its first-ever appearance in the Women's College World Series, including six NCAA Super Regionals the last eight seasons and a program-best 50 wins in 2014.
 
In the amended contract, Lawson is subject to salary-based bonuses for winning the Southeastern Conference regular season or tournament championship – in addition to possible postseason bonuses for advancing to the NCAA Super Regionals, Women's College World Series, NCAA championship series or by winning the national championship.
 
Also included are longevity bonuses which reward Lawson for staying in Lexington and run all the way through 2023 on a year-by-year basis.
 
Now sitting at 396-253 in her 11 seasons at Kentucky, Lawson already has more wins in SEC play than UK had all told as a program when she took over in 2007. UK finished the 2014 season ranked sixth in both national rankings for its best final ranking ever. In 2013, Kentucky was ranked in the top 14 of both collegiate softball rankings for the second time in school history with nine wins over ranked teams. In her 10 seasons at Kentucky, Lawson has defeated over 90 ranked foes, including 45 wins vs. top-10 teams and 28 against top-five teams.
 
Lawson has won 488 career games as a head coach and earned her first-career NFCA First Team All-American in 2016 when Kelsey Nunley was named to the elite squad as a pitcher. Nunley became the second All-American in program history (Molly Johnson, 2nd Team), and the first to be named to the First Team. That was followed by Katie Reed in the 2018 season, who was named to the third team. 
 
A 1994 graduate of Massachusetts with a degree in exercise science, Lawson also earned her master's degree in sports management from UMass in 1998. She is the daughter of Elaine and Gerald Lawson and has 12 siblings.
 
For the latest on UK Softball, follow the Wildcats on Twitter and Instagram at @UKSoftball.