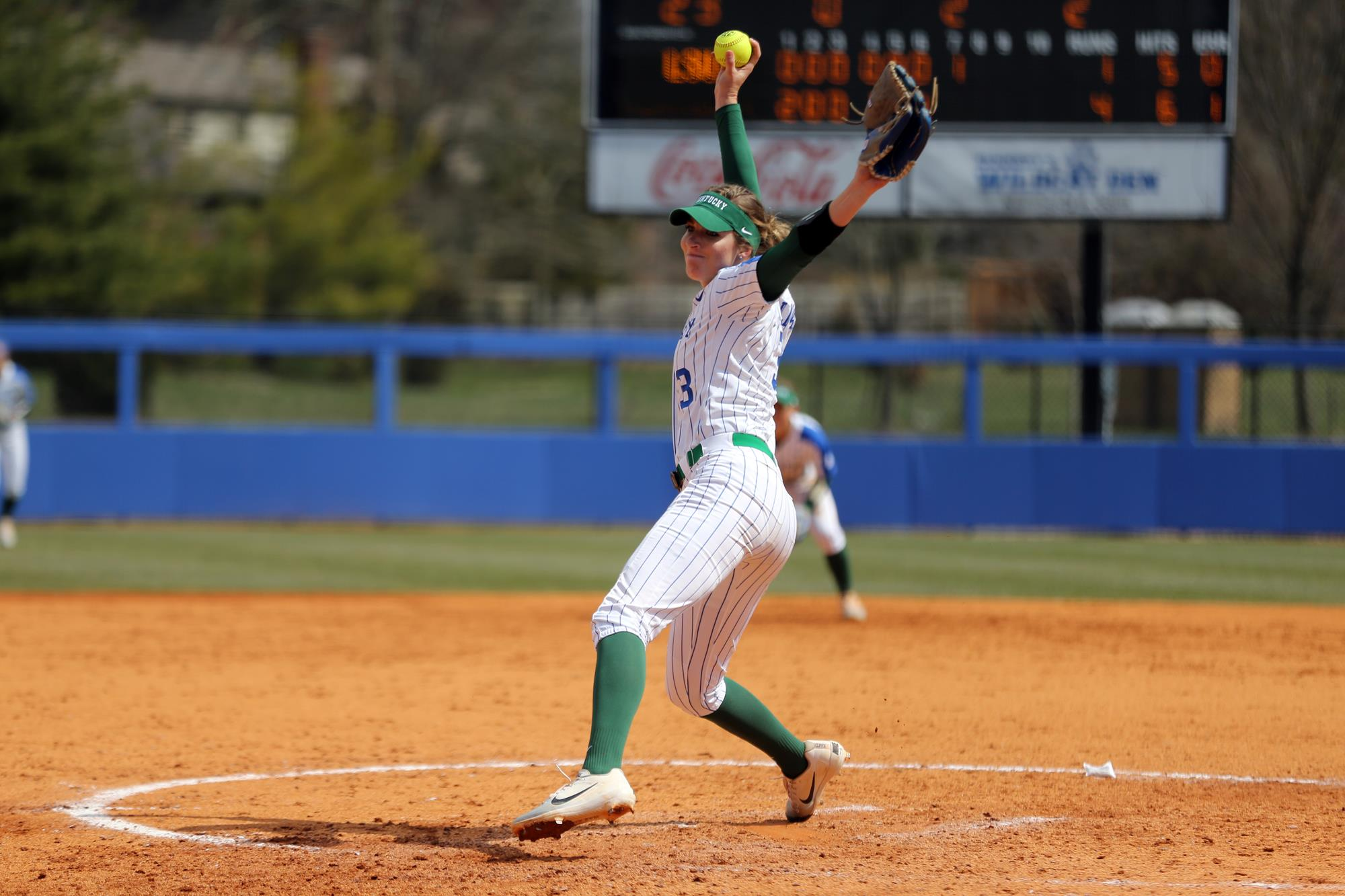 LEXINGTON, Ky. – Freshman Grace Baalman pitched a complete game on Saturday afternoon, going the distance without allowing a walk and striking out five in a 4-1 series-opening win over the No. 8 LSU Tigers at John Cropp Stadium.
 
The win for Kentucky is its first this season in the Southeastern Conference, and first over a top-10 opponent since April 30 of 2017 when UK beat No. 4 LSU, 7-4. Baalman in the circle picked up her ninth win of the season to improve to 9-2 on the year. LSU's Carley Hoover took the loss, and fell to 9-2 on the year, as well.
 
Game two of this three-game series will be on Sunday at 4:30 p.m. ET from John Cropp Stadium. The game will be shown live on ESPNU, ESPN3 and the ESPN app with Mark Neely, two-time All-American Amanda Scarbrough and Olympic gold medalist, Michele Smith on the call.
 
Key Stat
Zero. Grace Baalman walked zero Tiger batters in the game, going all seven innings in the complete-game win. It is the first time this season that UK has not allowed a walk to an opposing team.
 
Key Play
Alex Martens' two-run home run in the bottom of the first inning was the key to the game, as it ended up crossing the game-winning run. It was Martens' first home run off of Carley Hoover, and the fourth of the season for the sophomore from Illinois.
 
Key Player
Brooklin Hinz was the key player, going 2-for-3 with a critical RBI single up the middle in the bottom of the sixth to give UK a fourth insurance run going into the seventh inning. Hinz is having by far the best year of her career, and is up to .333 on the season.
 
Run Recap
After a Bailey Vick single with one out, Alex Martens hit her fourth home run of the season to right center with one out off of Carley Hoover. UK 2, LSU 0
 
In the bottom of the fourth inning, Abbey Cheek hit her team-leading eighth home run of the season to left center to make it a three-run lead for the Wildcats. UK 3, LSU 0
 
With two outs in the bottom of the sixth and two runners in scoring position, Brooklin Hinz singled up the middle to score pinch runner Kelsee Henson from third and add a fourth insurance run for the Wildcat. Henson did an exceptional job of going first to third on the Abbey Cheek single in the at bat before. UK 4, LSU 0
 
With two outs in the seventh and a runner on second, Michaela Schlattman doubled to the wall in center to score the only Tiger run of the game. FINAL – #23 Kentucky 4, #8 LSU 1
 
For the latest on UK Softball, follow the Wildcats on Twitter and Instagram at @UKSoftball.