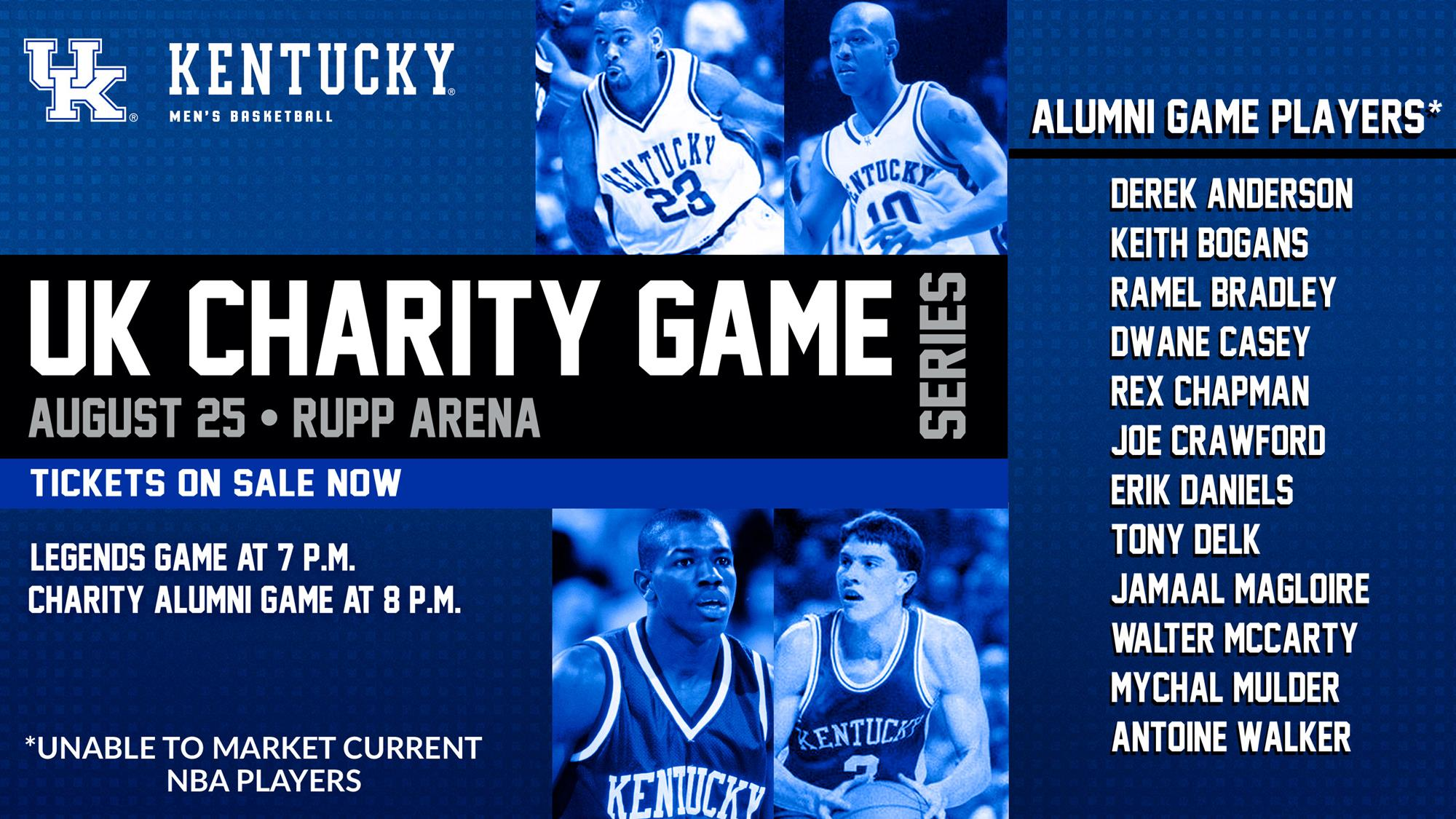 August 24, 2017 - 09:16 AM
Partial Roster for 2017 UK Alumni Charity Game Set
LEXINGTON, Ky. – Some of the greatest players to put on a Kentucky uniform will be back in action for the UK Alumni Charity Game on Friday in Rupp Arena.
 
Former Wildcat stars Derek Anderson, Keith Bogans, Ramel Bradley, Rex Chapman, Erik Daniels, Tony Delk, Jamaal Magloire, Mychal Mulder and Antoine Walker are all confirmed for the main event of the UK Alumni Charity Series. Current NBA players will also play in the 8 p.m. UK Alumni Charity game, but per NBA rules, the University of Kentucky cannot confirm any current NBA players participating in the exhibition games.
 
Dwane Casey, current head coach of the Toronto Raptors, and Walter McCarty, a current assistant head coach with the Boston Celtics, will serve as head coaches during the UK Alumni Charity Game.
 
And that's just one of the two games that will featured on an evening that will has annually helped raise – along with John Calipari's Basketball Fantasy Experience – more than $1 million for charity.
 
Rosters for the 2017 UK Legends Game, which will be held Friday at 7 p.m. in conjunction with the UK Alumni Charity Game, were announced Monday. Twenty players are expected to suit up for the Legends Game. Chip Rupp, grandson of legendary UK coach Adolph Rupp, will coach the Blue Team and former UK coach Joe B. Hall will head up the White Team.
 
| | |
| --- | --- |
| Blue Team | White Team |
| Coach: Chip Rupp | Coach: Joe B. Hall |
| Heshimu Evans | Julius Mays |
| Cliff Hawkins | Jarrod Polson |
| Shagari Alleyne | Bobby Perry |
| Andre Riddick | Perry Stevenson |
| Jon Hood | Ravi Moss |
| Jeff Sheppard | Marquis Estill |
| Dale Brown | Lukasz Obrzut |
| Kyle Macy | Jared Prickett |
| Kenny Walker | Jared Carter |
| Goose Givens | Kevin Grevey |
  
Tickets for the both UK Alumni Charity Game and the Legends Game are currently on sale. All seats are reserved and priced at the following rates:
Courtside: $500
Premium lower level: $100
Lower-level sideline: $50 (additional lower-level sideline seats have been opened up)
Lower level: $25
Premium upper level: $10
Upper level: $5
Tickets can be purchased at the Rupp Arena box office, online at Ticketmaster.com, at any Ticketmaster Outlet or by phone at 1-800-745-3000. There is an eight-ticket limit per person. All orders will have additional fees attached plus a $1 facility fee. All proceeds from the game will go to charity. 
 
You must be 16 or older to purchase tickets and children under the age of 2 get in for free with a paying adult (the child will not have a seat and must sit on the lap of the paying adult). 
 
Doors to Rupp Arena will open at 6 p.m. ET.
 
For the latest on the Kentucky men's basketball team, follow @KentuckyMBB on Twitter, Facebook and Instagram, and on the web at UKathletics.com.