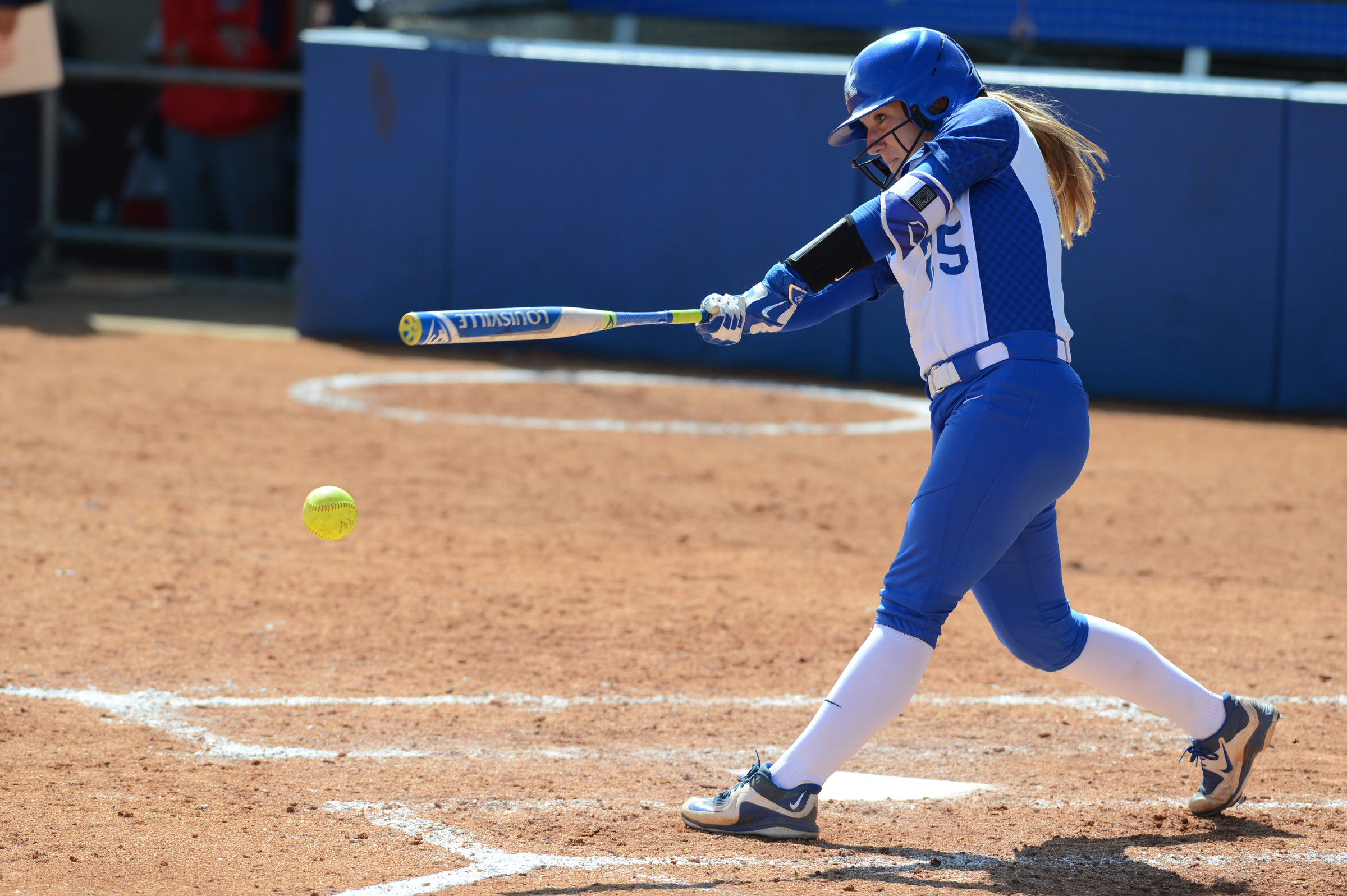 Speed kills. 
It's an analogy that has been commonly referred to in sports, and most times – if not always – it's right. But perhaps there is no sport in which speed really kills as much as it does in softball. 
With bases just 60 feet apart (90 feet in baseball), and a shorter outfield – speed is the name of the game – and can sometimes be the marginal difference in games. This season, Kentucky has the speed to kill, and there is no place that is more apparent than its outfield.
Let's start with the familiar faces to Wildcat fans – Breanne Ray and Brooklin Hinz on the corners. Ray has been a mainstay out in right field for the better part of two years, and has proven herself to not only be a quality player – but person as well, as she was honored into the Frank G. Ham Society of Character on Tuesday night in Rupp Arena. 
Ray plays right field, but the last few seasons, has been more important on the left side of the plate, bringing a left-handed presence to the plate that UK has been searching for. 
"One of the things that we didn't have last year was we didn't have a big left-handed hitting presence – and that has been corrected for this season. (Ray) is brilliant – she is our top student – but she also has a very cool, calm demeanor to her and she has done a great job of leading our left-handed hitters."
"We're fast-paced, we're all very competitive, and for the first time ever we have a lot of people that can do a lot of different things," Ray said. "We have a lot of people that would be good base-stealers or run down the ball in the outfield so that is something that we're bringing to the game this year that we haven't previously had."
Hinz, who bats and throws from the right side, but plays left field and is a projected starter there, is one of Kentucky's brightest offensive stars returning to the lineup – after batting .310 a season ago, and slugging at a .542 clip, only trailing third basemen Abbey Cheek in that category. Hinz hit seven home runs and knocked in 35 runs with 12 doubles a season ago, and if she shows the same improvement from her freshman to sophomore season as she does from sophomore to junior – you can expect to see big numbers. 
Now, let's get back to speed for a second. What do you think of when you think of Kentucky softball and speed? Two words. Sylver. Samuel. 
She's the all-time career base stealer at Kentucky with over 80 in her career, and was one of – if not the – fastest player in the Southeastern Conference a season ago. Kentucky lost Samuel to graduation last year after being named Offensive Team MVP by Lawson – but a freshman replacement has already caught her eye.
Enter, Bailey Vick. You want to know how fast this freshman Kentuckian is? Just read what Lawson said about her on Monday. 
"Bailey Vick is as fast as Sylver (Samuel)." 
That's right.
"Bailey Vick is that fast." Lawson said as she announced that Vick is in the running for an Opening Day starting spot – and is projecting to play center field for the Wildcats. 
But, the speed in the outfield doesn't stop there. Junior Erin Rethlake, who is one of the most versatile players on the team, Lawson said is 'just as fast' as Vick – and then went on to talk about speedy sophomore Sarah Rainwater. 
Rainwater – another Kentucky kid – who hails from the Lexington area just outside of the metro – returns for her sophomore season after a fine freshman campaign in which she played one of the three outfield spots in 54 of Kentucky's 60 games last season. 
Those three players – Rethlake, Vick and Rainwater – look for them to create havoc on the basepaths for Kentucky, and as Lawson said – maybe make you pull your hair out in February and March as well. 
"I'm going to have to be OK with them running themselves out of a couple of outs. I think we are going to be a little over-aggressive early so that they can learn to test their limits rather than not be aggressive enough and not get a key play when you need it to happen in SEC play or the postseason."
Ray is not the only left-handed outfielder, as sophomore Kelsee Henson returns for her sophomore season. Henson hit a home run on the first collegiate pitch of her first collegiate at bat last season at the Kajikawa Classic out in Tempe, Arizona. Henson is a Paducah, Kentucky kid, and projects to get better and better as the season goes on. 
"One of the things that we have done in practices recently is work on the offensive part of the game. Not just hitting, but just becoming a complete offense and you can see in addition to that team speed (Madison) Kearschner and (Kelsee) Henson and (Hannah) Huffman are really working hard at that part of our game to give us additional options."
Both Huffman (Lebanon, Ohio) and Kearschner (Louisville, Kentucky) will be looking to play more enhanced roles after their freshman season. Huffman scored 15 runs a season ago as one of UK's go-to pinch runners.
*This was the second of a three-part season preview leading up to Friday's first pitch of the 2017 season against Florida A&M University in Orlando. Check back at UKathletics.com each day this week for parts two and three. 
For the latest on the Kentucky softball team, follow @UKSoftball on Twitter, Instagram and Facebook, as well as on the web at UKathletics.com.