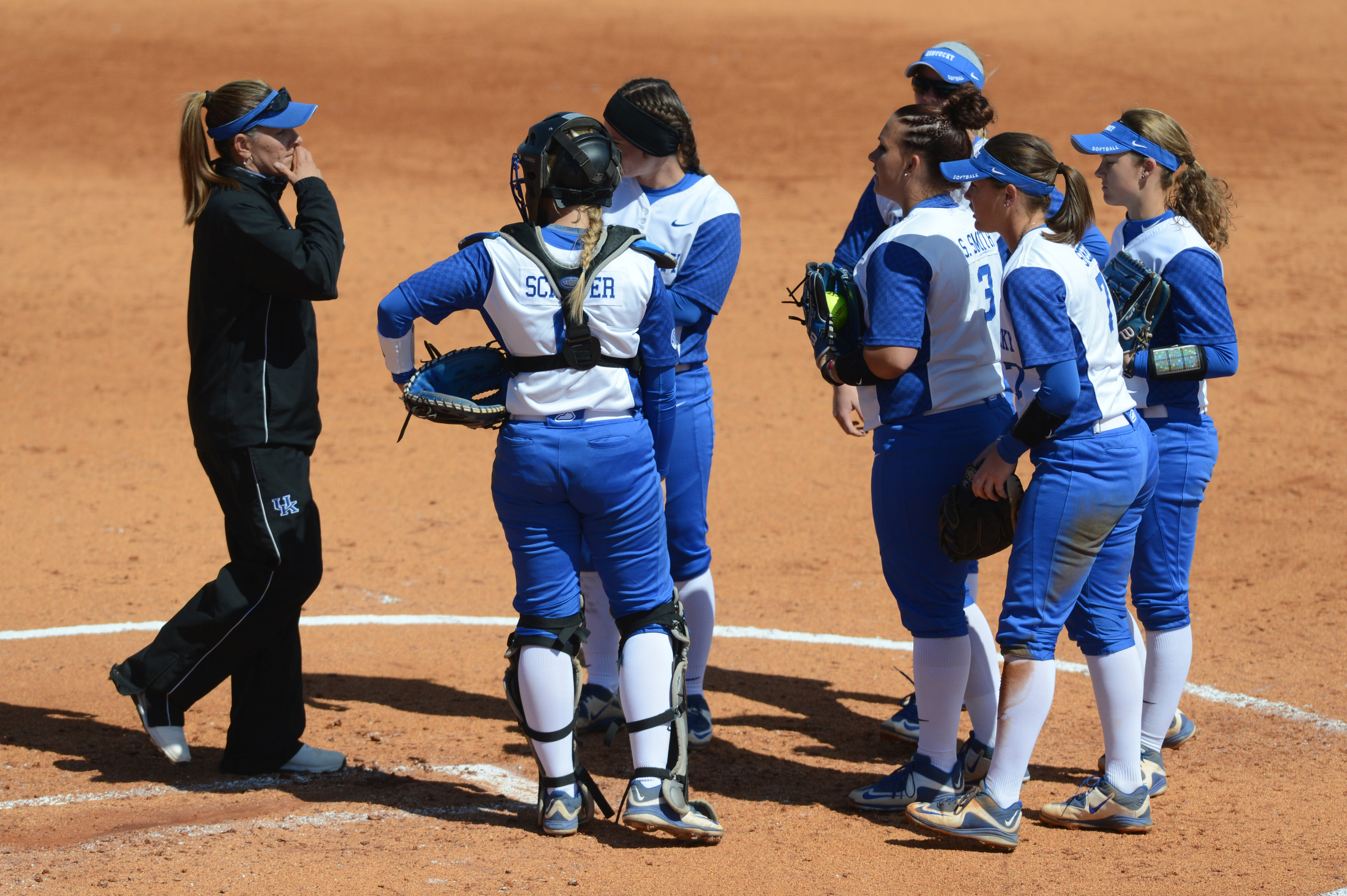 *This was the first of a three-part season preview leading up to Friday's first pitch of the 2017 season against Florida A&M University in Orlando. Check back at UKathletics.com each day this week for parts two and three. 

Kentucky's first First Team All-American by the National Fastpitch Coaches Association, the pitcher that threw every pitch of Kentucky's 2014 Women's College World Series run – has moved onto the next level.  
Panic time, right? Nope. 
Not even close for 10th-year head coach Rachel Lawson.
"The big question that I've been getting asked all year is how do you replace Kelsey Nunley." Lawson said. "Luckily, we have Meagan Prince coming back. She is going to be the anchor of this team. Meagan is great because she was a 20-game winner last year, but she is a great starter – and she is also a great closer and has a great closing mentality, so you could see her in two different roles.".
Prince was nothing short of spectacular a season ago for the Wildcats. The senior from Martin, Tennessee, threw three no-hitters – becoming the first pitcher in the Southeastern Conference to throw three no-hitters in the same season since Alabama's All-American Kelsi Dunne in 2009. She won 21 games – the exact amount of games that Nunley won a season ago, as Kentucky's two-headed monster guided the Wildcats to their best-ever regular season with 43 wins. 
"Last year me and Kelsey had a dual role. We were the first team in the country to have two pitchers win 20 games. This year will be the same role except I will share it with someone else. I love doing it that way and really think we are going to have a good team again," said Prince.
So the question for Lawson, is who does she turn as an alternative in the circle? She has a deep stable of horses to choose from. 
First is senior Shannon Smith. She has a long-tenured connection with Lawson dating back to youth softball, did not suffer a loss all of the 2016 season in the circle for UK, ending the season with a 3-0 record and a 1.83 ERA. A strikeout and power pitcher, Smith dominates batters in the box with her overpowering speed and velocity – which led to 72 strikeouts in just 42 innings of work – the best strikeout to innings ratio of any UK pitcher last season. 
"As you guys heard, (Coach Lawson and I) go back a long way. We've all, especially the pitchers, created relationships with her. After four years of spending pretty much every day with someone you're obviously going to get close. We've had our good times, we've had our bad times, but at the end of the day it's like she's a part of my family."
That family atmosphere is going to be exactly what the Wildcats will have in the circle this season as they try and replace the more than 180 innings that Nunley threw a season ago.
In addition to Smith, Lawson's pitching staff also returns quite possibly the most versatile player on UK's roster, junior Erin Rethlake. The Indiana native has played nearly every position for UK in her first two years, including last year where she specialized in outfield defense. 
After a surgery on her shoulder in the offseason, Lawson said that Rethlake has made tremendous progress and is throwing as well as ever. 
"Erin had surgery this offseason, but she's improving every day and she has experience, so she is someone we really will lean on during the course of the season." Lawson said. "She looks great – she's full go. She is on a little bit of a pitch count, but in the innings that she has pitched, she's looked incredibly strong."
Rethlake, in addition to Prince and Smith, also threw a no-hitter last season – and will be counted on in the field as well when she's not in the circle. 
"You'll be seeing Erin Rethlake possibly playing first base when she is not on the mound." Lawson said. "Although, Rethlake is a very good outfielder – so you could see her potentially moving to the outfield." 
With one of the best eyes for pitching in the country, it's no doubt that Lawson would bring in fresh faces to fit the mold of a Kentucky pitcher. Enter freshmen Larissa Spellman, Ashley Ruiz and Kaila Johnson to the rotation.  
When Lawson addressed the filled media room on the team's annual media day about her new pitchers, she wasted no time getting into Spellman's preseason. 
"One freshman who has really been impressive as of late on the mound is Larissa Spellman – she is from New Jersey – and she is not very large in stature – but she throws the ball incredibly hard and one thing that I have been really impressed with her is that she's really figuring out her own body." Lawson said. 
"She is figuring out her mechanics and she is increasing the command of her pitching everyday and her mindset. 
"She has really worked hard on that in the offseason – she has worked hard at how to deal with failure, and because she has done such a good job with that, she has been able to figure out her own mechanics at a much faster rate."
Ruiz and Johnson add a different dimension to their games, as both of them also play different positions in addition to pitcher. Ruiz will be a big help for UK's offense, according to Lawson – and look for Johnson to get some playing time in the outfield after just joining the team in January for the spring semester. 
"We've been impressed with them because not only are they giving us innings, but they have been giving us good appearances at the plate in live scrimmages so far," Lawson said when talking about Johnson and Ruiz. "That gives us a lot of depth on the pitching staff. The big question is if I'm going to be worth all this money that Mitch is paying me, because I'm the pitching coach. I have to figure out how I'm going to put all this together, but hopefully I'm up for the challenge and I'm looking forward too. It's not what you're going to be used to seeing, but I'm hoping we are equally as powerful and I think that we can win a lot of softball games."
So, now the attention turns to who is catching those pitches – and for a second-straight year, Lawson has reliable and experienced faces behind the plate in Jenny Schaper and Rachael Metzger. The girl, Schaper, who Lawson said a year ago had such a good personality 'I couldn't even yell at her if I tried.' And that's saying something. 
Schaper will be the primary catcher, but don't overlook Californian Rachael Metzger, who caught some big non-conference innings for the Wildcats last season after an offseason of vast improvement defensively. 
"You couldn't have the pitching staff we have without great catchers – and we are returning both of our catchers in Jenny Schaper and Rachael Metzger. Both of them have done a really good job with such a large staff and with our infield." Lawson said. 
So, it's not panic time, after all. It's time to just move on.