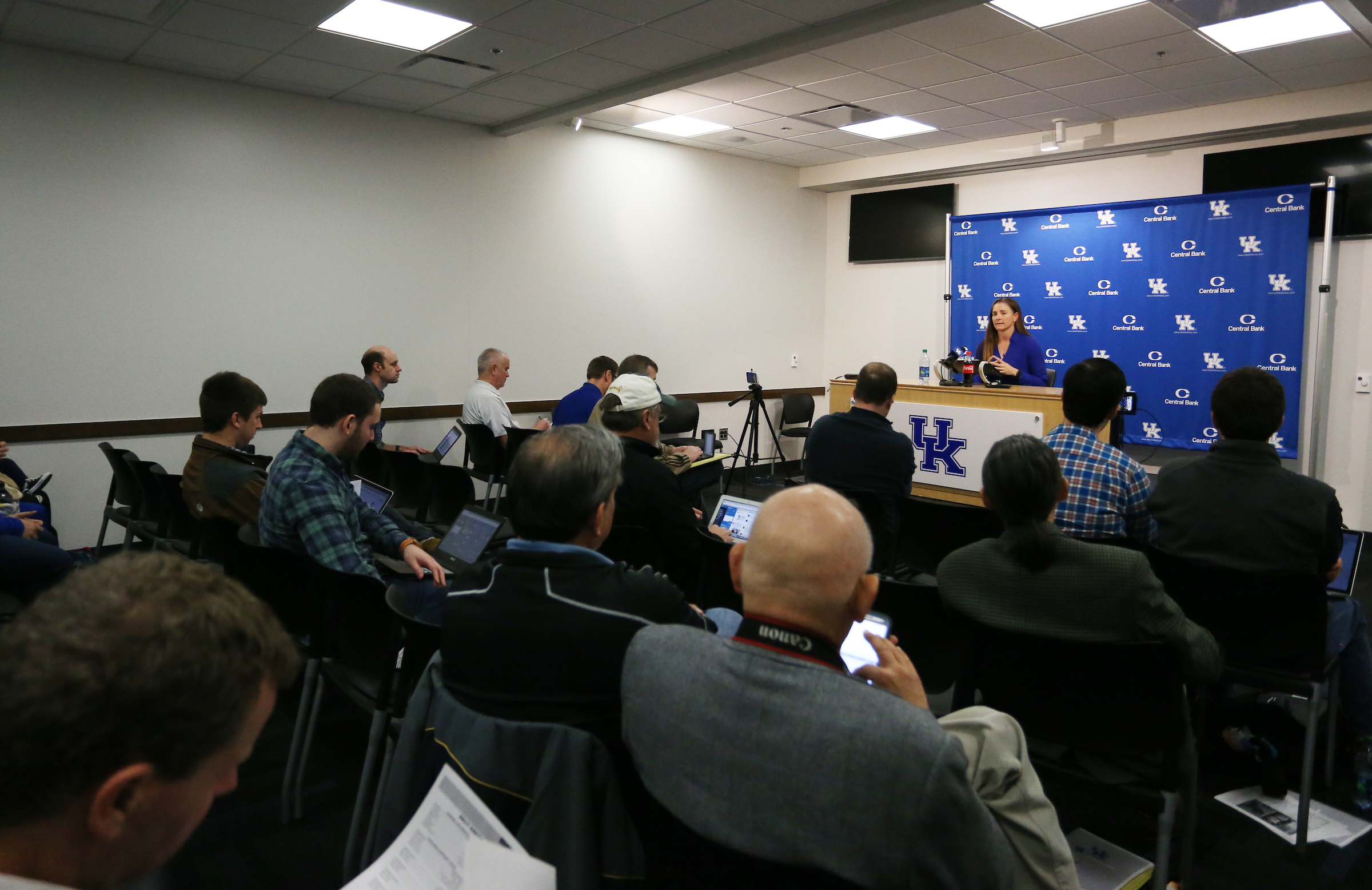 Change has come for Kentucky softball.
"This is going to be a completely different season than everyone is accustomed to the last couple of years," UK head coach Rachel Lawson said. "We have a completely new look in 2017."
The new look is coming as a result of the departure of a six-member senior class that was the most accomplished in program history. Gone are Kelsey Nunley, Nikki Sagermann, Sylver Samuel, Ansley Smith, Maisie Steed and Christian Stokes, the group that helped secure the highest NCAA Tournament seed in school history and played in two Super Regionals and the program's only Women's College World Series.
Of course, Nunley's absence is most noteworthy. She is, after all, the UK record holder in basically every meaningful pitching category and the only Wildcat ever to be named a first-team All-American.
So, considering all that, you might think Lawson would adjust her expectations entering the 2017 season — which begins Friday at the UCF Knights Invitational — to give a talented but young group that features 15 freshmen and sophomores among its 21 members a chance to grow. 
You'd be wrong.
"The goal, always, is to be standing in Oklahoma City," Lawson said.
Under Lawson, you see, there's no such thing as rebuilding for UK softball. That's borne out of the sense of responsibility the 10th-year head coach feels to each senior that passes through her program – in this year's case, Meagan Prince, Breanne Ray and Shannon Smith.
"I don't like to talk about replacing players," Lawson said. "I like to talk about succeeding players – because the bottom line is this is Shannon Smith's senior year. It's important to me that Shannon Smith has a big senior year, so I have to make sure that I'm retooling every time that I have a senior class. I have to make sure that I'm retooling."
It was in that moment that Lawson, speaking at her press conference during UK's preseason media day, looked toward Smith sitting in the audience and became overcome with emotion. Once she composed herself, she told reporters, "I'm not that soft."
Well, when it comes to her players, Lawson actually might be, and that's nothing to be ashamed of.
"Everybody is important to me and everybody's career is important to me," Lawson said. "If you just try to figure out how to rebuild, all you're doing is you're saying all of the people on my team can't get it done. Basically what I'm doing is admitting that I've wasted their last four years. And I'm not going to do that."
That's an approach and attitude that her players deeply appreciate.
"I feel like most coaches would fall into the usual saying, 'Well, yeah, it is a rebuilding year,' " Prince said. "But she wants a lot more for us and that's how she is for each girl. She wants a lot more for each girl individually off the field. She wants them to have a good education and that just goes to show how good of a coach and how good of a person she is."
No one on the UK roster knows that better than Smith. The Milford, Massachusetts, native first met Lawson as an 8-year-old camper at UMass, Lawson's alma mater. Smith and Lawson didn't get along at the time – "She was too serious," Smith said – but the young pitcher came to Lexington to play for Lawson anyway.
Four years later, Smith will join Prince as a senior anchor of Lawson's pitching staff.
"All of us – especially the pitchers because she's in the bullpen with us every day – we all create relationships with her," Smith said. "Just after four years pretty much spending every day with someone, you're obviously going to get close. We've had our good times, we've had our bad times, but at the end of the day it's like she's part of my family."
That family, when it comes to goal setting, is very much on the same page.
"I want to see the team get back to the World Series," Prince said. "I want to be able to pitch in the World Series. I want to be in Oklahoma City again. That was an amazing experience and that's one I feel like everybody on our team deserves to feel and deserves to see and deserves to play there."