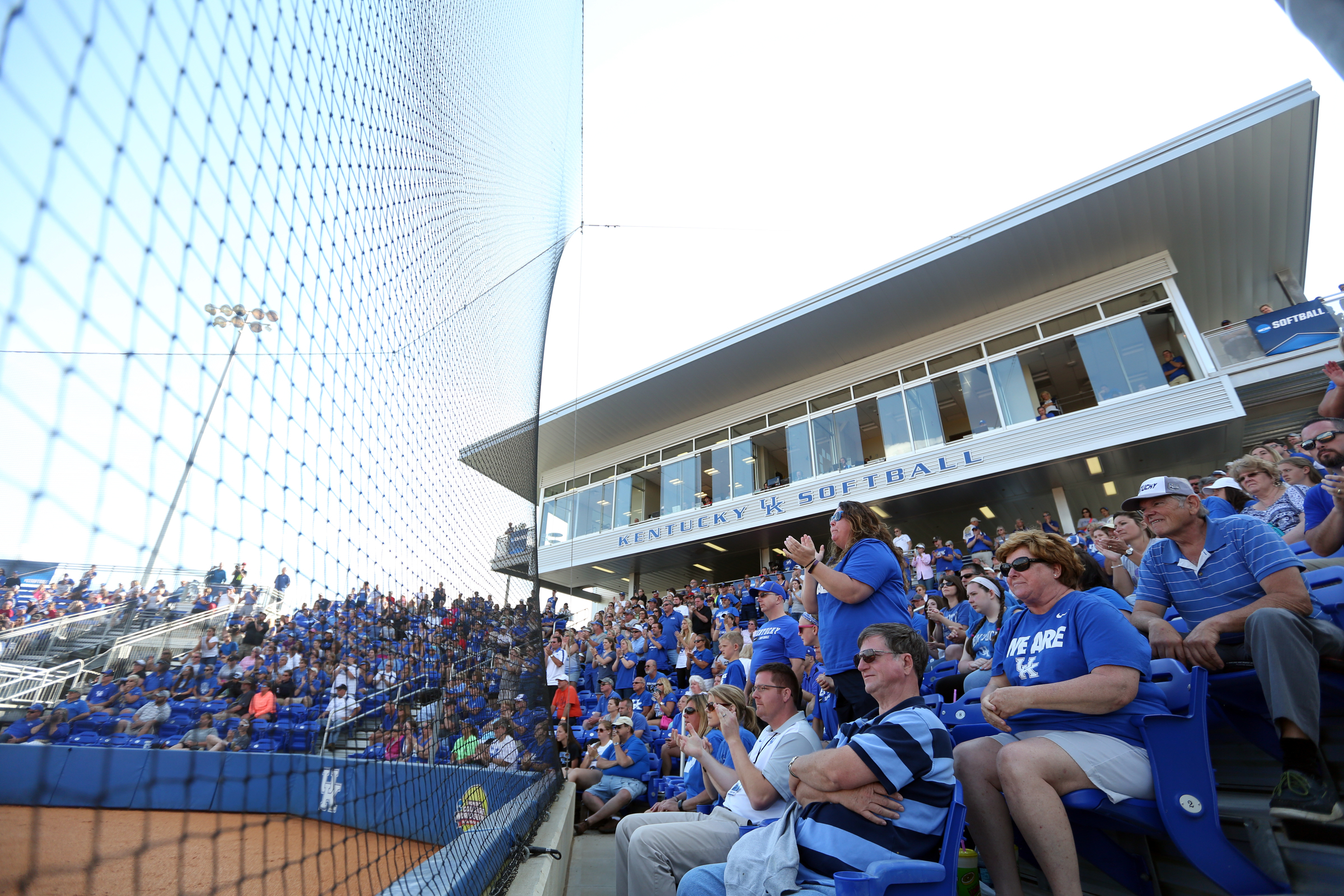 It took a season-ending loss for Rachel Lawson to gain a new perspective on how much her program has grown.
Kentucky, the No. 9 overall seed, was bounced by upstart Utah on Sunday, suffering the kind of loss the Wildcats have often handed out in recent seasons.
That goes to show what UK has become.
"This is going to sound weird coming out of my mouth, but four years ago, before this class started, to be at a podium and talk about being upset is unfathomable to this group," Lawson said. "Because we were always the team that, if we were to win, it was always an upset."
The role reversal came in the form of a 5-3 defeat in Sunday's regional final. The Cats had twice staved off elimination – once on Saturday night and again Sunday afternoon – in playing five games in two days, but the toll taken by so much softball in so little time was too much too handle.
The defeat ended a streak of three straight Super Regional appearances for Kentucky (46-14), which just completed the best regular season in school history. Included in that three-year stretch was a Women's College World Series trip and the opening of the program's beautiful new home – John Cropp Stadium.
It's not happenstance that the best era ever for UK coincided with the four years Kelsey Nunley, Sylver Samuel, Christian Stokes, Nikki Sagermann, Maisie Steed and Ansley Smith spent in Lexington.
"A lot of that is because of this senior class," Lawson said. "They came here to really help bring the program to the next level and I believe that they've done that. I know that they don't feel great right now, but I know that when they reflect back they're going to see exactly what they've accomplished."
Nunley, the UK record holder in nearly every meaningful pitching statistic, already has a healthy perspective on things.
"It didn't end how my class wanted it to, but really at the end of the day I'm just thankful that I was able to play at UK," Nunley said. "I'm just really thankful for that."
Nunley was especially thankful for a senior season that saw UK bounce back from 2015, a year in which UK went 32-26 and won only five SEC games. This year, UK set a school record with 17 conference victories.
Unsurprisingly, Lawson assigns much of the credit to those seniors.
"This will go down as one of the toughest groups because last year we made it to Super Regionals, but it was hard," Lawson said. "Everything about it was hard and I felt like the program had—it wasn't where we wanted it. On paper we were OK. The locker room was OK, but it wasn't quite the Kentucky team that you saw. For us to play all season the way that we did is really attributed to our senior class and their leadership and everything they've accomplished."
That leadership was on display even in UK's postgame press conference, where Nunley gave sound advice to the teammates with whom she's now played her final game.
"Just be thankful every day to wake up and play the game that you love," Nunley said. "You're so thankful to be at such a great school as UK, so you need to be thankful for that and not take (for granted) that any day and not take (for granted) going to school at UK because it's such a great place to be and you have so many people that care about you and help you, so you don't need to take (that for granted) and really just take it all in and do everything you can and give it your all."
Thanks to everything Nunley and her fellow seniors have done, the Cats who will succeed them are well positioned to heed her advice well.
"Hopefully the returning players and the future commits and the players I don't even know about are going to build on what this class has done and really keep us—because I believe that they've grown us into one of the elite programs in the country," Lawson said.
"I feel like this senior class has left us in good hands and I believe that we have a great team moving forward."