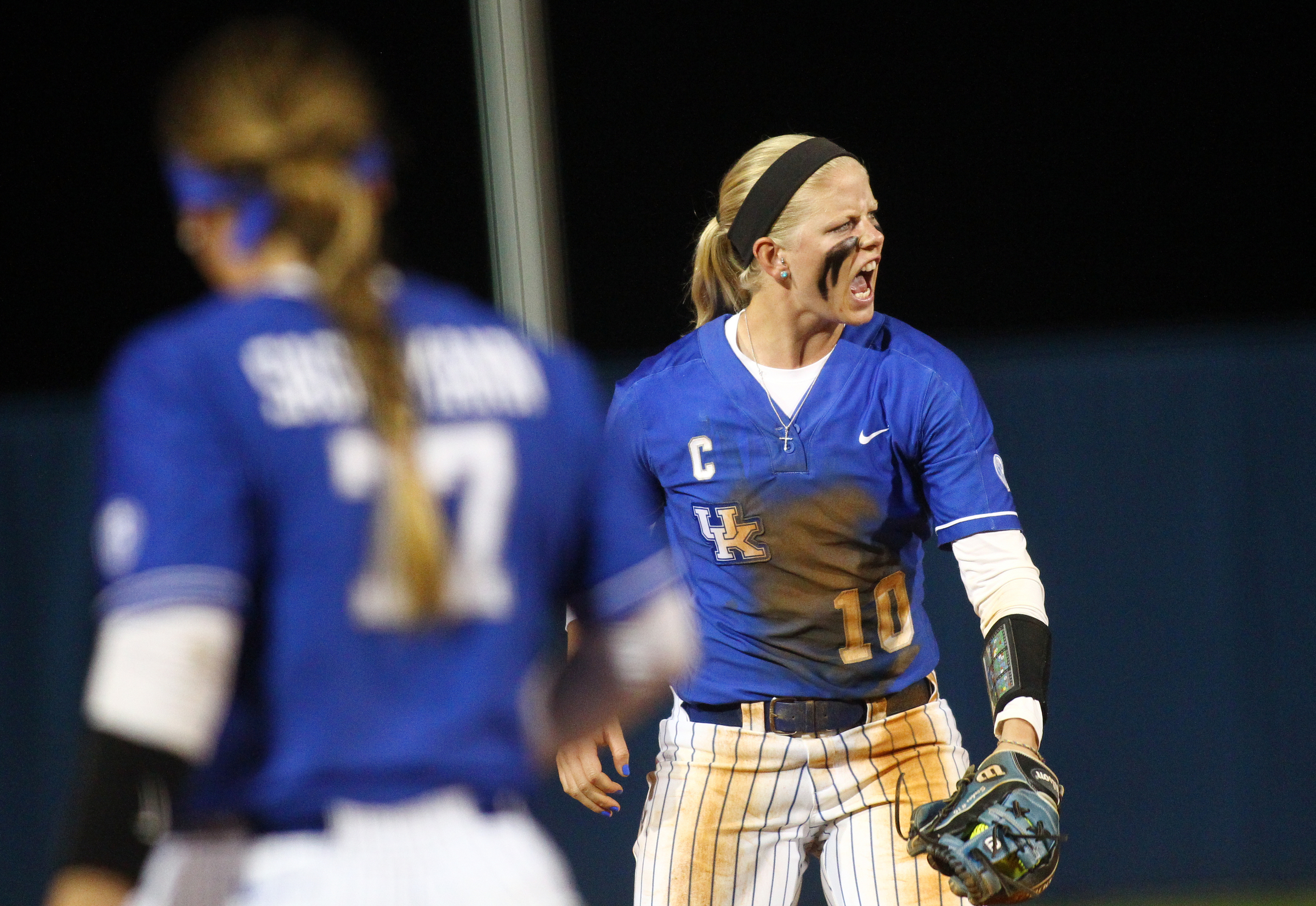 The Kentucky softball team was on the verge of seeing its successful 2016 season come to an end on Saturday night at John Cropp Stadium. The Wildcats trailed Illinois 2-1 heading to the seventh inning and, after having lost to Utah earlier in the day, head coach Rachel Lawson and her team were facing elimination from the 2016 NCAA Tournament.
But the Kentucky senior class was not ready to see their careers come to an end. 
Senior shortstop Christian Stokes, who had driven in Kentucky's first run of the game in the fourth inning, led off the seventh frame with an infield single, then advanced to second on a groundout by senior outfielder Sylver Samuel. 
Later in the inning, with Kentucky down to its last out, freshman second baseman Katie Reed singled to center field, scoring Stokes and tying the game at 2-2.
"Honestly, I told myself that I was prepared for the situation," Stokes said after the win. "I didn't want it to be my last at-bat ever so I just did what I had to do to get on base and I trusted my teammates behind me would drive me in."
The game went to extra innings, where Stokes struck again. With two runners on and two outs in the top of the eighth inning, Stokes hit a shot to the wall in right field. The double would score Abbey Cheek and given Kentucky what proved to be the winning run in a 3-2 victory.
"I think that we showed a lot of guts, I think our resilience was really good tonight," Stokes said. "Coming back from a deficit we really showed how much fight we have in us. That's a good thing in the postseason."
Lawson knew she needed to rely on experience to get the Wildcats through a tough, three-game day on Saturday.
Stokes wasn't the only senior to save the Wildcats on this cool, May evening. After junior left-hander Meagan Prince, who started in the circle for Kentucky, gave up two runs in the first, Lawson turned to senior stalwart Kelsey Nunley to shut down the Illinois bats.
And shut them down she did. Nunley was dominant in relief, allowing no runs and only three hits, two of which were in the second inning. Nunley struck out eight while walking only one and hitting one batter with a pitch. At one point, Nunley retired 15 Illinois batters in a row.
"I knew that for us to come out and play such a long day, we were going to have to rely on the strength of our experience and our senior class, who has been so tough for us the last four years," Lawson said. "I kind of had a feel for that going in and if you look at the lineup, you can tell that we were going to have to do that. It crossed my mind that it might have been their last time, but hey, you have to go out with a bang, right?"
With the win, Kentucky stays alive in the NCAA Tournament. However, the Wildcats face a tough challenge on Sunday when they must beat Utah twice to advance to next week's Super Regionals. That's the same Utah team that beat Kentucky 3-0 earlier in the day on Saturday.
"I think right now the focus has to be doing a better job offensively," Lawson said. "We really did not get our table setters on and when we did get a couple of people on we didn't do a great job on the base running side. What few opportunities we had, I felt we kind of ran ourselves out of it. I don't think that we really brought our A-game." 
"With that said, they (Utah) have great pitching and are a very good team and because they are in the Pac-12, they are battled tested," Lawson continued. "It is going to be a very difficult day, but it is going to be important to us to stay focused and stay within ourselves and do all the things that we have done to put us in this position."
But with the senior class she has playing for her, Lawson and the Wildcats will not be an easy out on Sunday.