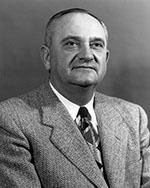 Adolph Rupp
UK Record: 876-190 (82.2%)
Years Coached at UK: 1931-72 (,41 years*
Alma Mater (Year): Kansas (1923)
Hometown: Halstead, Kan.
Born: Sept. 2, 1901 
*1952-53 no schedule
A former UK media guide began, "In the storied land of Kentucky Colonels, there dwelled but one Baron, a man of consummate pride and a molder of powerful teams which for more than four decades made the name University of Kentucky synonymous with the game of basketball."
Tutored by the great Phog Allen at Kansas and a student of the game under Dr. James Naismith, Rupp learned his craft at an early age. After leaving the high school ranks in Freeport, Ill., to take the UK job in 1930, the "man in the brown suit" became the winningest coach in all of college basketball. He was an innovator of the fast break, a trademark of the Wildcats even today.
To become the winningest coach in his sport, Rupp passed his mentor, Coach Allen, on March 12, 1966, with his 747th victory against Dayton in the Mideast Regional. He achieved the top ranking when he passed Western Kentucky's E.A. Diddle with victory No. 760 on Feb. 18, 1967, at Mississippi State.
He finished with 876 wins when he retired in 1972, a mark that stood for 25 years until North Carolina's Dean Smith moved ahead in 1997.
Among the many UK victories were four NCAA titles (1948, '49, '51 and '58), one Olympic gold medal (1948), one NIT championship (1946), 27 Southeastern Conference titles, and his Wildcats were voted No. 1 in the final polls on six different occasions.
Rupp coached some of America's best – Sale, Beard, Groza, Hagan, Ramsey, Cox, Hatton, Nash, Riley and Issel. Twenty-six of his Cats were voted All-Americans (as recognized by the NCAA) 43 times.
His teams were unmatched in league play, earning a 397-75 (84.1%) record against SEC competition. In the conference tournament, Rupp's Wildcats were 57-6, winning 13 titles in 19 appearances.
Before the end of his 42-year career, the three-time National Coach of the Year was inducted into the Naismith Memorial Basketball Hall of Fame in 1969. Rupp also earned SEC Coach of the Year honors on seven occasions.