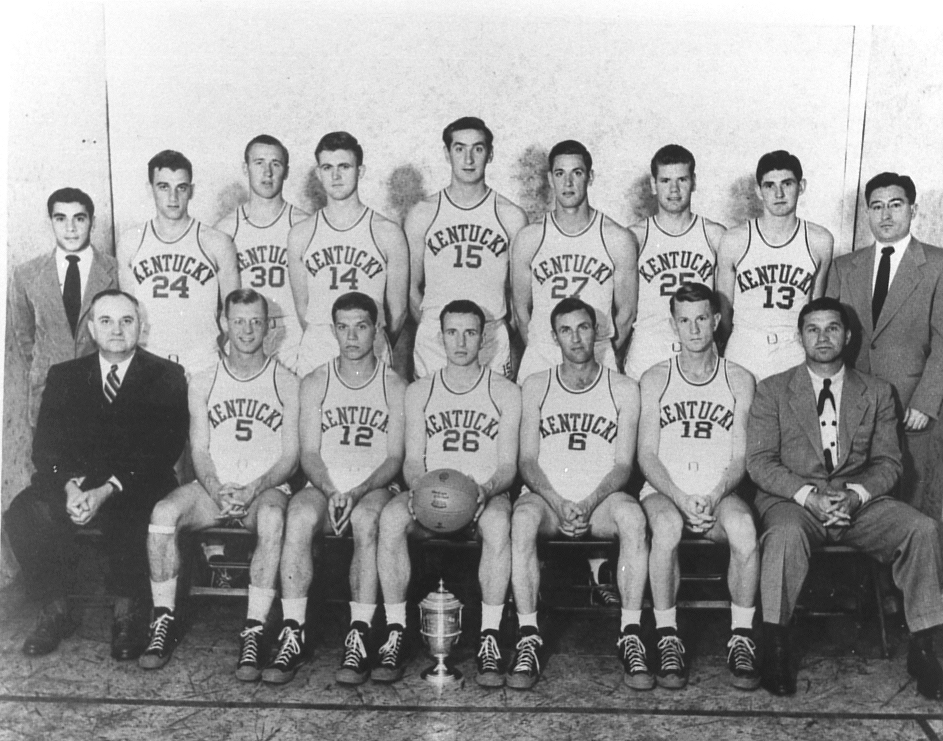 Front row: Coach Adolph Rupp, Johnny Stough, Ralph Beard, Kenneth Rollins, Cliff Barker Jr., Dale Barnstable, Asst. Coach Harry Lancaster  Second row: Manager Humzey Yessin, Garland Townes, Jim Jordan, Joe Holland, Alex Groza, Wallace Jones, Jim Line, Roger Day, Trainer Wilbert Bud Berger
Season Recap
Behind the Fabulous Five of Ralph Beard, Wah Wah Jones, Alex Groza, Kenny Rollins and Cliff Barker, the 1947-48 Kentucky men's basketball team went 36-3 en route to win the school's first national championship.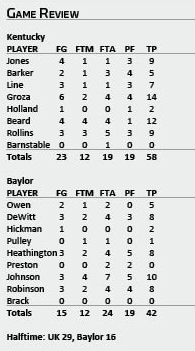 Kentucky got off to a quick start to the season, winning its first seven games before falling to Temple in a one-point buzzer-beater. The Wildcats, however, won 27 of their next 28 games, including a 58-38 victory retribution matchup over the Temple Owls. All five of the Wildcat starters were recognized by the Southeastern Conference with Jones, Beard and Rollins being named to the first team. Beard was also named the True Magazine Player of the Year for the second consecutive season.   
Following the regular season, the Wildcats breezed through the SEC Tournament, winning the four games by a total of 111 points, including a narrow 54-53 victory over Georgia Tech in the championship game. The NCAA Tournament went much as the conference tourney did. Jones scored 19 points in the opener over Columbia and then UK won an eight-point decision over Holy Cross in the second round to advance to the championship game against Baylor. Groza poured in 23 points for the 58-42 victory over the Bears.
Championship Game
Alex Groza and Ralph Beard combined for 26 points and the Wildcats' defense held the Bears to 16 first-half points to capture UK's first NCAA title.
The title victory enabled the Wildcats to become only the second team ever to win both the NIT and NCAA titles. UK, which finished the season at 34-2, won the NIT title in 1946.
Paced by Groza and Beard, the Wildcats turned a 29-16 halftime lead into a 44-28 bulge midway through the second half. After Baylor rallied to cut the lead to 11, UK put the game out of reach as Wallace "Wah Wah" Jones scored four points to give the Wildcats a 15-point lead.
In addition to Groza and Beard, the Wildcats also got nine points apiece from Jones and Kenneth Rollins.
Most Outstanding Player: Alex Groza – posted 14 points on six field goals and two made free throws