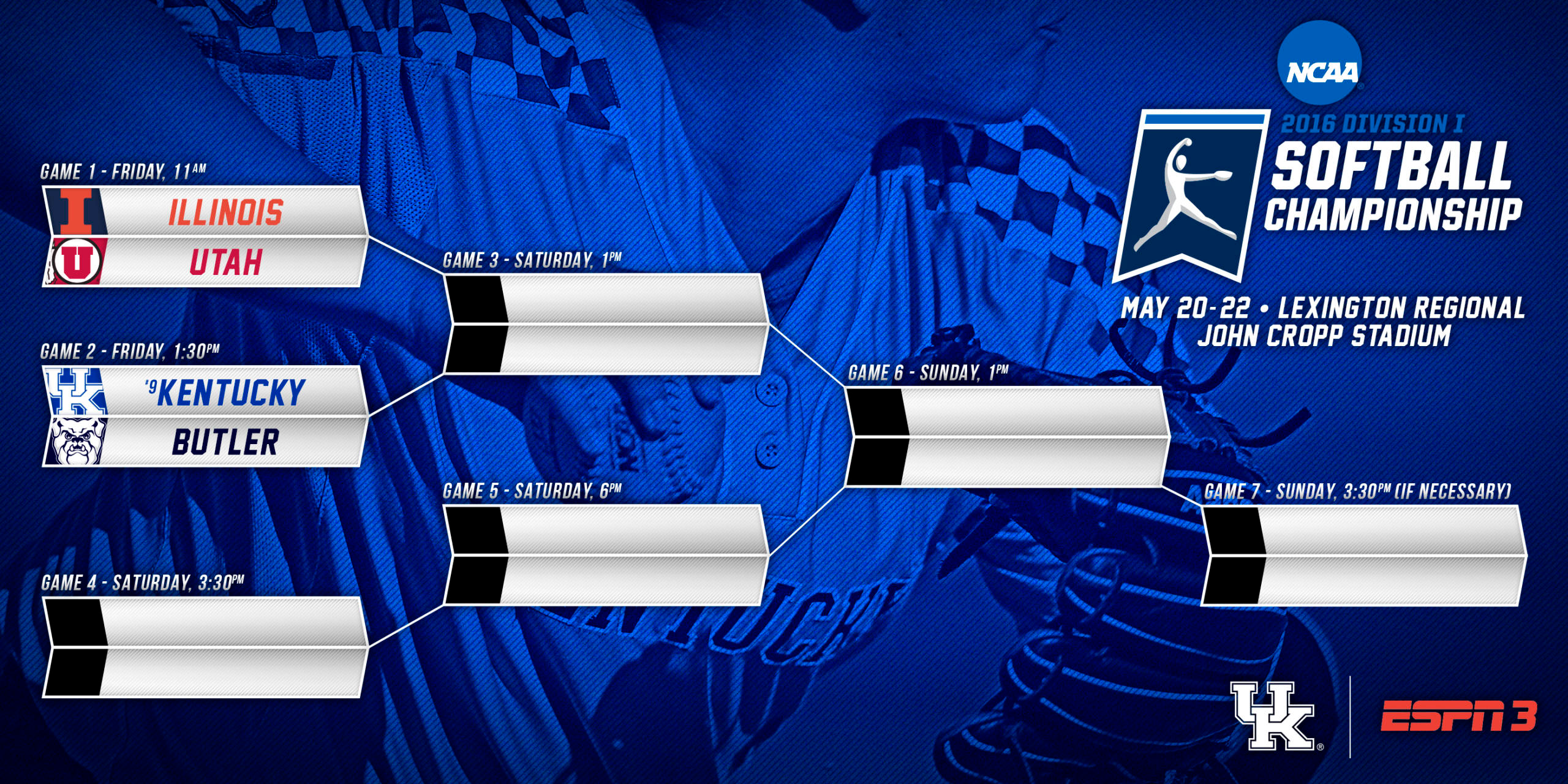 **UPDATE** – Game times on FRIDAY of the Lexington Regional have been moved to 11am ET (Illinois vs. Butler) and 1:30 p.m. ET (Kentucky vs. Butler) in an attempt to get ahead of expected weather.
LEXINGTON, Ky. – After
earning the No. 9 overall seed in the 2016 NCAA Softball Tournament, the
Kentucky softball team will open up postseason play on Friday night at 6 p.m.
ET against the Butler Bulldogs at John Cropp Stadium on day one of action from
the Lexington Regional.
Like all games of the Lexington
Regional, Friday night's game will be shown live on ESPN3 and the WatchESPN app
in its entirety with select portions of the game airing on ESPNU's "Bases
Loaded" coverage. Dave Baker and Dorian Craft will have the call on Friday,
with former UK standout Ginny Carroll joining Baker in the booth for Saturday
and Sunday's action. All Kentucky games can also be heard on local radio with
Dick Gabriel. Fox Sports Radio 1580AM will have coverage on Friday and Saturday
with 630 WLAP taking over on Championship Sunday.
The Lexington Regional is comprised of the host Wildcats, Utah Utes,
Illinois Fighting Illini and Butler Bulldogs, with one team advancing to the
Super Regional round next weekend. This weekend's action will be
double-elimination with all teams playing one game on Friday night, two
elimination games on Saturday and the regional final on Sunday afternoon.
Tickets can be acquired on an all-session or single-day basis online at
UKathletics.com. All-session tickets are available for $30 in chairback seats,
or $20 for general admission bleacher back seating. Single-day passes can be
purchased for $15 per day for a spot in the reserved chairbacks, or $10 for
adults or $8 for youth/seniors in the bleacher back seats. Single-session
tickets will go on sale on Thursday, May 19 at 9 AM ET. Tickets may be
ordered online or by calling the UK Ticket Office at (800)
928-2287.
In the event of inclement weather, fans are encouraged to call the John
Cropp Stadium weather hotline at (859) 257-9014 for any
game-related updates. Updates will also be posted on Twitter via @UKSoftball
and @UKTix.
Sunday marked the seventh-straight year that Kentucky has earned an NCAA
Tournament bid under Rachel Lawson, the 2016 Southeastern Conference Coach of
the Year. The Wildcats have advanced to four out of the last five Super
Regionals, and a Women's College World Series appearance in 2014.
UK is 5-0 all-time against the Butler Bulldogs, with the last meeting
coming back in 2014 at John Cropp Stadium. The Wildcats won that game 9-7.
Kelsey Nunley pitched 3.2 innings, with Meagan Prince pitching 3.1 innings and
closing out the game. Lauren Cumbess went 2-for-4 with a double and the
game-winning RBI single. The Bulldogs earned the BIG EAST automatic bid with a
10-8 win over the St. John's Red Storm in the title game. BU is 28-22 on the
season, and finished conference play 9-7.
Kentucky played Utah earlier this season in the team's first-ever meeting,
winning on a walk-off passed ball in the bottom of the seventh inning as part
of the Kajikawa Classic in Phoenix on Feb. 15. The Utes earned an at-large bid
out of the PAC-12 conference. Utah completed the regular season 32-19 with a
13-10 record in league play including wins over Oregon, Washington, California,
Arizona and a sweep of Oregon State.
Illinois enters the postseason as an at-large selection out of the Big
10. The Fighting Illini capped off the first year of the Tyra Perry era 35-21
overall and 12-11 in the B1G. Illinois has recorded wins on the season over No.
9 Florida State, Nebraska, Wisconsin and Penn State. The Wildcats have not
faced Illinois this season, but Kentucky leads the all-time series 1-0 with the
Fighting Illini. The only prior meeting between the two teams was back in 2013.
2016 Lexington Regional | Tourney Central
John Cropp Stadium (1,500)
Lexington, Ky.
Friday, May 20
Game 1: (2) Utah vs. (3) Illinois – 11 a.m. ET [ESPN3, WatchESPN app, ESPNU Bases
Loaded]
Game 2: (1) Kentucky vs. (4) Butler
– 1:30 p.m. ET [ESPN3, WatchESPN app, ESPNU Bases
Loaded]
Saturday, May 21
Game 3: Winner Game 1 vs. Winner
Game 2 – 1 p.m. ET [ESPN3, WatchESPN app, ESPNU
Bases Loaded]
Game 4: Loser Game 1 vs. Loser Game
2 – 3:30 p.m. ET [ESPN3, WatchESPN app, ESPNU
Bases Loaded]
Game 5: Loser Game 3 vs. Winner
Game 4 – 6 p.m. ET [ESPN3, WatchESPN app, ESPNU
Bases Loaded]
Sunday, May 22
Game 6: Winner Game 3* vs. Winner
Game 5 – 1pm ET [ESPN3, WatchESPN app, ESPNU
Bases Loaded]
Game 7 (if necessary) – Same teams
– 3:30 p.m. ET [ESPN3, WatchESPN app, ESPNU
Bases Loaded] *
*Winner to Super Regional round May
26-29 on select campus sites
For the latest on the Kentucky
softball team, follow @UKSoftball on
Twitter, Instagram and Facebook, as well as on the web at UKathletics.com.