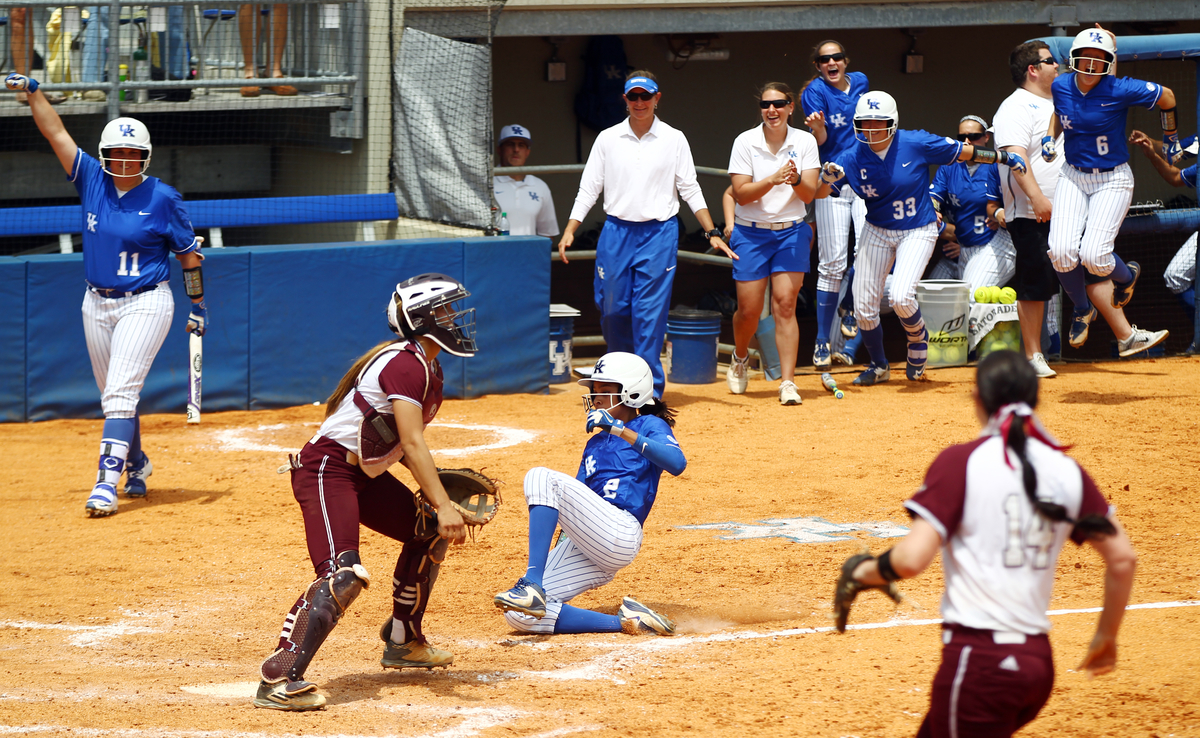 Kentucky's seniors comprise the most successful class in school history.
It features the pitcher who has the top spot in nearly every pitching category in UK's record books in Kelsey Nunley, an All-SEC performer in Nikki Sagermann, a stalwart shortstop in Christian Stokes, a dynamic leadoff hitter in Sylver Samuel, a reliable starter in Maisie Steed and a steady substitute in Ansley Smith.
"They took a team that was starting to get on the map and they've made us a national powerhouse," Rachel Lawson said. "Anytime a group of individuals can do that, it really says something about their work ethic and it says something about their character."
The six have combined to lead UK to three Super Regional trips, the school's first-ever Women's College World Series appearance and a 42-11 start in 2016, but their achievements on the field don't come close to defining them for their coach.
"It's been a great class in so many ways," Lawson said on Friday. "They're outstanding people, they're great players, they're outstanding students. They mean a lot to the university."
And to Lawson personally.
Thinking about celebrating the six on Senior Day Saturday before a game against Mississippi State was not easy for Lawson. The emotion was plain to see as she talked about her seniors and Lawson clearly shares a special connection with this class, both as a whole and individually.
That's certainly true for Samuel, the centerfielder who had a solid first three seasons before breaking out as a senior. Entering Saturday's game, she was batting .370, far and away a career high.
"I've watched two really cool things happen," Lawson said. "Sylver has really developed into a leader and an outstanding leadoff batter. She looks so calm in the box and she's so poised and she's a lot of fun to have at practice. It's just been a lot of fun to have her around."
That made the way No. 12 UK won on Saturday in the second of three games against the Bulldogs extra special.
Locked in another low-scoring extra-inning battle on the heels of Friday night's nine-inning win, Samuel stepped to the plate to lead off the eighth inning. On an 0-1 pitch, Samuel slapped a grounder to the pitcher. Her speed helped force a throwing error and allowed her to reach second base easily.
"I knew that I had to lead inning off with something to get us going and I knew Nikki (Sagermann) was behind me and we had a strong lineup coming behind me so I wanted to get in scoring position so that we could get the run scored," Samuel said.
Samuel wasted no time stealing third base – her 21st of the season – and came around to score when the throw from catcher went into left field.
"It was fitting that the day ended that way because Sylver was so amazing for us all year and she's the main reason we're winning," Lawson said.
Samuel was hitless entering her final at-bat, but ready to capitalize on two Bulldog mistakes nonetheless. That's a sign of the reason why she's been a different player in her final season.
"I try to stay calm when I'm in the box and not get too hyper and remember what I'm trying to do and not do too much and then a lot of things fall in place," Samuel said. "I think instead of when I don't get a hit or when I don't lead the team off the way that I want to, I know that somebody will pick me up. So I don't get on to myself and I let it go."
Thanks in large part to Samuel, UK is well positioned to not let this weekend be the final time these seniors take the field in John Cropp Stadium. The Wildcats are likely to host regionals in the NCAA Tournament and could make a push to host super regionals as well with a deep run in next week's SEC Tournament.
That meant Saturday was more of a celebration than a goodbye, thankfully for Lawson.
"The nice thing is it's not the last time I'm going to see them on this field," Lawson said. "If that was the case, I'd probably be pretty torn up."