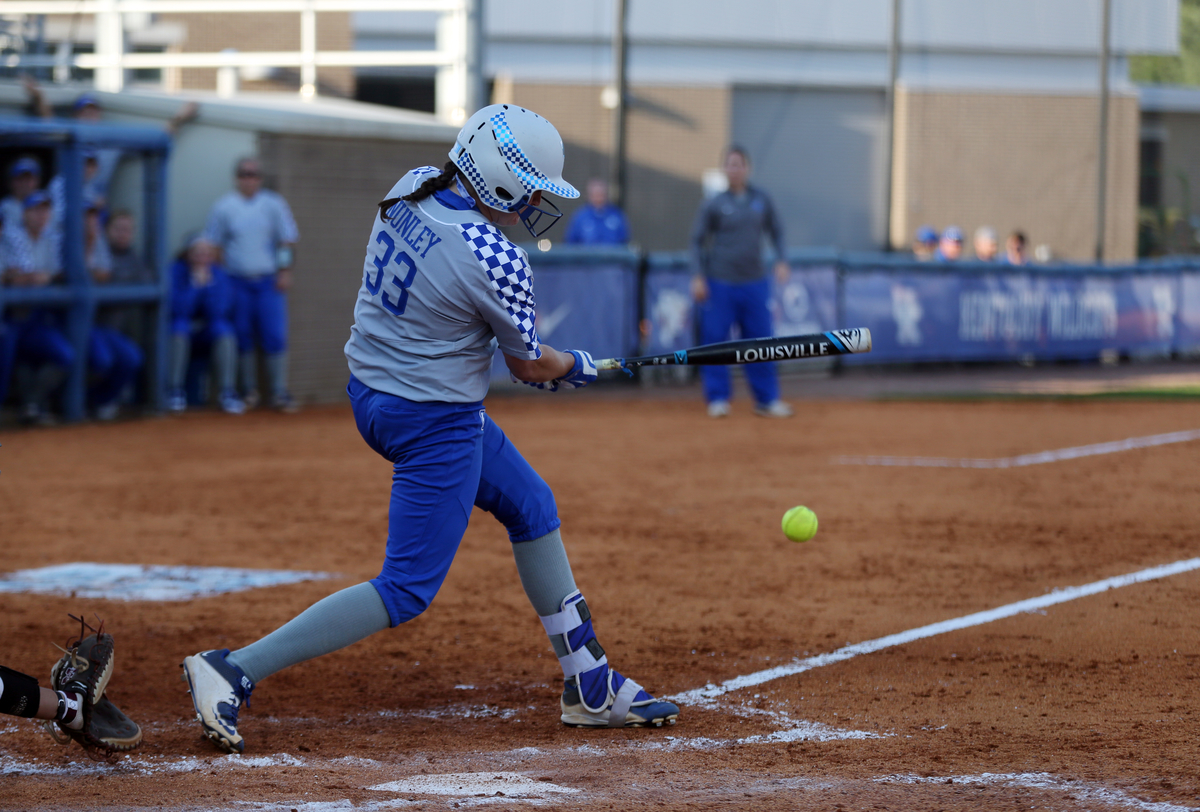 Senior Weekend for one of the most decorated classes in Kentucky softball history began on Friday night.
The class's most decorated member made sure the proceedings got going the right way.
"Well, it was something else but I'm glad we fought," Kelsey Nunley said. "Those times that we got down, I'm glad that we were able to fight back somehow, some way."
Nunley did what she usually does and led No. 12 UK (41-11, 15-7 SEC) to victory, but with a twist. This time, Nunley was the hero at the plate as UK eked out a 3-2 victory in nine innings over Mississippi State (27-28, 3-19 SEC).
It's the first time she can ever remember her hitting overshadowing her pitching.
"Never," Nunley said. "Never, but I'm glad it's happening. It's a good thing."
Trailing 1-0 in the seventh, UK was down to its last out. Another dazzling outing (Nunley allowed two runs in 7.2 innings) in the circle seemed likely to be foiled by Alexis Silkwood's shutout, but freshman Jenny Schaper laced a double into right field. That brought Nunley up to bat.
"I just see (Schaper's hit) and take a deep breath, take a really big deep breath and be like, 'OK, you can do it. You can do it,' " Nunley said.
Her coach wouldn't have had it any other way.
"When Kelsey's in the box and she's calm, I feel like she is how she is when she's on the mound and she's calm," Rachel Lawson said. "I think she's such a winner, I think she has great composure and I know that she's going to give us a good chance to square up on the ball."
Down to her last strike, she got just enough of a 2-2 pitch to float a single into left field and chase pinch runner Ansley Smith home from second to force extra innings.
Two innings later – after fellow senior Nikki Sagermann tied the game in the eighth with a home run – Schaper doubled again to put Nunley in another big spot at the plate. And for the first time in her UK career, Nunley was asked to bunt.
"We practice that pretty much daily and also before the game starts we warm up bunting," Nunley said. "So I'm glad we do, because it happened. I don't think it's really ever happened before, so I'm glad we do that."
Yet again, Lawson's faith was rewarded. Nunley laid down a perfect bunt and moved Schaper to third with one out. She would score the game-winning run on a wild pitch.
"She's a tremendous athlete," Lawson said of Nunley's newly discovering bunting talent. "It just says what an athlete she is and what a winner she is. She'll do whatever she needs to do to get the win."
That approach has been a constant through Nunley's career, which will leave her atop the UK record books in nearly every meaningful pitching category. She, along with five other seniors, will celebrate that on Saturday at noon for Senior Day.
"I honestly don't know what to expect," Nunley said. "I'm excited and I'm just trying to be happy that it happened, not sad that it's almost over and just try to keep that mindset the whole time."