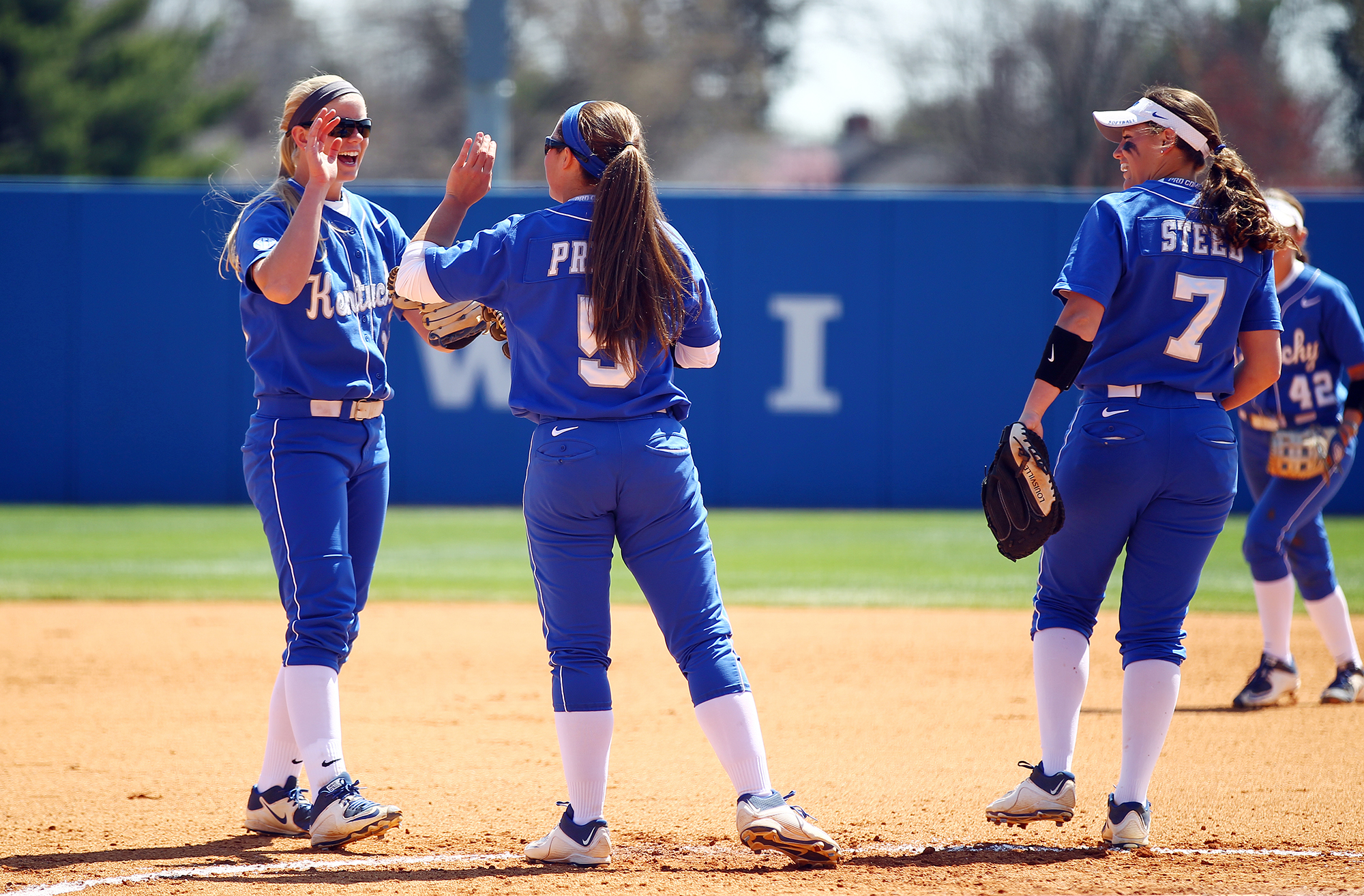 LEXINGTON, Ky. – The Kentucky pitching staff composed of senior Kelsey Nunley, juniors Meagan Prince, Shannon Smith and sophomore Erin Rethlake shined bright this fall, working seven games and posting a combined earned run average of 1.84, leading the Wildcats to a 6-1 fall season.
Kentucky picked up wins over Eastern Kentucky (2), Georgetown College (KY), Western Kentucky (2), and Kent State with the lone loss coming in a 7-6 decision to the Ohio State Buckeyes.
Prince led the pitching staff with a 0.60 ERA, going 3-0 in the season allowing just seven hits in four appearances while striking out 16 batters and only walking four. Prince pitched 15 complete innings, the most of anyone on the staff. Milford, Mass., native Shannon Smith posted a 1.38 ERA in 13 innings of action, going 2-1 during the fall. Smith started three of the five games that she appeared in, allowing two earned runs and striking out 25 batters, the most of any of the Kentucky pitchers. 
Sophomore standout Erin Rethlake pitched 10 innings for head coach Rachel Lawson in the circle, posting a 2.70 ERA, allowing just three earned runs in her three appearances. She struck out eight batters and went 1-0. All-SEC performer Kelsey Nunley did not record a decision during the fall, but appeared in four games, allowing just four earned runs and walking only one batter while striking out 12. 
Nunley led the Wildcats at the plate, sporting a team-best .571 batting average, going 4-for-7 in her plate appearances, including a home run. The Soddy Daisy, Tenn., product had eight total bases, a double, run scored and also walked one time in her plate appearances.
Infielder Nikki Sagermann went 7-for-15 this fall, with three doubles, and a team-high six RBI, batting .467. Sagermann also had a home run against Western Kentucky, recording a hit in six of the seven games that she appeared in. 
Freshman Katie Reed was a standout for the Wildcats in the field and at the plate, batting .364 in the fall, with 2 RBI in a 4-for-11 showing at the dish. She also walked one time and had four total bases at the plate.
Ansley Smith (.444), Maisie Steed (.400), Kelsee Henson (.400), Brooklyn Hinz (.385), Christian Stokes (.364), Haley Andrus (.333) and Sylver Samuel (.308) were all a part of a potent Kentucky offense which hit .305 as a team, scoring 46 runs on 58 hits with five homers and 22 walks. 
Samuel and Reed led Kentucky with three stolen bases each, as UK went 16-for-21 in swiping bases. A. Smith, Steed, Hinz, Reed, Stokes, Samuel, Rethlake, Abbey Cheek, Hannah Huffman and freshman Sarah Rainwater all recorded at least one stolen bag.
The 2016 Kentucky spring schedule will be unveiled soon along with times and national television assignments from UK's nationalmedia partners at ESPN, ESPN2, ESPNU, the SEC Network, and the SEC Network+.
2015 Kentucky Fall Softball Schedule and Results (6-1)
at Eastern Kentucky – W, 7-1
at Eastern Kentucky – W, 2-1
vs. Georgetown – W, 12-0
vs. Western Kentucky – W, 10-4
vs. Western Kentucky – W, 7-0
at Ohio State – L, 7-6
vs. Kent State – W, 2-0
For the latest on the Kentucky softball team, follow @UKSoftball on Twitter, Instagram and Facebook, as well as on the web at UKathletics.com.