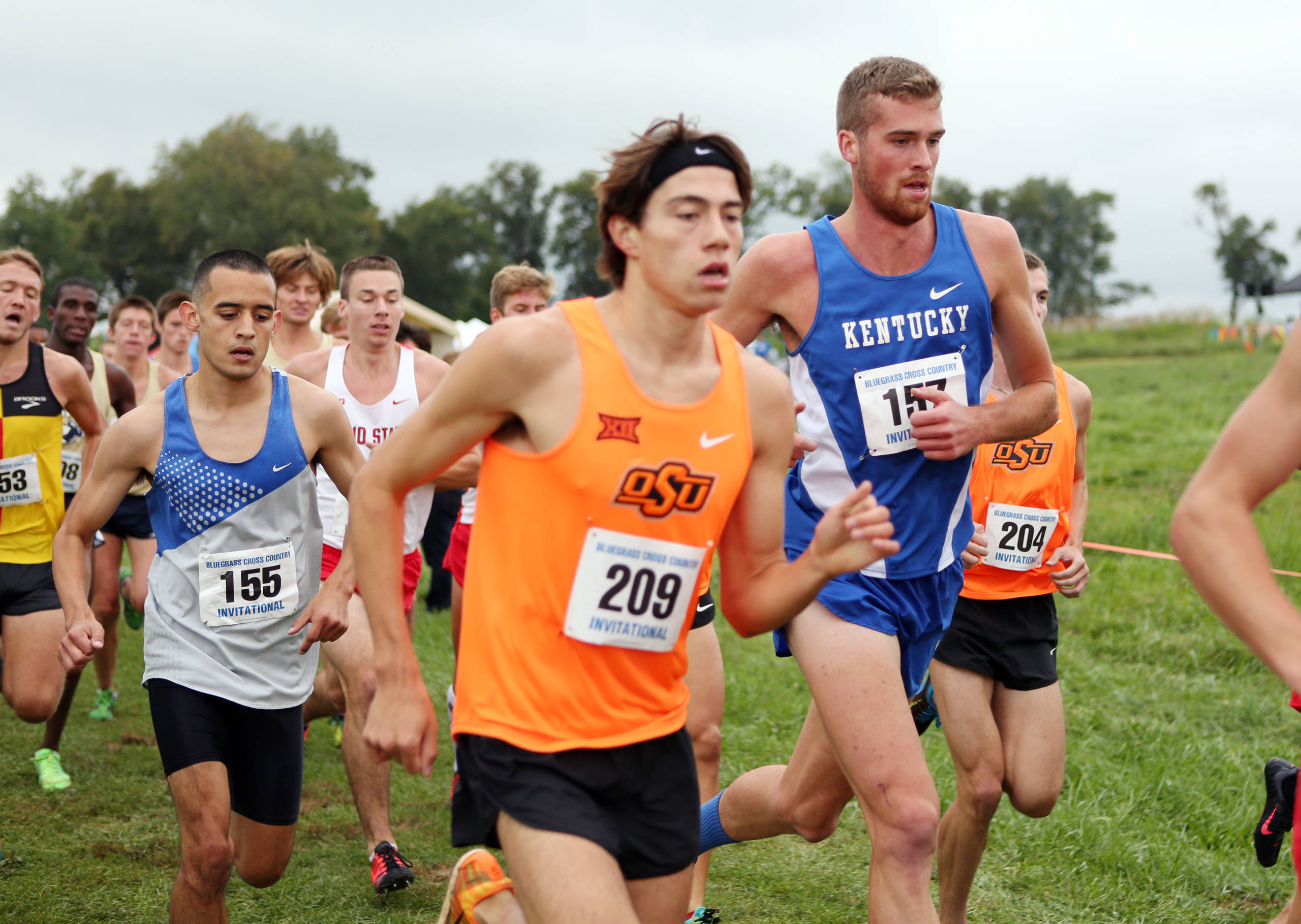 November 14, 2014 - 02:00 AM
Men 9th, Women 12th at NCAA Cross Country Southeast Regionals
Nov. 14, 2014
LOUISVILLE, Ky.  – The Kentucky cross country teams turned in solid performances at the 2014 NCAA Southeast Regional on Friday at E.P. "Tom" Sawyer Park.
The UK men produced a top 10 finish, ninth overall with 353 points, led by a pair of middle distance track specialists who put in respectable 10,000-meter times.
Keffri Neal, the 2014 NCAA 800M Bronze Medalist, was the first Wildcat to finish, in 40th place with a time of 31:10.80. He was closely followed by senior and three-time SEC Champion in track events, Matt Hillenbrand, who placed one spot behind Neal with a time of 31:12.50.
MacKay Wilson and Spencer Hrycay placed 58th and 59th with respective times of 31:12.5 and 32:30.7. Zack Beavin was UK's fifth finisher in 59th place with a time of 31:31.1 which was more than 25 seconds better than his lone cross country 10K time from last season.
Katy Kunc led the women's team to a 12th-place finish with a 27th-place time of 20:48.3, which was her 6K season best.
Aundrea Busse was UK's No. 2 finisher, 57th overall, in 21:30.3.
Cassidy Hale placed 27nd in 21:43.5, and Caroline McCaslin was 99th in 22:15.2. Amy Hansen placed 104th in 22:17.5.
The top-two teams and top-four individuals at each of the nine regional meets automatically advance to the NCAA Championships, to be held in Terre Haute, Indiana, on Saturday, Nov. 22. Thirteen teams will also earn at-large bids, to be announced on Saturday, Nov. 15.
Last season the women's team finished fifth, and the men's team was 12th at the NCAA Southeast Regional in Charlottesville, Virginia.
UK has not qualified for the NCAA Championships as a team since the women's squad did so in 2008. Cally Macumber earned an automatic individual bid last season. Luis Orta was the last member of the UK men's team to go to Nationals, in 2012.
Men's Results

9. Kentucky: 261
Individual Results

40. Keffri Neal:: 31:10.8
41. Matt Hillenbrand: 31:12.5
58. MacKay Wilson: 31:30.7
59. Spencer Hrycay: 31:31.1
66. Zack Beavin: 31:45.1
94. James Brown: 32:03.6
101. Mick Iacofano: 32.19.3
Women's Results

12. Kentucky – 353
Individual Results (UK Only)

27. Katy Kunc: 20:48.3
57. Aundrea Busse: 21:30.3
72. Cassidy Hale: 21:43.5
99. Caroline McCaslin: 22:15.2
104. Amy Hansen: 22:17.5
124. Michelle McKinney: 22:32.3
153. Jill Weston: 23:00.1