The K Fund's 110% Club is a great way to directly support 22 teams comprised of 500+ student-athletes as they represent the University of Kentucky and this great Commonwealth. Your contribution to the 110% Club will make you part of the team that funds approximately $17.5 million, annually, in athletics scholarships and delivers resources our teams need to succeed at an elite level. We hope you join the 110% Club team by establishing your membership before June 30 (of the current year).
Benefits include:
5 priority points
K Fund decal, lapel pin and hardbound journal
Exclusive access & offers throughout fiscal year
Donations go directly to the annual fund to help offset scholarships, recruiting and operating budgets
Join or renew using either of the following methods:
Online at KFundonline.com
Phone by contacting us at 859.257.6300
Mail form to:
K Fund – Joe Craft Center
338 Lexington Ave
Lexington, KY 40506
Fax: 859.323.2323
This is a one-time opportunity during the current fiscal year (July 1 – June 30).  If you have joined since July 1 (of current year) you may disregard this info.  The UK Athletics family of coaches, student-athletes and staff thanks you for your support!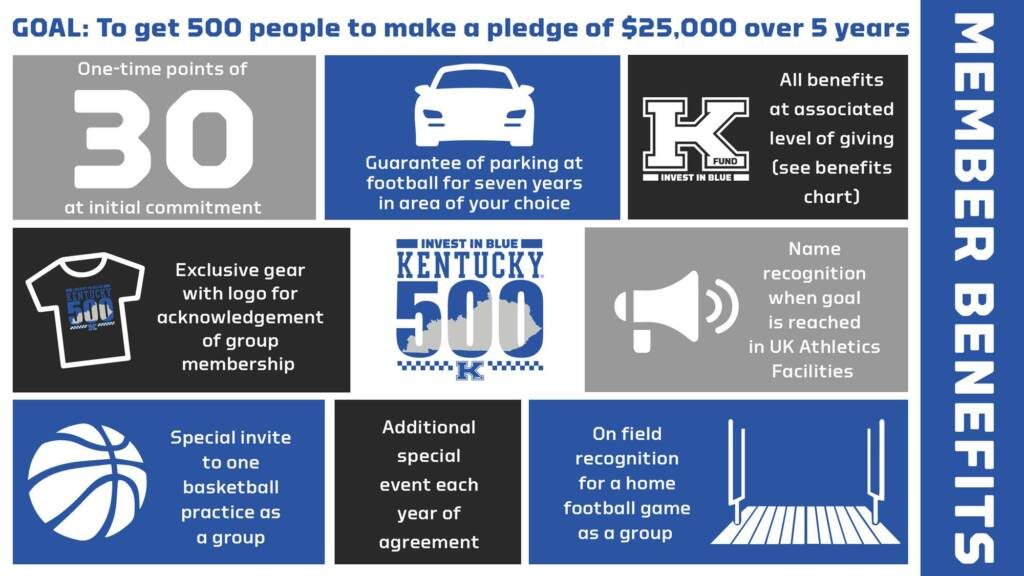 Wildcat Reserve is an exclusive program which consists of K Fund members who contribute $100,000 or more annually to the K Fund. Specifically, Wildcat Reserve members will be entitled to several exclusive benefits, including:
• A private dinner with University President, Director of Athletics, Head Coaches for Football, Basketball and Women's Basketball
• A reserved parking space, with personalized nameplate, at Commonwealth Stadium and Rupp Arena
• Specialized UK gear featuring a unique, "members only," Wildcat Reserve logo
• Sideline access for the annual Blue/White spring football game
• Two (2) premium seats at Big Blue Madness
• Opportunity to attend private practices for football, men's basketball and women's basketball
• Credentials to attend post-game press conferences for football, men's basketball and women's basketball
• Increased ticket allotment (based on availability) for bowl, SEC Men's Basketball Tournament and NCAA Men's Basketball Tournament
• Team travel opportunities
• Additional exclusive benefits offered annually!
In addition to these exclusive benefits, Wildcat Reserve members will have access to all K Fund benefits outlined in this K Fund brochure.
We hope you consider this exciting opportunity. Please note that the $100,000 annual gift must be collected from July 1 to June 30 of each fiscal year. Additionally, your current annual and / or capital gifts will count toward the $100,000.