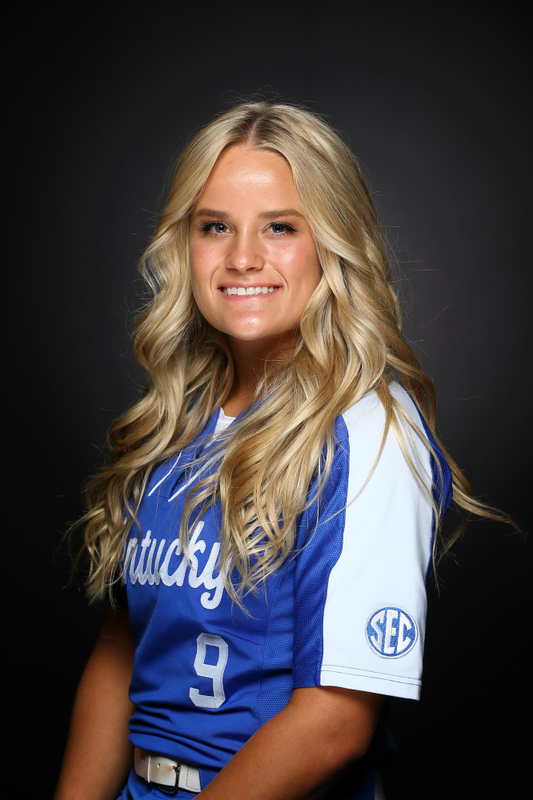 9
Lauren

Johnson
position

Infield

class

Senior

Hometown

Owensboro, Ky.

High school

Daviess County HS
2021 (Senior): 18 multi-hit games this season … 11 games this year with multi-RBI's, including four games with 3+ RBI … Had a hit in all three games vs. Alabama … Moves between second base and right or left field defensively … Can also play SS, as that's where she played in 2020 … Hit a career-high .350 on the season with 40 runs scored, 64 hits and double-digit doubles.
2020 (Junior): Started on opening day in the lead-off position … Can play anywhere in the field defensively, both infield and outfield … Hit her first-career grand slam vs. Samford in the third inning of a 0-0 game … Hit another home run at the Samford Tournament, for her second on the weekend … Hit her third home run of the season vs. Florida International at The Spring Games … Clubbed a triple vs. Marshall to help spur the UK comeback vs. Marshall.
(2019) Sophomore: UK's leading hitter in the last 10 games (.478 batting average) … Ended the season on a career-high 10-game hitting streak … UK's leading hitter in the Lexington Regional with a .500 average, 5 hits, 2 runs scored, 4 RBI, a double and a triple … Had a hit in five of the first six games of the season, resulting in her bolting up to No. 2 in the batting order … 12 multi-hit games … Hit a lead-off home run vs. No. 3 Oklahoma to begin the Elite Invitational in the top of the first inning … Had a double and knocked in UK's only run in a win over North Carolina … Was UK's leading hitter at the Mary Nutter Collegiate Classic, batting .600 on the weekend with five runs scored, six hits, three doubles two RBI and a pair of walks … Scored a career-high three runs vs. Bethune-Cookman in UK's win over the BCU Wildcats … Had two hits, two runs and a walk drawn in UK's 14-4 win over Murray State … Hit her second home run of the season in UK's Friday night win over #11 South Carolina … Hit a home run vs. Mizzou … Hit her first triple of the season vs. NKU on April 9 … Had two doubles and an RBI single at Louisville in her second-career three-hit game and first of the season … Had an RBI vs. Alabama in the SEC Tournament semifinals.
Freshman (2018): Had doubles against Cal State Fullerton and Purdue and came around to score on both of them … Recorded hits in 17 games … Scored a run in 17 games, including four in a row … Had her first-career multi-hit game at San Diego State … Her 22 walks were third on the team … Had an RBI against Louisville in the Battle of the Bluegrass … Went 2-for-3 with three RBI vs. Middle Tennessee State … Hit her first-career HR vs. Arkansas at the SEC Tournament.
Pre-College: One of three Kentucky natives to sign with the Wildcats in this period, coming out of Owensboro, Kentucky. Johnson is a 5'5" shortstop and utility player who projects to be a threat at the top of the batting order for UK in the future. In 2015 she was named Region Three Player of the Year and Tournament MVP. She led Daviess County to the state tournament, winning their region for the first time in her time with the school. Johnson had her best season in 2016, where she hit .568 with 79 RBI and was named First Team All-State. For the second-consecutive season, she led her team to the state tournament, was named the Region 3 Player of the Year whilst being honored as an All-State Tournament Team representative. She was also All-State Academic in Kentucky, where she will continue to hold strong UK's academic reputation.
Read more