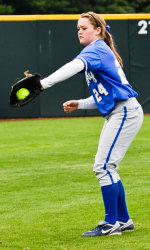 44
Sarah

Frazer
class

Senior

High school

Ballard
Junior (2013): Played in 40 games with six at bats and 14 runs scored … Went 5-for-7 in stolen bases … Stole a base versus San Diego State … Scored five runs in three games for the Wildcats at the Coke Zero Spartan Classic … Tapped home twice and stole a base in the Under Armour Invitational … Stole two bases in the SEC opening series vs. Ole Miss … Recorded a stolen base in the extra-innings win vs. Mississippi State … Tapped home after pinch running for Joiner in the South Carolina series … Went 1-for-3 with a run scored at MTSU … Scored a run against Louisville off of a wild pitch … Saw most of her action as a pinch runner this season … Scored twice in the Lexington Regional vs. Marshall and Virginia Tech.

Sophomore (2012):Saw action in 23 games in her freshman season … Drew a walk vs. UAB in her first collegiate game action and first career at-bat … Saw action as a pinch runner in the win over WKU … Scored a run in 5-2 series-clincher vs. Auburn … Scored the game's tying run in the seventh inning as a pinch runner in the final game of the Tennessee series … Tapped home as a pinch runner in the series-clinching win over Ole Miss … Walked in her lone at-bat in a win over Morehead State … Registered her first career hit in the series-opening win over No. 2 Florida … Scored a run in UK's win over No. 22 LSU … Swiped her first career base in the NCAA Tournament vs. Louisville … Also scored a run vs. Michigan.
Freshman (2011):Red-shirt season.
High School:A two-year letterwinner for Ballard High School … Batted .525 with four home runs and 36 RBI as a senior … An All-State honorable mention selection as a senior … Named to the All-Region team in each of her two seasons at Ballard … Ballard claimed the regional championship in her first season and were runners-up in her senior campaign … Charted a .425 batting average with 24 RBI as a junior.
Loading…
Read more