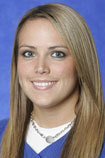 8
Samantha

Allen
class

Senior

High school

Hollywood Hills
2007 (junior): Saw action in two games before suffering a back injury … Started against Stephen F. Austin … Notched six strikouts in four innings of work … Appears on the UK all-time record lists with 64 appearances(6th), 211.1 innings pitched (7th), 38 games started (7th), 114 strikouts (7th), and 14 wins (7th).
2006 (sophomore): Made 13 appearances in the circle for the Wildcats, including eight starts … Had a record of 2-3 with a save in 34.2 innings of work … Recorded 16 strikeouts and had an ERA of 4.04 … Allowed just two hits in 4.0 innings of work in the Cats' series-clinching win over South Carolina … Notched a season-high four strikeouts in her final appearance of the season against Ole Miss while giving up one run on two hits in 4.0 innings … Enters the season ranked sixth all-time at UK in appearances with 62 … Ranks seventh in UK career record books in games started (37), innings pitched (207.1) and wins (14) … Named to SEC Academic Honor Roll.
2005 (freshman): Led the team and ranked seventh in the SEC with 29 games started … Had a record of 12-17 and ranked second on the team with a 4.95 ERA … Ranked third in the SEC with 49 appearances … Led the pitching staff and was eighth in the league with 172.2 innings pitched … Recorded a team-best 92 strikeouts … Threw nine complete games and hurled two shutouts … Struck out a season-high nine batters in a complete-game win over Belmont … Tossed a complete-game 10-inning shutout against Bowling Green.
High School: Coached by Jenna Andrews … Her team won the district championship four consecutive years … Career-high was a Florida High School Athletics Association record 32 strikeouts in a single game … Named to the Class 5A first team her junior season by the Florida Sports Writers Association.
Personal: Chose UK over Elon University and the University of Illinois-Chicago … Chose to play at UK because she wanted to play softball in the SEC.
Allen's Career Hitting Stats
Year
AVG
GP/GS
AB
R
H
2B
3B
HR
RBI
TB
SLG%
BB
HBP
SO
GDP
OB%
SF
SH
SB-SBA
2005
.000
6/5
0
0
0
0
0
0
0
0
.000
1
0
0
0
1.000
0
0
0-0
Allen's Career Pitching Stats
Year
ERA
W-L
APP
GS
CG
SHO/CBO
SV
IP
H
R
ER
BB
SO
OPP/AVG
WP
2005
4.95
12-17
49
29
9
2/1
0
172.2
232
153
122
98
92
.324
6
2006
4.04
2-3
13
8
0
0/1
1
34.2
36
21
20
17
16
.276
1
Totals
4.79
14-20
62
37
9
2/2
1
207.1
268
174
142
115
108
.316
7
Career Pitching Highs
Category        Career High (Last)Innings         10, 2x (Bowling Green St. - 2/27/05)Runs            13 (Florida - 5/7/05)Hits            12 (Florida - 5/7/05)Strikeouts       9 (Belmont - 3/6/05)Walks            6, 2 times (Belmont - 3/6/05)
Read more