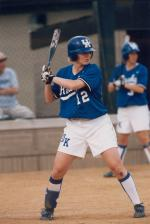 12
Rachel

Friberg
class

Senior

High school

Jefferson
2003 – Started all but one game at shortstop … Batted .285 with 7 doubles, 2 triples 2 home runs and a team-leading 29 RBIs … Led the team for the second straight year with 129 assists … Moved into third place on the career assists list with 383 … Third on the team with 11 multi-hit games … Part of the infield that turned an SEC-leading 27 double plays … Named to the All-Tournament Team at the Fun & Sun Classic after batting .357 (5-13) with a homerun, a double and four RBI's … Went 3-4 with a double and a run against Tennessee 4/9 … Career-high six-game hitting streak 4/5-4/12 … Went 3-7 with 2 runs and 2 RBIs against Indiana 4/16 … Went 3-7 with 3 RBIs in two shutout wins against Louisville 4/23 … Named to the SEC Academic Honor Roll.
2002 – 254 career assists ranks fourth all-time at UK…129 assists in '02 led team…Started 49 games…Batted .252 in 135 at-bats…Had 34 hits and scored 18 runs…Her six doubles were fourth highest on the team…Hit two homeruns and drove in 20 runs…had six multi-hit games…Went 8-for-18 with five RBI during the Sonic Challenge…Was 2-for-3 with a run scored and an RBI against Texas-San Antonio (2/16/02)…Went 2-for-4 with three RBI in win over Belmont (2/23/02)…Was 3-for-3 in a win over UT-Chattanooga (2/24/02) and 2-for-3 in a 10-1 win over Samford on the same day…Drove in 2 runs on a 2-for-4 day in a win over Eastern Kentucky (4/16/02)…Scored game-winning run in the top of the eighth inning to beat Purdue 1-0 (2/15/02)
2001 – Started all 61 games as a freshman… Scored 26 runs… Had nine doubles… Drew nine walks… Was second on the team with 125 assists, tied for the fifth highest single-season total in UK history… Had 10 multi-hit games… Had six multiple RBI games… Played all four infield positions, starting at third base 48 times… Hit first career home run against Marshall (2/23/01)… Delivered the game-winning RBI in 9-8 win over Indiana (3/12/01 – game 1).
High School – Five-year letter winner and starter… Softball Athlete of the Year senior year… All-Conference 1997-1999… Team batting title 1997 and 1999… Played in five ASA Junior Olympic National Tournaments and three of those squads finished in the top 20 in the nation… Played on Minnesota Blizzard, coached by Dwight Bialowas… Also played basketball and was team captain… 1999 Honorable Mention All-Conference in basketball… Four-year Academic All-Conference… Member of Honor Roll and graduated in top 20% of class.
Personal – Full name is Rachel Renae Friberg… Parents are Nathan and Margaret Friberg… Was born July 2, 1982âÂÂ?¦ Lists winning the 1998 state basketball championship as her most memorable moment in sports… Chose Kentucky because the school had strong academic programs with a very competitive team and great facilities… Chose the Wildcats over Virginia Tech, Nebraska at Omaha, Cornell and Pittsburgh.
Friberg's Career Stats
Year
AVG
GP/GS
AB
R
H
2B
3B
HR
RBI
TB
SLG%
BB
HBP
SO
GDP
OB%
SF
SH
SB-SBA
2001
.232
61/61
177
26
41
9
1
1
21
55
.311
9
2
26
1
.277
0
4
3-3
2002
.252
49/49
135
18
34
6
0
2
20
46
.341
10
0
22
0
.295
4
4
6-6
2003
.285
55/55
165
22
47
7
2
2
29
64
.388
8
0
26
1
.316
1
3
3-5
Totals
.256
165/165
477
66
122
22
3
5
70
165
.346
27
2
74
2
.295
5
11
12-14
Q&A with Friberg
Favorite movie: "Tommy Boy"
Favorite band: Britney Spears
Favorite type of food: Grilled Cheese
I wear #12 because: 4 is taken
My favorite sport other than softball is: Basketball
If I could see only one professional sports team play, it would be: Minnesota Wild
If a movie was to be made about me, I would like this person to portray me: Cameron Diaz
The person I admire most is: My sister
Read more