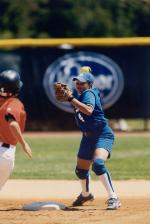 4
Nikki

Jones
class

Redshirt

High school

Fairfield
2003 – Second team All-SEC infielder – her third straight all-conference selection … Named to the National Fastpitch Coaches Association All-South Region second team … In Kentucky's career record books with a .365 batting average (1st), 268 hits (2nd), 138 runs (2nd), 416 assists (2nd), 734 at bats (3rd), 12 triples (3rd), .396 on-base percentage (3rd), .425 slugging percentage (3rd), 27 sacrifice bunts (3rd) and 35 stolen bases (3rd) … Her .388 season batting average is the third highest mark in UK history … Led the team with 183 at bats, 71 hits, 11 doubles, five triples, 25 multi-hit games and 95 total bases … Tied for the top spot for hits in SEC games with 39 – fourth with a .415 batting average … Tied a career-high and Kentucky record with a 14-game hitting streak from 2/22-3/16 where she went 25-47 (.532) with 13 runs and seven RBI?s – the streak also included a six-game multi-hit streak from 3/9-3/16 … Batted .438 with three straight two-hit games at the Houston Invitational … Hit first career home run against Florida on 3/8/03 … Went 7-10 with 4 runs and an RBI in the series with Ole Miss … Had a career-high six at-bats and four hits in win over Arkansas 4/27 – in the series she was 7-14 with 4 runs and an RBI … Went 3-4 and scored what turned out to be the winning run in the season-finale 7-4 victory over #23 Iowa … Inducted into the Frank G. Ham Society of Character … Named to the SEC Academic Honor Roll.
2002 – First team All-SEC infielder…Named to the national Fastpitch Coaches Association All-South Region First Team, becoming the first UK player ever named to the first team…school record-holder with .358 career batting average…197 career hits rank third all-time, as do her 107 runs scored…fourth in school history with seven triples…appeared in 48 games, starting 47…led team with .442 batting average…had school-record 14-game hitting streak(2/22-3/16)…hit safely in 41 of 48 games played…had a team-leading 20 multi-hit games…led team in runs (34), hits (68), slugging percentage (.506), sacrifices (9) and on base percentage (.466)…her .442 average set a single-season school record, smashing the previous record of .398, and ranks fifth all-time in SEC history…ranked second on the team with 154 at-bats…her 78 total bases were third on the team…had four doubles…drove in 16 runs…stole eight bases in nine attempts…had three hits in a game seven different times…had four consecutive multi-hit games(3/26-3/30)…was 13-for-22 with seven RBI during the Sonic Challenge…went 3-for-3 with two runs scored and one RBI against Arkansas(5/3/02)…was 6-for-7 with three runs scored in double-header split with Louisville(4/10/02)…went 3-for-4 with three RBI and three runs scored against Belmont (2/23/02)…went 3-for-3 on five different occasions.
2001 – Second-team All-SEC infielder… Ranks third all-time at UK with a .325 career batting average… Four career triples is the fourth most at UK… 129 career hits and 73 career runs scored rank fifth all-time at UK… Played in 60 out of 61 games, starting 58 at second base… Was second on the team with a .341 batting average… Hit .385 with runners on… Was tops on the team in advancing runners, hitting .618 in 89 chances… Was second on the team with 63 hits… Scored 34 runs… Had nine sacrifice hits… Was 9-of-12 in steal attempts… Second on the team with 153 putouts… Helped turn eight double plays… Had 16 multi-hit games, including five games with three hits… Had a team-best 12-game hitting streak from March 24 – April 14 in which she went 20-for-42 with 13 runs scored… Hit a two-out game-winning RBI single in 6-5 win over Auburn (4/29/01).
2000 – Started in all 65 games… 14 stolen bases in 22 attempts was second on the team… Led the team in at-bats with 212… Fourth on the team in batting average (.311)… Ranks in the top five for an individual single season in games played (65), games started (65), runs scored (39), and assists (146)… Is in the top five for individual single season hits with 66 and stolen bases with 14.
High School – Four-year letter winner at Fairfield High School… Led Fairfield to the Montecello League Championship 1996-98… Named second-team All-American in 1998 by ASA… Selected to California High Sports All-State first-team in 1998… Voted Times Herald 1998 Regional MVP in 1998… Nominated for Times Herald 1998 Athlete of the Year… Named Daily Republic 1998 Spring Athlete of the Year… All-league selection her freshman and sophomore season and was named league MVP her junior year… Hit .421 as a junior with 45 hits, five doubles, two triples, and 17 RBIs… Lettered four years in basketball… Played point guard in leading Fairfield to the Montecello League Championship in 1995 and 1996.
Personal – Full name is Nneka Jamila Jones… Born September 18, 1981… Parents are Alan and Kimberly Jones… Superstitions include wearing the same sliding gear and socks… Lists her parents as her primary inspiration in athletics… Hobbies include horseback riding, music, photography, and drawing.
Jones' Career Stats
Year
AVG
GP/GS
AB
R
H
2B
3B
HR
RBI
TB
SLG%
BB
HBP
SO
GDP
OB%
SF
SH
SB-SBA
2000
.311
65/65
212
39
66
2
3
0
8
74
.349
10
2
17
1
.348
0
7
14-22
2001
.341
60/59
185
34
63
0
1
0
11
65
.351
5
1
13
0
.359
1
9
9-12
2002
.442
48/47
154
34
68
4
3
0
16
78
.506
8
0
12
0
.466
1
9
8-9
2003
.388
56/56
183
31
71
11
5
1
17
95
.519
11
2
16
0
.426
1
2
4-10
Totals
.365
229/227
734
138
268
17
12
1
52
312
.425
34
5
58
1
.396
3
27
35-53
Q&A with Jones
Favorite movie: "Coming to America"
Favorite type of food: Lasagna
I wear #4 because: It was the number of a girl I looked up to in high school who was very good at basketball
My favorite sport other than softball is: Basketball
If a movie was to be made about me, I would like this person to portray me: Halle Berry
The person I admire most is: Anyone who has overcome adversity
My favorite holiday is: Thanksgiving
Read more