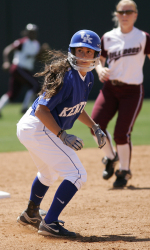 4
Macy

Allen
class

Senior

High school

Texas
Senior (2012): Appeared in 25 games and scored 10 runs in her final campaign … Recorded a hit, a run and six putouts in a start in left field in the loss to Maryland … Scored runs in back-to-back games vs. Stephen F. Austin in the Ragin' Cajuin Invite … Scored as a pinch runner in UK's comeback extra-inning win over Arkansas … Tapped home in all three games against Georgia as a pinch runner.
Junior (2011): Appeared in 29 games and made 12 starts in the outfield … Batted .276 with a pair of stolen bases on the season … Saw her first action of the season as a pinch runner in the victory over Southern Illinois … Recorded a putout in left field in the upset win over Tennessee … Singled and scored in the win over LSU … Posted a single in a loss at Louisville … Recorded her first career multi hit game with a pair of singles and an RBI in the series-clinching victory over Mississippi State … Started two games in right field in the MSU series … Had a pair of hits in the series sweep of No. 5 Florida … Recorded a hit and five putouts in a loss to No. 2 Georgia … Singled in a win at Marshall … Singled and scored in the opening game win against South Carolina … Tapped home as the winning run in the walk-off victory over No. 2 Michigan in the NCAA Tournament.
Sophomore (2010): An All-SEC Academic team performer … Appeared in 37 games while batting .333 and scoring seven times … Swiped a base and scored in a loss to No. 2 Michigan … Touched home as a pinch-runner in the win over Florida … Registered a putout in left field in relief action against Louisville … Recorded two putouts in left field in the first game against Alabama … Posted back-to-back games with a base hit single at the Buzz Classic … Registered her first collegiate hit with a single in the win over Evansville … Also scored twice in that contest … Tapped home as a pinch runner in a UK upset of No. 5 Arizona State to open the 2010 season.
Freshman (2009): Was an All-SEC Academic team performer … Scored 12 times and stole four bags as UK's primary pinch runner … Made four plate appearances … Saw her first collegiate action as a pinch runner in UK's win over Oregon … Made her first plate appearance against DePaul … Scored twice at the Hatter Classic as a pinch runner in wins over Centenary and Maryland … Was struck by the pitch and would go on to score a run in her lone plate appearance against LSU … Swiped two bases in the series with Arkansas … Saw her first career field action when she played an inning in left field in a loss to Tennessee … Scored after stealing a base in a UK win over South Carolina.
High School: A three-year letterwinner at Paris High School … As a senior she batted .409 while leading the team with 20 stolen bases … Racked up numerous awards as a junior and senior, earning All-State honors as a third baseman as a senior … Named the Offensive Player of the Year in 2008 … Also tabbed the Utility Player of the Year and the Ladycat of the Year in her senior season … All-State academic team performer in her last season … Claimed the state title in power lifting during her senior year, while finishing as the runner up in her first junior year … A member of the 2006 bi-area volleyball championship team … An honor graduate … Graduated as one of the top-10 members of her class … Named a Texas Scholar in 2008 … A member of both the National Honor Society and the Spanish Honor Society, while competing in a variety of academic contests including writing, science fair and future problem solving … Father, Dirk Abbott, was a member of the track and football teams at Oklahoma Panhandle State University.
Read more