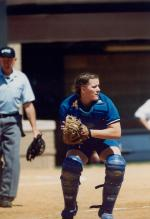 14
Lyndsey

Angus
class

Redshirt

High school

St. Bernards
2003 – Named second-team All-SEC – her third straight all-conference selection … Career record holder at UK in walks (98), on-base percentage (.440) and sacrifice flies (8) … Her career .360 batting average, .510 slugging percentage, 44 doubles, 15 home runs, 338 total bases, and 662 putouts rank second all-time at Kentucky … Walked 27 times, breaking her own single season record (26) set her sophomore year and tied her junior year … Her 98 walks moves her into fourth place in the SEC career record books … .384 season average is fourth best in UK history … Led the team in runs (35), home runs (7), slugging percentage (.589), on-base percentage (.478) and walks … Second on the team with 15 multi-hit games … Led the team with five intentional walks … Batted .357 with a homerun and five RBI?s at the Stanford Invitational … Batted .417 at the Houston Invitational … Went 5-8 with 4 runs and 2 RBIs in series with Alabama … Hit game-winning three-run home run 4/16 against Indiana – went 4-7 with 3 runs and 3 RBIs in the doubleheader … Went 6-11 with 3 runs and 2 RBIs in series vs. Arkansas … Had a career-high 12-game hitting streak 4/12-4/27 … Inducted into the Frank G. Ham Society of Character … Named to the SEC Academic Honor Roll for the second straight year … Named to the Verizon Academic All-America second team – only the fourth player in UK softball history.
2002 – First team All-SEC catcher for second consecutive year…school record-holder for walks in a career (71)…career .354 batting average and .486 slugging percentage place her second all-time at UK…ranks fifth in school history with 85 career RBI…fourth in school history with 36 doubles, 101 runs scored, and eight homeruns…only player to start all 56 games in 2002…tied her own single-season record with 26 walks…threw out 15 of 37 (40.5%) of would-be base stealers…Led team with 171 at-bats, 13 doubles, and 85 total bases…finished second on the team with a .363 batting average, 33 runs scored, 62 hits, 28 RBI, and .444 on base percentage…had 16 multi-hit games…had nine game hitting-streak(4/16-4/27)…hit .381 with runners in scoring position…had two RBI in a game five times…went 4-for-6 with a walk, three doubles, a homerun, and six RBI against Akron (3/26/02)…Went 6-for-8 with a double, three wlks, four RBI and a run scored in double-header against Ole Miss (3/23/02)…went 3-for-6 with a double, two RBI and four runs scored in sweep of Mississippi St. (4/6/02)…had three consecutive multi-hit games on two separate occasions (2/15-2/16 & 4/16-4/20)…hit game-tying homerun with one out in the bottom of the seventh against LSU (4/21/02)…Her four runs scored against Belmont tied a school record (2/23/02)…named to SEC Academic Honor Roll
2001 – First team All-SEC catcher… Selected to the NFCA All-South Region second team… Tops the UK career list in walks (45)… Ranks second all-time in career batting average (.349), slugging percentage (.481) and fielding percentage (.971)… 23 career doubles and six career home runs rank fourth all-time at UK… Career RBI total of 57 is fifth-highest in UK history… Started in all 58 games in which she played… SEC Player of the Week April 16 … Finished third on the team with a .339 batting average… Scored 31 runs, fourth most on the team… Was third on the team in hits (58)… Moved onto the UK single-season RBI list with 31… Had a.468 slugging percentage, fifth best single-season mark in school history… Set a UK record with 26 walks… On base percentage of .425 ranks second in UK history… Upped her batting average 74 points in conference games… Was third on the team with 80 total bases… Tied for second on the team with 11 doubles… Hit three home runs… Had 202 total plate appearances… Had 144 putouts… Threw out 14 base stealers… Had 15 multi-hit games… Three times had three RBIs in a game… Went 5-for-8 with an RBI and five runs scored in UK's two-game sweep of Indiana (3/13/01)… Was 2-for-2 with three RBIs and two runs scored against Ole Miss (3/25/01)… Hit a three-run home run in 15-0 win over Morehead State (4/11/01)… Hit a game-winning, two-RBI single to defeat No. 19 South Carolina (4/14/01 – game 2).
2000 – One of UK's top returning players… Named Southeastern Conference Player of the Week, the first UK player to receive the award… Holds the school record for sacrifice flies (4) in a season, and is tied for doubles (2) in a single game… Is in top five for single season runs scored (37)… Against Eastern Kentucky, went 3-for-4 with one RBI, scoring three runs… Hit a double to score two runners, including the game winner and was 2-for-4, with two doubles, two RBIs and two runs scored versus Butler… Went 5-for-8, with one RBI and four runs scored, including the game-winner, in the series against Auburn… Against Western Kentucky, went a perfect 3-for-3 with two RBIs, scored three runs, and hit her first collegiate home run… Went 4-for-6 with three singles, three runs scored, as well as hitting a two-run home run against Florida… In five consecutive games, against Western Kentucky and Florida, went 9-for-14 with five RBIs, three home runs, a double and eight runs scored… Went 6-for-7 with two RBIs, three runs scored and her first career triple in series against Tennessee.
High School – Four-year letter winner at St. Bernard's High School… Named an All-American by Fastpitch Magazine in 1999… Played in the Central Massachusetts All-Star game four consecutive years… Won Central Massachusetts batting crown all four years in high school… Hit .554 as a senior and .609 during her junior campaign at St. Bernard's… Named team MVP four consecutive seasons… Played club ball for the Polar Crush Under-18 squad coached by Matt Palumbo… Lettered four years in field hockey and basketball… Named field hockey MVP her junior and senior seasons and named team MVP as a point guard and small forward on the basketball team her sophomore and senior seasons.
Personal – Full name is Lyndsey Erin Angus… Born February 8, 1981… Parents are Brian and Nancy Angus… Chose UK because of her major and because she had a good feeling on campus… Chose the Wildcats over Baylor, Connecticut, Georgia State, Maryland, and Virginia.
Angus' Career Stats
Year
AVG
GP/GS
AB
R
H
2B
3B
HR
RBI
TB
SLG%
BB
HBP
SO
GDP
OB%
SF
SH
SB-SBA
2000
.359
57/57
170
37
61
12
1
3
26
84
.494
19
0
12
0
.415
4
2
5-5
2001
.339
58/58
171
31
58
11
1
3
31
80
.468
26
1
10
1
.425
2
2
3-5
2002
.363
56/56
171
33
62
13
2
2
28
85
.497
26
0
9
0
.444
1
2
9-9
2003
.384
56/56
151
35
58
8
1
7
26
89
.589
27
1
8
0
.478
1
3
1-6
Totals
.360
227/227
663
136
239
44
5
15
111
338
.510
98
2
39
1
.440
8
9
18-25
The Angus File
Favorite TV show: "Friends"
Favorite Movie: "The Fast and The Furious"
Most Memorable Softball Moment: Hitting the game-tying home run in the seventh inning against LSU last season.
If I could be stranded on a deserted island with one person it would be: Vin Diesel
If I won the lottery, the first thing I would buy would be: A summer home on Cape Cod
If I were to go on vacation for a month, I would most want to go to: Backpacking through Europe
Read more