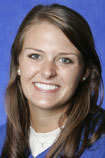 32
Lindsay

Brogdon
class

Senior

Previous School

Central Alabama CC

High school

Oak Mountain
2007 (junior): Saw action in 11 games … Earned the starting nod in nine contests … Concluded the season with a 6.00 ERA … Saw 30.1 innings of work … Struck out five batters … Earned her first career save against St. Mary's when she saw two innings of work striking out two.
2006 (sophomore): Made 18 appearances for the Wildcats in her first season at Kentucky … Started four contests and ended the season with a record of 3-2 … Finished the season with an ERA of 4.59 … Tossed 39.2 innings and struck out 15 batters on the year … Earned her first win of the season against Long Beach State after allowing one run on five hits in 4.0 innings of work … Earned the win over Indiana State, tossing a complete game and giving up three runs on seven hits over 5.0 innings.
2005 (At Central Alabama Community College): Completed her freshman season with a 16-3 record and one save … Posted an ERA of 0.98 … Recorded 121 strikeouts in 114 innings of work.
High School: Tossed 33 complete games as a senior at Oak Mountain High School while going 27-10 with a 0.47 earned run average … Recorded 353 strikeouts in 252.1 innings of work … Was named Shelby County's Player of the Year in 2004 … Received All-State, All-Metro, All-County and Super All-State honors as a senior … Recorded four no-hitters and 12 shutouts as a senior … Named MVP of the state sectionals en route to a state championship title in 2001 … Member of state All-Tournament team … Earned All-State honors as a freshman and received honorable mention as a sophomore and as a junior … Posted a four-year prep record of 83-23 (.783) with 893 strikeouts and 51 shutouts … Four-year member of Over-the-Mountain softball team … Three-time member of All Shelby County team.
Personal: Chose Kentucky because of the coaches, the location and she always wanted to play at the SEC level … Chose UK over different schools in Alabama, Arkansas, Georgia and Tennessee.
Brogdon's Career Stats
Year
ERA
W-L
APP
GS
CG
SHO/CBO
SV
IP
H
R
ER
BB
SO
OPP/AVG
WP
2006
4.56
3-2
18
4
1
0/0
0
39.2
51
28
26
13
15
.311
4
Career Highs
Category      Career High (Last)Innings       5.1 (Ohio - 3/4/06)Runs          6 (LSU - 3/25/06)Hits          7, twice (LSU - 3/25/06)Strikeouts    4 (Ohio - 3/4/06)Walks         2, three times (LSU - 3/25/06)
Read more