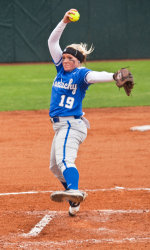 19
Lauren

Cumbess
class

Senior

High school

Normal Community West
One-time SEC Weekly Award Winner (2012)

Primetime Performer of the Week by CollegeSoftball360.com (2013)
NFCA All-Southeast Region Second Team (2013)
Junior (2013): Breakout junior season at the plate, leading the team in batting average at .323, home runs with 13, RBI with 43, hits with 65 and at-bats with 201 … Her 13 homers ranked tied for third most in a single season in school history, while her 43 RBI is tied for fourth most … Also was the team's second-best pitcher, posting a 10-7 record with a 3.88 ERA, striking out 82 in 110 innings pitched … Was named NFCA All-Southeast Region Second Team … Allowed only two runs pitching and had the game winning single in win over No. 3 Cal at the Kajikawa Classic … Was named a Primetime Performer of the Week by CollegeSoftball360.com for her effort vs. Cal … Led the team with 23 multi-hit games playing and starting all 62 games … Went 2-for-4 with an RBI against Oregon State … Drilled two home runs in the 23rd Campbell/Cartier Classic, leading the team with a .500 average at the event … Recorded a season-high seven strikeouts against Cal Poly and Central Michigan… Named to the Coke Zero Spartan Classic All-Tournament Team after finishing with a .571 batting average with two doubles and five RBI … Went 2-for-4 with two RBI against South Florida, including an RBI single and an RBI bunt single … Also pitched five hitless innings against USF, who went to the College World Series in 2012 … Hit an RBI single against Western Michigan in the final game of the Under Armour Invitational … Had a perfect 2-for-2 game, registering her third homer of the season while scoring three runs vs. UNC … Went 2-for-4 with a double in the second game of the LSU series, where she also retired nine consecutive batters at one point in the game in the circle … Earned the win vs. WKU with four strong innings … Went 2-for-4 in the first game of the Mississippi State series, also going 1-for-3 in the final game with one RBI … Went 2-for-4 with two RBI, with one coming from a homer vs. Lipscomb … Dominated in the South Carolina series with two multi-hit games for two RBI each, along with a home run … Went 4-for-8 in the doubleheader vs. EKU with two doubles and a home run … Blasted two home runs, recorded a hit in every game, and tallied four RBI in the series vs. Florida … Smacked a two-run homer and a double in the second game of the doubleheader at MTSU and grabbed the win in the circle during the first game … Dominated in the final game of the Arkansas series going 2-for-4 with a home run for two RBI, also pitching four innings to earn the win in the circle … Went 2-for-4 against Louisville, hitting the game-winning single … Scored a run, was walked, and had a multi-hit game in the Missouri series, where she started in the circle twice … Had a career-high 12-game hitting streak during the season … During the hitting streak, she had six doubles, six homers and 13 RBI … Collected three RBI in the Lexington Regional vs. Marshall and Virginia Tech … Went 3.1 innings in the circle vs. Virginia Tech to help clinch a Super Regional berth … Hit a home run in the Tempe Super Regional.
Sophomore (2012):Started all 60 games for UK including making nine starts in the circle … Earned SEC Pitcher of the Week accolades after tossing the first no-hitter of her career in a win vs. Georgia … Batted .255 on the year with 40 hits … Made her first pitching appearance of the season in the second game vs. UCLA … Went the distance vs. Wright State while recording the win only allowing two hits and ringing up six batters … Delivered an RBI single into left field vs. Radford … Went 2-3 vs. Nicholls State with a run scored, an RBI and a double … Blasted a home run in UK's win over Stephen F. Austin … Struck out a career-high 10 batters in a loss to Alabama … Posted a pair of hits and drove in a run in a loss to Western Illinois … Batted .375 at the UK Invite, claiming five hits, two runs, and four RBI for the weekend while earning All-Tournament team honors … Doubled and drove in a run in a win over WKU … Tallied three hits, including a double in series win over No. 18 Auburn … Doubled in a loss to Louisville … Registered hits in five consecutive at-bats and led the team with five total hits in the Tennessee series … Paced the offensive unit in the South Carolina series by batting .600 and driving in four runs … Led the team with a .571 clip in the Arkansas series including notching a career-high three-hit performance in the win … Threw her first career no-hitter in a series-clinching win over No. 10 Georgia while limiting the Bulldogs to just five base runners in the win … Also batted .400 in the series with a pair of doubles … Drove in a run and walked three times in the series with Ole Miss … Connected for two singles in sweep over No. 22 LSU … Scored after earning a walk in the NCAA Tournament vs. Michigan … Singled and drew two walks against Louisville.
Freshman (2011):Saw action in 47 games while making 36 starts in her first season in the Blue and White … Started nine games on the mound for UK and earned a 6-2 record with a team-low 1.99 ERA … Made her first career start as the designated player in the upset win over No. 22 Ohio State … Reached base twice in the contest by drawing a walk and reaching on an error by the Buckeyes … Notched hits in back-to-back outings against DePaul and Memphis … Earned her first career win in the circle with a complete-game shutout over Middle Tennessee State … Struck out seven and allowed just two hits in the win … Posted a career-high two hits in a loss to Stanford … Doubled in a win over UC Davis … Started the North Dakota State game and tossed four innings and struck out six … Had a two-hit day in the game and plated the game's winning run in the top of the eighth with a sacrifice bunt … Drove in a run with two outs in a win over Southern Illinois … Struck out a career-best 10 batters in a complete-game shutout while contributing her first career home run to the offensive output in a win over SIUE … Charted an RBI single in the upset of Tennessee … Scored in the 11-inning win over Arkansas … Blasted a three-run homer in the opening game of the Mississippi State to give UK a lead for good … Had a bases-clearing double in the series-clinching victory over the Bulldogs … Earned her first win in the circle in SEC action to complete a sweep of No. 5 Florida striking out seven … Drove in two with a bases-clearing double in a win at Austin Peay … Picked up a win at Marshall in the circle … Earned a shutout win in the opening game of the Tennessee Tech series … Drove in the game-tying run with an RBI single to help lead a comeback effort in the nightcap of a win over the Golden Eagles … Threw a complete game shutout in a win over EKU … Drew a walk in the SEC Tournament game vs. Tennessee.
High School:Dominating pitcher and skilled batter … Tabbed the Most Valuable Player in all four seasons of high school … As a senior she batted over .550 with 14 homers while tossing 290 strikeouts and holding a 0.45 ERA …Was an All-State performer and the Pitcher of the Year in her final season … Led Normal Community High School to a conference and regional championship … In her junior campaign she was voted as the 2009 Offensive Player of the Year … All Big-12 Conference team selection and a Scholastic Achievement award winner during her career … As a junior she posted a .378 batting average while recording a 0.34 earned run average … Struck out 214 in 20 games … Was an Honor Roll student.
Loading…
Read more